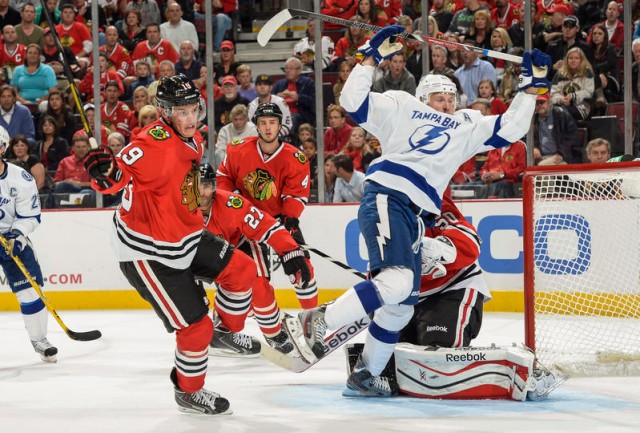 2015 Stanley Cup Final: Game 1 Betting Preview
This evening at 8:05 PM Eastern Time, the puck drops for game one of the Stanley Cup Finals. The Tampa Bay Lightning, who opened as -116 home favorites against the Chicago Blackhawks at the market-setting Pinnacle sportsbook, are currently receiving just 36% of moneyline bets. Despite this one-sided betting, the Lightning have moved to -127.
The line graph below, which is available to Sportsbook Insider subscribers, shows how Tampa Bay's moneyline and public betting trends have moved at Pinnacle:

Using our Bet Labs software, we found that favorites receiving less than 40% of moneyline bets have gone 35-14 with +14.96 units won during the NHL Playoffs. That includes a 3-0 mark (+2.33 units won) during the Stanley Cup Final. This plays into the concept of "fading the trendy underdog" which has been a highly profitable strategy during the NBA Playoffs and March Madness.
It's also interesting to note that despite their impressive record, the Blackhawks were a horrible bet during the regular season while the Lightning were a pleasant surprise:
Tampa Bay Lightning: 50-24-8, +8.65 units won
Chicago Blackhawks: 48-28-6, -8.03 units list
---
Although Tampa Bay is favored in game one, Chicago is still expected to win the series. The Blackhawks are listed at -133 to win the Stanley Cup at 5Dimes, with the Lightning listed at +113. When we tweeted the exact result odds earlier in the day, we found that the most likely outcome was that the Blackhawks would win the series 4-2.
CHI in 4 | +1000
CHI in 5 | +550
CHI in 6 | +335
CHI in 7 | +500
TB in 4 | +1600
TB in 5 | +700
TB in 6 | +575
TB in 7 | +400

— Sports Insights (@SportsInsights) June 3, 2015
Looking for a more thorough overview? Earlier this week we posted our 2015 Stanley Cup Final Preview which featured key line moves, betting trends, Conn Smythe odds and more.
As always you can track all the latest line moves, betting percentages, injuries, game information and more on our free NHL odds page.
Have any questions for the staff at Sports Insights? Utilize our live chat to speak with a customer service representative or e-mail us at help@sportsinsights.com.
David Solar is the Content Manager for Sports Insights and can be reached directly at David@sportsinsights.com.