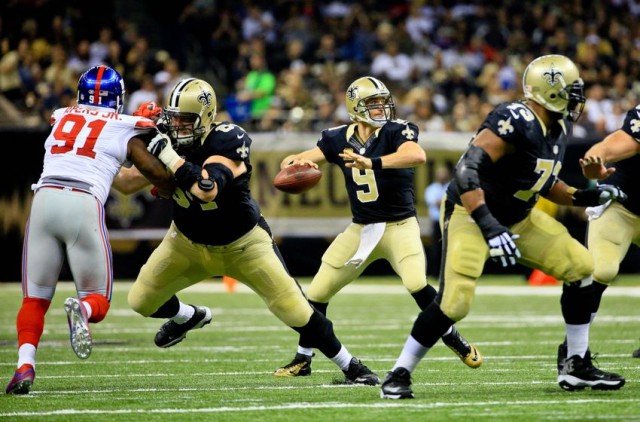 2015 NFL Season: Week 8 Betting Recap
Every Tuesday morning, the team at Sports Insights will examine some of the most interesting trends and results from the past week's NFL action. We'll also look at our betting systems, prop bets, bad beats and more before looking ahead to the following week.
In Week 8 underdogs were 7-6 ATS, visitors were 6-6 ATS and road underdogs were 4-3 ATS. On the season underdogs are now 63-52 ATS, visitors are 59-53 ATS and road underdogs are 43-34 ATS.
There were mixed results for betting against the public in Week 8. Although teams receiving less than 50% of spread bets were just 6-7 ATS, teams receiving less than 40% of spread bets were 5-5 ATS and teams receiving less than 30% of spread bets were 3-1 ATS.
It was a great week for last season's top teams, with teams who finished with a winning record in 2014 posting a 9-5 ATS record.
Teams who won their previous game were 8-5 ATS in Week 8. When we hide duplicates to eliminate games featuring two teams who won their previous game, that record improves to 6-3 ATS.
Underdogs have typically provided additional value in divisional games due to the familiarity between teams. Although 'dogs went just 2-4 ATS in Week 8 divisional games, they have gone 22-14 ATS on the season.
In Week 8 the under went 8-6, moving the season record to 57-60. When the total has closed at 48+, the under has gone 16-9. Historically unders have performed well in games with high totals while unders have performed well in games with low totals.
The Panthers, Patriots and Bengals all won this week to stay undefeated. In the battle of two unbeaten teams, the Broncos were able to hold off the Packers, 29-10.
Current Patriots undefeated props at 5Dimes

16-0: +450
18-0: +700
19-0: +1100

— Sports Insights (@SportsInsights) November 2, 2015
With the Patriots already looking forward to the potential of an undefeated season, it almost seems like a foregone conclusion that New England will make their seventh Super Bowl appearance in the Brady/Belichick era.
Who will represent the AFC in the Super Bowl? (via 5Dimes)

Patriots -110
Field -110

— Sports Insights (@SportsInsights) November 3, 2015
Week 8 featured a number of season-ending injuries to key players including Le'Veon Bell, Steve Smith and Cameron Wake. There are also many star players who will be out indefinitely including Keenan Allen, Matt Forte and Joe Haden. Bettors can track the latest updates on our free NFL injury page.
How popular is the NFL? We tracked more than four times the number of bets on Sunday night's Packers/Broncos game than we did for Game 5 of the World Series.
Current bet count from our contributing books: 79,311 on Packers/Broncos. 17,886 on World Series. https://t.co/1xQHuCWcmk

— Sports Insights (@SportsInsights) November 1, 2015
Updated NFL Rookie of the Year Odds (via Sportsbook.com)
Todd Gurley -250
Amari Cooper +200
Jameis Winston +1500
Every week we highlight the worst beat of the week. Although there were no truly devastating losses, there was one game that was tough for bettors to swallow.
In one of the best games of the season, the Saints lead the Giants 42-28 entering the fourth quarter before New York scored 3 touchdowns in just over five minutes to take a 49-42 lead. However, Drew Brees threw his 7th touchdown of the game with just 36 seconds remaining to tie that game at 49. After going three and out on the following possession, the Giants allowed a 24-yard punt return and tacked on a 15-yard face mask penalty to set up an unlikely game winning 50-yard field goal by Kai Forbath. This meant an unlikely push for anybody with Giants +3 and a tough loss for anybody who took NYG +145 on the moneyline.
Despite losing their first game of the season this weekend, the Packers continue to have the second best odds of winning Super Bowl 50. Below are the futures for all 32 NFL teams at 5Dimes.
New England Patriots +270
Green Bay Packers +450
Denver Broncos +775
Cincinnati Bengals +875
Seattle Seahawks +1050
Carolina Panthers +1200
Arizona Cardinals +1400
Philadelphia Eagles +4300
Atlanta Falcons +4500
Pittsburgh Steelers +4500
Indianapolis Colts +5000
St Louis Rams +5000
Minnesota Vikings +5500
New York Jets +6000
Dallas Cowboys +7000
New York Giants +7000
New Orleans Saints +8500
Oakland Raiders +8500
Miami Dolphins +17500
Buffalo Bills +18500
Kansas City Chiefs +22500
San Diego Chargers +28500
Washington Redskins +35000
Houston Texans +45000
Baltimore Ravens +65000
Chicago Bears +100000
Cleveland Browns +100000
Detroit Lions +100000
Jacksonville Jaguars +100000
San Francisco 49ers +100000
Tampa Bay Buccaneers +100000
Tennessee Titans +100000
Make sure to bookmark our free NFL odds page for the latest lines, public betting trends, injuries, futures and more. Have any questions for the staff at Sports Insights? Utilize our live chat to speak with a customer service representative or e-mail us at help@sportsinsights.com.