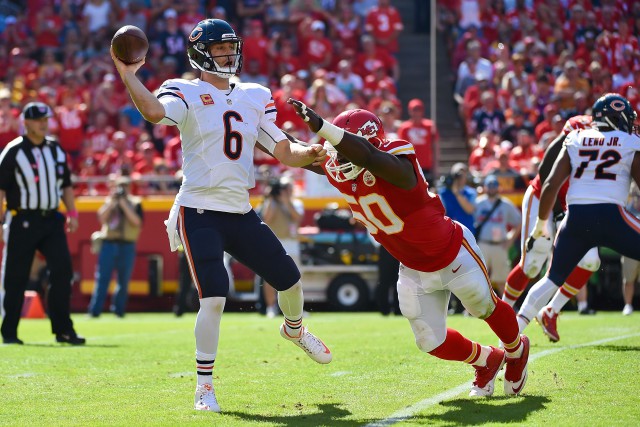 2015 NFL Season: Week 5 Betting Recap
Every Tuesday morning, the team at Sports Insights will examine some of the most interesting trends and results from the past week's NFL action. We'll also look at our betting systems, prop bets, bad beats and more before looking ahead to the following week.
– In Week 5 underdogs were 7-6 ATS, visitors were 10-3 ATS, and road favorites were 3-0 ATS. On the season, underdogs are 39-36 ATS, road teams are 41-33 ATS and road favorites are 12-10 ATS.
– Betting against the public proved to be an effective strategy in Week 5 with teams receiving less than 50% posting an 8-5 ATS record. However, teams receiving less than 40% of spread bets were just 3-5 ATS and teams receiving less than 30% of spread bets were just 1-4 ATS.
– In this week's biggest upset, the Chicago Bears defeated the Kansas City Chiefs 18-17 despite closing as 10-point underdogs. Only 35% of moneyline bettors took Chicago as a +350 underdog.
– The Baltimore Ravens, who closed as 6-point favorites on Sunday, lost to the Browns by 3-points. They are currently the only NFL team who has yet to cover the spread this season.
– This weekend the Bengals (-3 vs. Seattle) pushed, while the Packers (-8.5 vs. St. Louis) and Steelers (+4 at San Diego) both covered the spread. On the season, they are the only teams who are undefeated against the spread.
– Last week we spoke about how the league's worst teams from the previous season had been extremely profitable. That trend changed in Week 5 with playoff teams going 6-3 ATS and non-playoff teams going 7-10 ATS.
– In Week 5 the under went 7-7, moving the season record to 38-38.
– Heartbreak struck for Kansas City fans as Jamaal Charles suffered a season ending injury on Sunday. Other key injuries include Julio Jones (Questionable), Blake Bortles (Questionable), Joe Haden (Doubtful) and Odell Beckham (Probable). Make sure to view our free NFL injury page throughout the week for the latest updates.
– The Redskins, who closed at +335 on the moneyline, led the Falcons for a majority of the game and actually held a 4-point lead with 46 second. Unfortunately a late Matt Ryan touchdown and Kirk Cousins pick-six doomed Washington. Our public betting trends show that 85% of moneyline bettors took Atlanta which means a lot of survivor pools were likely saved by this last-minute Falcons comeback.
– Looking forward to the Week 6 opening lines, the New England/Indianapolis matchup has some of the most interesting line movement. Before the season CG Technology listed the Colts as 1-point favorites. With Indy struggling and New England dominating, the Pats opened as 7-point road favorites at Pinnacle.
– Speaking of New England, the Pats are currently listed at +340 to win the Super Bowl, +600 to go undefeated in the regular season, and +1250 to go 19-0 and win the Super Bowl. This is interesting because the Packers (+310) actually have better odds of winning the Super Bowl, but worse odds of going 16-0 (+1500) or 19-0 (+3400).
– Think both teams will both undefeated records? 5Dimes lists the odds of the Packers and Patriots facing off in the Super Bowl with undefeated records at +12500. The odds of a Packers/Patriots Super Bowl are currently +510.
– On Tuesday morning Sportsbook.com posted updated NFL MVP odds:
Aaron Rodgers +160
Tom Brady +160
Andy Dalton +1500
Carson Palmer +1500
LeVeon Bell +2000
Adrian Peterson +2500
Matt Ryan +3000
Cam Newton +4000
Rob Gronkowski +4000
Andrew Luck +5000
Antonio Brown +5000
Peyton Manning +5000
Russell Wilson +6000
AJ Green +7500
Philip Rivers +7500
Julio Jones +10000
Marcus Mariota +10000
Odell Beckham +10000
Todd Gurley +10000
Make sure to bookmark our free NFL odds page for the latest lines, public betting trends, injuries, futures and more. Have any questions for the staff at Sports Insights? Utilize our live chat to speak with a customer service representative or e-mail us at help@sportsinsights.com.