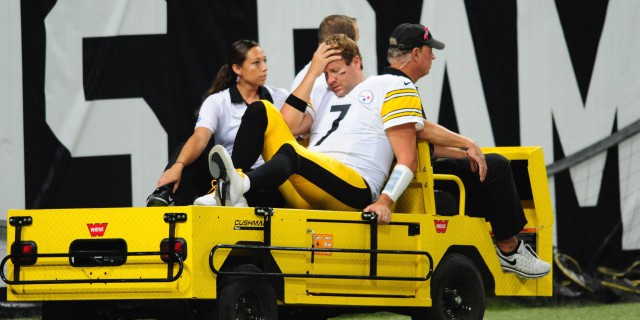 2015 NFL Season: Week 3 Betting Recap
Every Tuesday morning, the team at Sports Insights will examine some of the most interesting trends and results from the past week's NFL action. We'll also look at our betting systems, prop bets, bad beats and more before looking ahead to the following week.
– In Week 3 underdogs were 8-8 ATS, home teams were 8-8 ATS, and home underdogs were 1-1 ATS. On the season, underdogs are 24-24 ATS, home teams are 25-23 ATS and home underdogs are 8-7 ATS.
– It was an awful week for betting against the public, with teams receiving less than 50% of spread bets posting a 4-11 ATS record. and teams receiving less than 30% of spread bets posting a 1-4 ATS record. On the year, teams receiving less than 50% of spread bets are 21-24 ATS while teams receiving less than 30% of spread bets are 8-7 ATS.
– Which the betting public posting such a great day, sportsbooks took a massive hit both offshore and in Las Vegas:
Waving white flag. Yesterday was most profitable single day for BetOnline players in history of company. Congrats!

— Dave Mason (@DaveMasonBOL) September 28, 2015
– ESPN's David Payne Purdum also posted an article detailing how Las Vegas got hammered on Sunday. – In Week 3, the over was 10-6 which pushes the season record to 26-21. There have been eight games this season in which a majority of public bettors have been on the under — in those games the over has gone 5-3.
– Teams who made the playoffs last season were 9-7 ATS in Week 3, bringing their season record to 21-15 ATS. – Usually we preach the importance of taking teams following a loss, but teams who lost in Week 2 were just 7-9 ATS in Week 3. Teams who lost by at least a touchdown in Week 2 were 6-6 ATS in Week 3. – In the biggest upset of the week, the Oakland Raiders (closed +3.5 on the spread, +161 on the moneyline) defeated the Cleveland Browns, 27-20.
– Thursday night is starting to build up a reputation for bad beats. After the Steelers meaningless touchdown gave them the backdoor cover against the Patriots in Week 1, sloppy last-minute play by the Chiefs gave unlikely wins to bettors taking Denver (+3) and the over (42) in Week 2. This week the Giants and Redskins tallied just 24 points through three quarters, but combined to pile up 29 points in the 4th quarter giving bettors on the over (45) yet another improbable win.
– Weekly Leaders: Andy Dalton (383 passing yards), Devonta Freeman (141 rushing yards) and A.J. Green (227 receiving yards)
– Yearly Leaders: Tom Brady (1112 passing yards), Adrian Peterson (291 rushing yards) and Julio Jones (440 receiving yards)
– Peterson (+450) was the favorite to lead the league in rushing yards while Jones (+700) had the second best odds of leading the league in receiving. Brady (+2500) had the ninth best odds of leading the league in receiving, but these odds are, ahem, deflated due to his presumed four game suspension.
– The Saints were listed as 3-point underdogs in the SuperContest but, after it was announced that Drew Brees would be inactive, New Orleans ended up closing at +10 against Carolina. The Saints ultimately lost by 5-points, meaning that bettors taking New Orleans +10 or Carolina -3 both won.
Panthers (713) officially most picked team in SuperContest history, previous record was Cardinals (685) Week 9 2014. https://t.co/lGCoIJLSoc — SuperContest Proxy (@FootballContest) September 26, 2015
-Quarterback injuries were the biggest story last week, and unfortunately it will likely continue to be the biggest story this week. Ben Roethlisberger exited Sunday's game against St. Louis with a knee injury and is now expected to miss 4-6 weeks. Michael Vick will start in his place.
MRI revealed Ben Roethlisberger did not tear his ACL, but he sprained his MCL and now is expected to miss "probably 6 weeks," per source.

— Adam Schefter (@AdamSchefter) September 28, 2015
– We detailed some of the early betting trends and line movement in our Week 4 opening line report, but there has been some additional movement since. Pittsburgh has already dropped from a pick 'em to +2.5 on Thursday, Miami has dropped from -1 to +2.5 and Atlanta has moved from -4 to -6.5 at Pinnacle.
– Some of the biggest early Super Bowl 50 moves at 5Dimes include: Arizona (+3000 to +1150), Cincinnati (+5000 to +1750), New England (+900 to +400), Indianapolis (+800 to +1750), New Orleans (+3500 to +38500) and Atlanta (+4500 to +2400).
Green Bay Packers +390

New England Patriots +400

Seattle Seahawks +685

Arizona Cardinals +1150

Denver Broncos +1250

Cincinnati Bengals +1750

Indianapolis Colts +1750

Atlanta Falcons +2400

Philadelphia Eagles +2700

Pittsburgh Steelers +2800

Dallas Cowboys +3100

Buffalo Bills +3500

Kansas City Chiefs +4200

Carolina Panthers +4700

San Diego Chargers +6000

Minnesota Vikings +6600

New York Giants +6600

New York Jets +7000

Baltimore Ravens +12500

Detroit Lions +18500

Houston Texans +21500

Miami Dolphins +22500

St Louis Rams +23500

Oakland Raiders +27500

San Francisco 49ers +32500

New Orleans Saints +38500

Tennessee Titans +38500

Washington Redskins +40000

Chicago Bears +100000

Cleveland Browns +100000

Jacksonville Jaguars +100000

Tampa Bay Buccaneers +100000
Have any questions for the staff at Sports Insights? Utilize our live chat to speak with a customer service representative or e-mail us at help@sportsinsights.com.