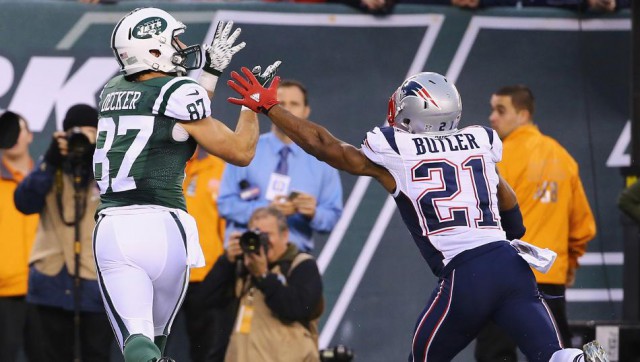 2015 NFL Season: Week 16 Betting Recap
Every Tuesday morning, the team at Sports Insights will examine some of the most interesting trends and results from the past week's NFL action. We'll also look at our betting systems, prop bets, bad beats and more before looking ahead to the following week.
Underdogs went 10-6 ATS in Week 16, breaking a streak of four consecutive winning weeks for favorites. On the season, underdogs have gone 123-109 ATS (53.0%).
Sunday was also very profitable for moneyline bettors, with several underdogs winning straight up:
NFL underdogs went 7-8 on the moneyline for +9.52 units in Week 16 including wins by STL (+480), BAL (+461), and ATL (+239).

— Sports Insights (@SportsInsights) December 28, 2015
Visitors went 8-8 ATS in Week 16, pushing their record to 123-106 ATS (53.7%) on the season. Road underdogs have been particularly profitable with an 84-68 ATS (55.3%) record.
Last week there were three double-digit underdogs — all of whom covered the closing spread at Pinnacle: Cleveland (+11.5 at Kansas City), St. Louis (+11 at Seattle) and Baltimore (+11 vs. Pittsburgh).
In the biggest upset of the week, the Rams (closed +11 on the spread, +480 on the moneyline) defeated the Seahawks by six-points. That was the most unlikely win since the Lions (closed +10.5 on the spread, +491 on the moneyline) defeated the Packers back in mid-November.
Underdogs of 10+ points have gone 12-10 ATS this season and 229-203 ATS (53.0%) all-time.
As we have explained before, the majority of spread bets are typically placed on the favorite. That means that when underdogs win, our betting against the public strategies are typically profitable. In Week 16 teams receiving less than 50% of spread bets were 10-6 ATS, teams receiving less than 40% of spread bets were 8-4 ATS and teams receiving less than 30% of spread bets were 2-0 ATS.
On the season teams receiving less than 50% of spread bets have gone 119-109 ATS, teams receiving less than 40% of spread bets have gone 75-73 ATS, teams receiving less than 30% of spread bets have gone 30-29 ATS and teams receiving less than 20% of spread bets have gone 5-3 ATS.
Since many teams have already locked up playoff spots and will rest their starters, some of the largest line moves take place during Week 17 of the NFL season. The most significant line moves typically involve starting quarterbacks being benched or only playing the first half. The Cowboys/Redskins game is particularly interesting, since Washington has nothing at stake this week. It will be interesting to see if Kirk Cousins is named the starter.
Since 2003, favorites have gone 86-69 ATS (55.5%) in Week 17. That win rate improves to 57.3% when we focus solely on home favorites.
Every Week 17 matchup features divisional rivals and, as we have constantly reiterated, underdogs are tremendously undervalued in divisional games. Underdogs have gone 619-586 ATS (51.4%) in divisional games, however, that record suffers tremendously in the final week of the season. Since 2003, underdogs have gone 48-66 ATS (42.1%) in Week 17 divisional games.
Picking this week's worst beat was exceedingly difficult, but it's tough to overlook Sunday's Patriots/Jets game. The Jets (closed +2.5) were in control throughout the game, holding a 17-3 lead early in the third quarter. New England eventually tied the game 20-20 with less than two minutes remaining in regulation, but that's when things got really interesting. The Patriots won the overtime coin toss, but surprisingly elected to kick off. The Jets took the ball and drove 80 yards in 5 plays, culminating with a 6-yard touchdown pass from Ryan Fitzpatrick to Eric Decker. That score gave the Jets the win, the cover, and the unlikely over (total closed 45.5).
The Panthers, who closed -7 on the spread and -330 on the moneyline, suffered their first loss of the season on Sunday. Entering the week, Carolina was listed at -160 to finish the regular season with a perfect 16-0 record.
Odds to win the AFC
New England Patriots +110
Denver Broncos +415
Kansas City Chiefs +650
Cincinnati Bengals +700
Pittsburgh Steelers +1000
New York Jets +1600
Houston Texans +3300
Indianapolis Colts +990000
Arizona Cardinals +190
Carolina Panthers +200
Seattle Seahawks +420
Green Bay Packers +750
Minnesota Vikings +1600
Washington Redskins +2500
Odds to win Super Bowl 50
New England Patriots +310
Arizona Cardinals +400
Carolina Panthers +445
Seattle Seahawks +825
Denver Broncos +1100
Kansas City Chiefs +1450
Green Bay Packers +1700
Cincinnati Bengals +1900
Pittsburgh Steelers +2600
Minnesota Vikings +4000
New York Jets +4500
Washington Redskins +6000
Houston Texans +8500
Indianapolis Colts +990000
Most likely Super Bowl matchups
New England Patriots vs Arizona Cardinals +521
New England Patriots vs Carolina Panthers +543
New England Patriots vs Seattle Seahawks +1020
Denver Broncos vs Arizona Cardinals +1430
Denver Broncos vs Carolina Panthers +1485
New England Patriots vs Green Bay Packers +1770
Kansas City Chiefs vs Arizona Cardinals +2175
Kansas City Chiefs vs Carolina Panthers +2250
Cincinnati Bengals vs Arizona Cardinals +2335
Cincinnati Bengals vs Carolina Panthers +2420
---
Looking forward to next week? Don't forget to read our Week 17 Opening Line Report for early line movement and a comparison to preseason lines from CG Technology.
Make sure to bookmark our free NFL odds page for the latest lines, public betting trends, injuries, futures and more. Have any questions for the staff at Sports Insights? Utilize our live chat to speak with a customer service representative or e-mail us at help@sportsinsights.com.
David Solar is the Content Manager at Sports Insights and can be reached directly at David@sportsinsights.com