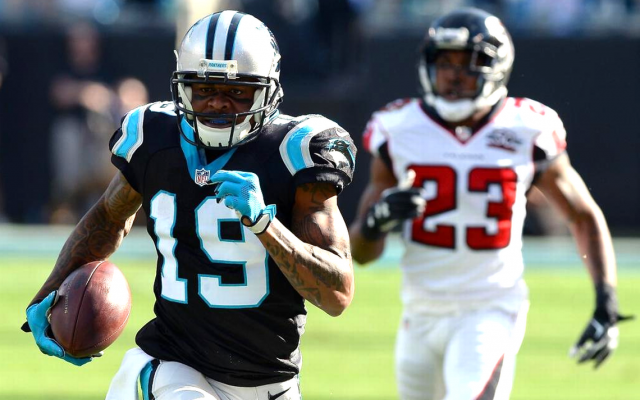 2015 NFL Season: Week 14 Betting Recap
Every Tuesday morning, the team at Sports Insights will examine some of the most interesting trends and results from the past week's NFL action. We'll also look at our betting systems, prop bets, bad beats and more before looking ahead to the following week.
Favorites had their third consecutive winning week, posting a 9-7 ATS record during Week 14. Since going 2-14 ATS in Week 10, favorites have gone 34-25 ATS.
Visitors have also continued their winning ways, going 9-7 ATS in Week 14. On the season, road teams have gone 107-91 ATS (54%) and road underdogs have gone 73-58 ATS (55.7%).
As we have explained before, the majority of spread bets are typically placed on the favorite. That means that when favorites win, our betting against the public strategies suffer. In Week 14 teams receiving less than 50% of spread bets were 8-8 ATS, teams receiving less than 40% of spread bets were 3-4 ATS and teams receiving less than 30% of spread bets were 1-4 ATS.
Although betting against the public struggled last week, it continues to be a profitable strategy on the season. This year teams receiving less than 50% of spread bets have gone 103-94 ATS, teams receiving less than 40% of spread bets have gone 66-62 ATS, teams receiving less than 30% of spread bets have gone 28-24 ATS and teams receiving less than 20% of spread bets have gone 4-3 ATS.
This season the optimal threshold for betting against the public has been teams receiving 35% of spread bets or less. Those teams have been exceptionally profitable when they lost their previous game by double-digits.

This week there are four teams who are offering contrarian value coming off a big loss: Dallas (+3), Tennessee (+14), Baltimore (+7.5) and San Francisco (+4.5).
Playoff teams from last season have gone 50-41 ATS (54.9%) against teams who missed the playoffs.
Underdogs of at least 5-points have gone 46-30 ATS (60.5%) this season. When we focus solely on road teams, that win rate improves to 63.8%.
The under went 12-4 in Week 14 which pushes the record to 105-98 on the season.
When the closing total is greater than 46, the under has gone 38-28 (57.6%) this season.
There were two significant upsets this week, with a pair of 6-point underdogs winning straight up. The Oakland Raiders (closed +6 on the spread, +225 on the moneyline) defeated the Denver Broncos by 3-points while the New Orleans Saints (closed +6 on the spread, +210 on the moneyline) beat the Tampa Bay Buccaneers by 7-points. The Saints/Bucs total was 9-points higher than the Raiders/Broncos total which explains the 15-cent discrepancy on the moneyline.
The Cleveland Browns defeated the San Francisco 49ers on Sunday. This is excellent news for head coach Mike Pettine, who oddsmakers believe is firmly on the hot seat.
#Browns coach Mike Pettine is listed at -1000 to lose his job before the start of next season.

— Sports Insights (@SportsInsights) December 12, 2015
Last week's Packers/Lions game featured two of the worst beats in recent memories, so it's difficult to compare any game from Week 14. Perhaps the worst beat was this week's Steelers/Bengals game where a meaningless touchdown pass from AJ McCarron to Rex Burkhead with 1:03 remaining in the game made the score 33-20. This pushed the game over the closing total of 49.
The Panthers annihilated the Falcons this week to keep their undefeated season alive. This win caused Carolina's odds of going undefeated during the regular season to improve from +300 to +140. Carolina is also listed at +740 to post the perfect 19-0 season, but they're not the favorite to win the Super Bowl.
Despite Carolina's undefeated record, the Patriots (+327) have better odds of winning the Super Bowl than the Panthers (+397).

— Sports Insights (@SportsInsights) December 15, 2015
Wondering which AFC teams will land the final wild card spots? The Chiefs are -750 to make the playoffs, the Steelers are -260 to make the playoffs and the Jets are +160 to make the playoffs.
The Redskins, Eagles and Cowboys are tied atop the NFC East standings with all three teams owning 6-7 records. However, oddsmakers believe that Philadelphia has the best chance of winning the division.
NFC East Odds

Eagles +135
Redskins +195
Giants +225
Cowboys +5000

— Sports Insights (@SportsInsights) December 15, 2015
Remaining games for each team:
Eagles: Cardinals, Redskins, @Giants
Redskins: Bills, @Eagles, @Cowboys
Giants: Panthers, @Vikings, Eagles
Cowboys: Jets, @Bills, Redskins
In a game that could have major playoff implications, the Giants are listed as 2.5-point favorites for their Week 17 game against the Eagles

— Sports Insights (@SportsInsights) December 15, 2015
Carolina Panthers +130
Arizona Cardinals +250
Seattle Seahawks +475
Green Bay Packers +550
Minnesota Vikings +2800
Philadelphia Eagles +3000
New York Giants +3300
Washington Redskins +5500
Dallas Cowboys +9000
Tampa Bay Buccaneers +15000
New England Patriots +115
Denver Broncos +445
Pittsburgh Steelers +550
Cincinnati Bengals +850
Kansas City Chiefs +950
Indianapolis Colts +2500
New York Jets +3300
Houston Texans +5000
Buffalo Bills +10000
Jacksonville Jaguars +12500
Oakland Raiders +25000
Miami Dolphins +35000
New England Patriots +330
Carolina Panthers +400
Arizona Cardinals +715
Seattle Seahawks +730
Pittsburgh Steelers +1100
Green Bay Packers +1125
Denver Broncos +1150
Cincinnati Bengals +2000
Kansas City Chiefs +2000
Minnesota Vikings +6600
Indianapolis Colts +7000
New York Giants +7500
Philadelphia Eagles +7500
New York Jets +9000
Houston Texans +15000
Washington Redskins +17500
Dallas Cowboys +20000
Buffalo Bills +30000
Jacksonville Jaguars +32500
Tampa Bay Buccaneers +40000
Miami Dolphins +100000
Oakland Raiders +100000
There were a number of key injuries last week including:
Jonathan Stewart, Questionable, Foot
Vincent Jackson, Out Indefinitely, Knee
Joe Haden, Out For Year, Concussion
Andrew Luck, Doubtful, Kidney
DeSean Jackson, Questionable, Knee
Andy Dalton, Out Indefinitely, Thumb
---
Looking forward to next week? Don't forget to read our Week 15 Opening Line Report for early line movement and a comparison to preseason lines from CG Technology.
Make sure to bookmark our free NFL odds page for the latest lines, public betting trends, injuries, futures and more. Have any questions for the staff at Sports Insights? Utilize our live chat to speak with a customer service representative or e-mail us at help@sportsinsights.com.
David Solar is the Content Manager at Sports Insights and can be reached directly at David@sportsinsights.com