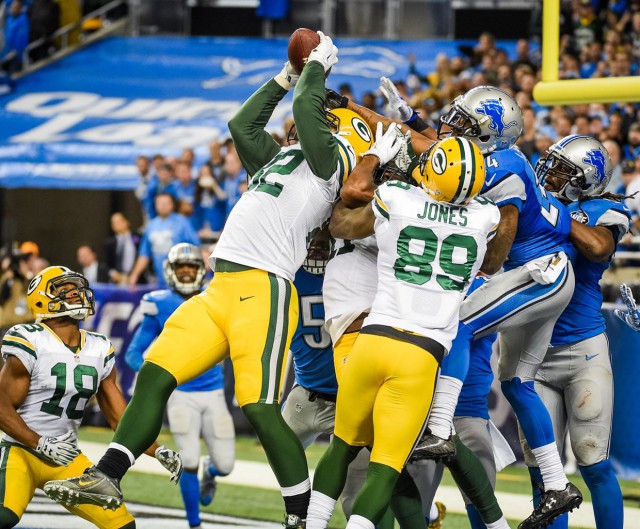 2015 NFL Season: Week 13 Betting Recap
Every Tuesday morning, the team at Sports Insights will examine some of the most interesting trends and results from the past week's NFL action. We'll also look at our betting systems, prop bets, bad beats and more before looking ahead to the following week.
In Week 13, favorites posted their second consecutive winning week posting a record of 10-5 ATS. It was also an excellent week for road teams, with visitors posting a record of 11-4 ATS. Road favorites were an impressive 7-1 ATS with the Panthers (closed -5.5) failing to cover the spread against the Saints.
On the season, road teams have gone 98-83 ATS (54.1%). Our past research has shown the home field advantage is overvalued in every sport with the exception of baseball, so this definitely falls in line with historical trends.
Despite their recent struggles, underdogs have gone 100-84 ATS (54.3%) this season. Large underdogs have provided additional value, with 'dogs of at least 7-points going 27-17 ATS (61.4%).
We have previously explained that underdogs have performed well in games with low totals. When oddsmakers are expecting a low-scoring game, every point becomes more significant and that disproportionately benefits the underdog. This season, 'dogs have gone 41-30 ATS (57.7%) when the total is less than 44.
There were some atypical results for our betting against the public strategies this past week. Usually the betting public loves taking favorites, but there were a number of trendy underdogs including the Giants (+2 vs. NYJ), Falcons (+1 at TB), Texans (+3 at BUF) and Colts (+10 at Pittsburgh). For that reason, our betting against the public results were better than expected. Teams receiving less than 50% of spread bets were 9-6 ATS and teams receiving less than 40% of spread bets were 6-4 ATS; however, teams receiving less than 30% of spread bets were just 2-3 ATS.
In Week 13 the over went 9-7, pushing the record to 94-92 on the season.
We have also explained how overs have performed well in games with low totals while unders have performed well in games with high totals. That trend has continued this season with overs going 41-30 (57.7%) when the closing total is less than 44. Similarly, the under has gone 35-26 (57.4%) when the closing total is more than 46.
In last week's biggest upset, the Philadelphia Eagles (closed +9.5 on the spread, +350 on the moneyline) defeated the New England Patriots. This is just the fourth time in the last 12 years that New England has lost consecutive games.
Since 2003, the Patriots have suffered back-to-back losses just four times. They have gone 3-1 ATS in the subsequent games.

— Sports Insights (@SportsInsights) December 8, 2015
Win their win on Sunday, the Panthers improved to 12-0 on the season. They are currently listed at +300 to finish the season with a perfect 16-0 record, but research by Bet Labs manager Travis Reed indicates that Carolina is still being undervalued.
30.6% equates to roughly +227 odds but Topbet is listing Carolina at +300 to finish the regular season undefeated. https://t.co/eexrK0ml7P

— Sports Insights (@SportsInsights) December 7, 2015
Every week we highlight the worst beats for bettors, and Thursday night's Packers/Lions game offered one of the toughest losses in recent memories. The Lions (closed +2.5) jumped out to a 20-0 early in the second quarter. They maintained a two possession lead until an Aaron Rodgers 17-yard touchdown cut the Lions lead to 23-21 with 3:04 remaining. Green Bay eventually got the ball back with 23 seconds remaining. After two incomplete passes, the Packers drew a questionable face mask penalty on a desperation hook and lateral play. This meant Aaron Rodgers would get one un-timed down from their own 39-yard line. What happened next was nothing short of miraculous.
https://vine.co/v/iWPzm2VWmiL
A 61-yard Hail Mary pass from Aaron Rodgers to Richard Rodgers gave Green Bay the unlikely win and cover. To add insult to injury, it also put the game over the closing total of 46.
Other tough beats include: Saints moneyline (+210) and Giants (+2).
For the first time since mid-October, the New England Patriots are not the favorite to win Super Bowl 50. With their perfect record still intact, the Panthers (+420) now have the shortest Super Bowl odds at the market-setting 5Dimes sportsbook.
Carolina Panthers +420
New England Patriots +470
Arizona Cardinals +700
Denver Broncos +775
Cincinnati Bengals +800
Seattle Seahawks +850
Green Bay Packers +1300
Pittsburgh Steelers +1800
Kansas City Chiefs +2800
Minnesota Vikings +4000
Indianapolis Colts +4500
Philadelphia Eagles +8000
New York Jets +8500
New York Giants +9000
Dallas Cowboys +12500
Houston Texans +13500
Buffalo Bills +14500
Washington Redskins +15000
Tampa Bay Buccaneers +22500
Atlanta Falcons +28500
Chicago Bears +30000
Miami Dolphins +35000
Jacksonville Jaguars +75000
San Diego Chargers +75000
Baltimore Ravens +100000
Oakland Raiders +100000
New Orleans Saints +150000
In the last week, Cam Newton's odds of winning the NFL MVP award have improved from +140 to -190 making him the new front runner.
Updated NFL MVP Odds

Cam Newton -190
Tom Brady +215
Carson Palmer +1000
Andy Dalton +3000
Aaron Rodgers +5000
Adrian Peterson +6600

— Sports Insights (@SportsInsights) December 8, 2015
Three of the four most likely Super Bowl matchups involve the Carolina Panthers.
New England Patriots vs Carolina Panthers +774
New England Patriots vs Arizona Cardinals +970
Denver Broncos vs Carolina Panthers +1230
Cincinnati Bengals vs Carolina Panthers +1260
Denver Broncos vs Arizona Cardinals +1530
Cincinnati Bengals vs Arizona Cardinals +1570
New England Patriots vs Green Bay Packers +1705
New England Patriots vs Seattle Seahawks +1785
Pittsburgh Steelers vs Carolina Panthers +2600
Denver Broncos vs Green Bay Packers +2650
The Steelers, who have won three of their past four games, have been one of the hottest teams in football. In fact, Sports Illustrated's Peter King wrote, "If Steelers and Pats met today on neutral field, Vegas would favor Pittsburgh."
In the last two months, the Steelers odds of winning Super Bowl 50 have improved from +3600 to +1200 at BetOnline. pic.twitter.com/CmsW60QwyH

— Sports Insights (@SportsInsights) December 8, 2015
Since last week, the odds of Jameis Winston winning the Rookie of the Year award have improved from -110 to -400. Other candidates include Amari Cooper (+450), Todd Gurley (+750), Marcus Mariota (+800) and Thomas Rawls (+2000).
In another interesting award race, Ron Rivera's odds of winning Coach of the Year have improved from +250 to -400 in the past week. Bill Belichick, who was previously listed as the favorite at +220, has dropped to +1000.
---
Looking forward to next week? Don't forget to read our Week 14 Opening Line Report for early line movement and a comparison to preseason lines from CG Technology.
Make sure to bookmark our free NFL odds page for the latest lines, public betting trends, injuries, futures and more. Have any questions for the staff at Sports Insights? Utilize our live chat to speak with a customer service representative or e-mail us at help@sportsinsights.com.
David Solar is the Content Manager at Sports Insights and can be reached directly at David@sportsinsights.com