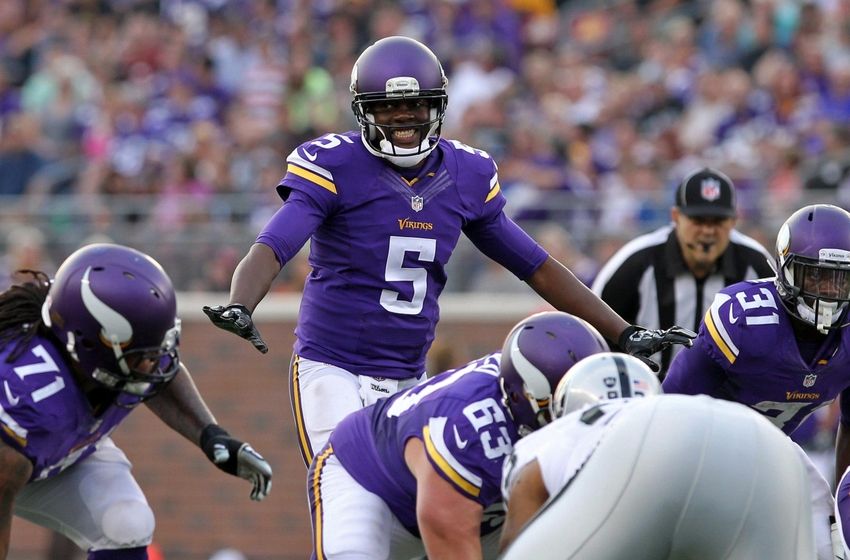 NFL Week 14 Opening Line Report
We're now nearly through 13 weeks of the NFL season with just the Cowboys and Redskins left to meet on Monday night. The Panthers continue to roll, winning at New Orleans and moving their record to 12-0. The Panthers were +400 (implied 20% probability) before the week to go undefeated for the entire regular season, and our Bet Labs analysis shows that they now have a 30.6% chance to run the regular season table (implied odds of +226).
Like we've done throughout the season, below we've looked at opening and current lines at Pinnacle for Week 14 and compared them to lookahead lines from back in April via CG Technology.

| MATCHUP | CURRENT LINE (12/7) | OPENING LINE (12/6) | LOOK AHEAD (4/25) |
| --- | --- | --- | --- |
| MIN at ARZ | ARZ -7.5 | ARZ -7.5 | ARZ -5.5 |
| ATL at CAR | CAR -7.5 | CAR -7.5 | CAR -3.5 |
| NO at TB | TB -3.5 | TB -3.5 | NO -2.5 |
| DET at STL | STL -1 | STL -1 | STL -1.5 |
| NE at HOU | NE -3.5 | NE -3.5 | NE -1.5 |
| IND at JAX | Off Board | Off Board | IND -6 (w/Luck) |
| OAK at DEN | DEN -7.5 | DEN -7.5 | DEN -10.5 |
| SD at KC | KC -10 | KC -10.5 | KC -2 |
| TEN at NYJ | NYJ -7.5 | NYJ -7.5 | NYJ -4 |
| SEA at BAL | Off Board | Off Board | SEA -1 (vs. Flacco) |
| PIT at CIN | Off Board | Off Board | CIN -1 |
| SF at CLE | CLE -1.5 | CLE -1.5 | SF -2.5 |
| BUF at PHI | PHI -2 | PHI -2 | PHI -3.5 |
| WAS at CHI | Off Board | Off Board | CHI -4 |
| DAL at GB | Off Board | Off Board | GB -4.5 |
| NYG at MIA | Pick 'em | Pick 'Em | MIA -3 |
As we enter the last few weeks of the regular season, it's hard to really be surprised by discrepancies from lines set more than 7 months ago. However, there are still some valuable pieces of information from those lookahead lines that bettors can use weekly and this is especially crucial for Week 14 since only one game has moved off the opening number at Pinnacle.
The best game of the week may be the Thursday night game between the Vikings and Cardinals. Prior to yesterday's games, it appeared as if Arizona -5.5 would be an appropriate line to open with, which is what the lookahead line was back in April. Arizona then throttled St. Louis while Minnesota got crushed at home to Seattle and this may have swayed oddsmakers to push the spread up to -7.5 where they opened. Both teams have probably exceeded expectations a bit but even in April oddsmakers felt that there was nearly a touchdown difference between the teams. It's tough to pinpoint how influential yesterday's games were on setting an opening line, but we do know that it had some effect.
In the worst game of the week, the 49ers will travel to Cleveland to take on the Browns, who have decided to go back to QB Johnny Manziel a week after benching him behind Austin Davis. This is already the most lopsided bet game in terms of betting percentages (over 75% on San Francisco) and will likely attract bets from casual fans despite being a stinker.
Both the Cowboys/Packers and Redskins/Bears games are off the board because they play tonight and there are currently three other games off the board due to injury concerns: Steelers/Bengals, Colts/Jaguars, and Seahawks/Ravens. There are a number of key offensive and defensive players missing for both Pittsburgh and Cincinnati which is why oddsmakers are likely waiting, but we'd expect that game to open anywhere between Bengals -3 and -5.
Seattle was slotted as 1-point favorites over the Ravens in April and now that Baltimore is decimated by injuries, we'd expect that to open around Seattle -8 when the line does come out. Even though casual fans and bettors felt like the Seahawks were being overrated early in the year, oddsmakers still believe they're one of the best teams in the league.
Finally, Colts-Jaguars wouldn't normally be a game to watch in Week 14 but with Indy's struggles and injuries, the AFC South is still up in the air. Both teams are coming off poor losses but Indy is still the better team and will likely open anywhere between -1 and -3 even if they have to turn to 3rd-string QB Charlie Whitehurst.
As always you can track all live odds, betting percentages, and market data at our Free Live Odds page.