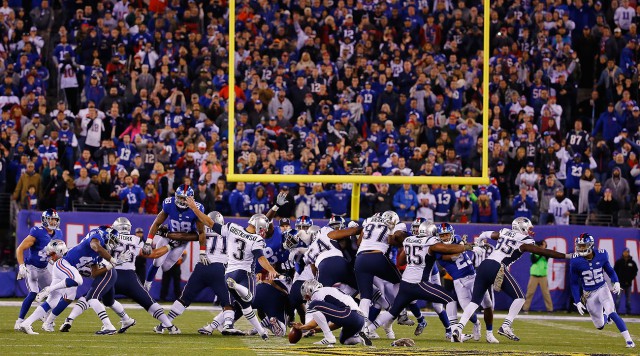 2015 NFL Season: Week 10 Betting Recap
Every Tuesday morning, the team at Sports Insights will examine some of the most interesting trends and results from the past week's NFL action. We'll also look at our betting systems, prop bets, bad beats and more before looking ahead to the following week.
Week 10 was incredible for contrarian bettors, with underdogs posting a record of 12-2 ATS. Previously, Week 6 had been the most profitable week for underdogs (10-4 ATS). On the season, 'dogs have gone 82-59 ATS.
It was also an excellent week for visitors, with road teams posting a 10-4 ATS record in Week 10 and road underdogs posting a 9-1 ATS record. On the season, road underdogs have gone 56-38 ATS (59.6%).
Betting against the public continued to be a winning strategy. In Week 10 teams receiving less than 50% of spread bets were 9-5 ATS, teams receiving less than 40% of spread bets were 7-3 ATS and teams receiving less than 30% of spread bets were 1-0 ATS.
This week wasn't only profitable for spread bettors, but also moneyline bettors. Many of these underdogs won straight up including the two biggest upsets of the season.
NFL Week 10 featured the two biggest moneyline upsets of the season:

Houston (+400) over Cincinnati
Detroit (+491) over Green Bay

— Sports Insights (@SportsInsights) November 17, 2015
In fact, there was only one underdog won covered the spread but failed to win straight up — the New York Giants (closed +7) who lost to the New England Patriots on a last-second field goal.
Betting every NFL dog on the moneyline in Week 10:

11 wins and 3 losses
+20.9 units won

— Bet Labs Sports (@Bet_Labs) November 17, 2015
Prior to this weekend's games, there were still three undefeated teams — New England, Cincinnati and Carolina. The Patriots were listed as the favorite to be the last remaining undefeated team (-235) and to finish the regular season with a 16-0 record (+425). Before losing to Houston on Monday night, the Bengals has the second best odds of running the table (+1600) but the worst odds of being the last remaining undefeated team (+450).
Since last week, there have been some major changes to the NFL MVP odds with Tom Brady losing some ground after key injuries to RB Dion Lewis and WR Julian Edelman. Cam Newton, who seems to save his best performances for the 4th quarter, moved from +400 to +200. The list below displays the changes in MVP odds since last Tuesday.
Tom Brady -300 to -220
Cam Newton +400 to +200
Carson Palmer +1,500 to +1,000
Aaron Rodgers +500 to +1,500
Andy Dalton +2,000 (Unchanged)
Adrian Peterson +5,000 to +2,500
Antonio Brown +10,000 to +5,000
Russell Wilson +5,000 to +10,000
Todd Gurley +5,000 to +10,000
Andrew Luck +5,000 to N/A
Peyton Manning +7,500 to N/A
On Sunday afternoon, Peyton Manning broke the all-time passing record while posting arguably the worst game of his illustrious career. Manning completed just 5 of 20 attempts for 35 yards and 4 interceptions and was ultimately replaced by Brock Osweiler. As it turns out, Manning is dealing with a foot injury and will not start this Sunday (11/22) against the Bears.
Manning isn't the only key player dealing with an injury. Patriots WR Julian Edelman (Foot) will be out indefinitely and Sam Bradford (Shoulder) is listed as doubtful meaning that Mark Sanchez will likely get the start at quarterback for Philadelphia. On the bright side, Tony Romo (Clavicle) is expected to return for the Cowboys. After starting the season 2-0, Dallas has lost seven straight games without their franchise QB.

Every week we highlight the worst beat of the week for bettors, and this week there were two potentially devastating games.
Anybody who took the Ravens moneyline on Sunday likely has a bald patch in their head from tearing their hair out. Trailing 20-19 with seconds remaining, Blake Bortles completed an 11-yard pass to Julius Thomas moving Jacksonville to the 50-yard line. With no timeouts, the Jags got off one final snap before time expired. Elvis Dumervil sacked Bortles which seemingly ending the game, however, a facemask penalty was called on the play. With one untimed down, Jason Myers nailed a 53-yard field goal to give Jacksonville (+185) the improbable victory.
The Patriots/Giants game featured two bad beats — one on the moneyline and another on the total. Trailing 26-24, Tom Brady once again ran a nearly flawless two minute drill to set up a 54-yard field goal from Stephen Gostkowski. This gave New England a 27-26 victory, thus screwing over any bettor who took the Giants moneyline (+280) or the under (52.5).
With New England's victory, Bill Belichick (+140) remains the favorite to win the Coach of the Year Award once again. Other contenders include:
Bruce Arians +300
Ron Rivers +400
Mike Zimmer +600
Marvin Lewis +1000
Mike Tomlin +1800
Todd Bowles +2000
John Fox +2500
Jack Del Rio +3000
Oddsmakers are finally respected the Panthers. For the first time all season, Carolina (+275) is the favorite to win the NFC.
The five most likely Super Bowl matchups all involve the New England Patriots:
New England Patriots vs Carolina Panthers +617
New England Patriots vs Arizona Cardinals +712
New England Patriots vs Green Bay Packers +917
New England Patriots vs Seattle Seahawks +1465
New England Patriots vs Minnesota Vikings +1665
Need more Patriots props? New England is listed at +425 to finish the regular season with a 16-0 record, +600 to enter the Super Bowl with an 18-0 record and +925 to post the perfect 19-0 season.
Looking forward to next week? Don't forget to read our Week 11 Opening Line Report for early line movement and a comparison to preseason lines from CG Technology.
Make sure to bookmark our free NFL odds page for the latest lines, public betting trends, injuries, futures and more. Have any questions for the staff at Sports Insights? Utilize our live chat to speak with a customer service representative or e-mail us at help@sportsinsights.com.
David Solar is the Content Manager at Sports Insights and can be reached directly at david@sportsinsights.com.