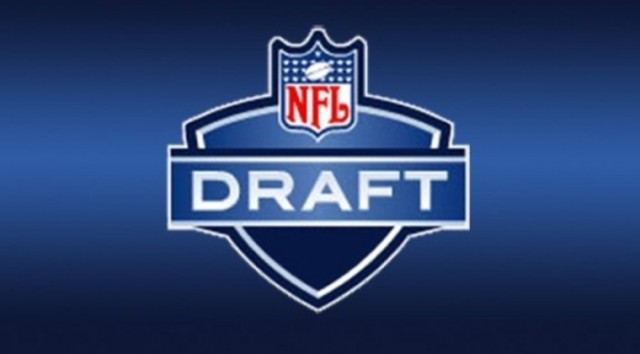 2015 NFL Draft Timeline (Recent Updates From Twitter)
Throughout the offseason we have been tweeting about the NFL Draft and recently released a mock draft based on a number of offshore prop bets. However, in order to keep up with the constantly evolving prop betting market, we've embedded all of our most recent tweets pertaining to tomorrow night's draft. This post will be constantly updated, so make sure to check back over the course of the weekend for any breaking news.
We've already posted lines for nearly every game this season, but we recommend bookmarking our free NFL Odds for updated odds and betting trends.
Note: The most recent tweets are displayed first.
Brett Hundley (+100) & Bryce Petty (+140) had better odds than Garrett Grayson (+250) of being the 3rd QB picked, but both remain available.

— Sports Insights (@SportsInsights) May 2, 2015
#ArizonaState WR Jaelen Strong finished at +3,300 to be the last player left in the green room. (via LadBrokes)

— Sports Insights (@SportsInsights) May 2, 2015
The #Cowboys select Randy Gregory with the 60th overall pick. Entering today the O/U on his draft position was 37.5.

— Sports Insights (@SportsInsights) May 2, 2015
With the 55th pick, the #Ravens select Maxx Williams. He was -400 to be the 1st TE picked but Funchess (+250) listed as TE instead of WR.

— Sports Insights (@SportsInsights) May 2, 2015
#Jaguars select RB TJ Yeldon with the 36th overall pick in the #NFLDraft, but oddsmakers ranked Ameer Abdullah and Tevin Coleman higher.

— Sports Insights (@SportsInsights) May 1, 2015
Donovan Smith (+175) was the favorite to be the last player left in the green room. He has been selected by the #Bucs with the 34th pick.

— Sports Insights (@SportsInsights) May 1, 2015
With the 33rd overall pick, the #Giants select S Landon Collins. Entering today, the over/under on his draft position was 38.5. #NFLDraft

— Sports Insights (@SportsInsights) May 1, 2015
Entering the draft, Collins had the 3rd best odds (+600) of being the first OL selected. https://t.co/9RjTG4wdCF

— Sports Insights (@SportsInsights) May 1, 2015
After slipping outside the 1st round, Bovada has set the over/under on Randy Gregory's draft position at 37.5 | Landon Collins 38.5

— Sports Insights (@SportsInsights) May 1, 2015
Odds on next QB drafted (Bovada)
Brett Hundley +100
Bryce Petty +140
Garrett Grayson +250

— Sports Insights (@SportsInsights) May 1, 2015
Last night there were seven SEC players drafted in the 1st round of the #NFLDraft, going just under the projected total of 7.5.

— Sports Insights (@SportsInsights) May 1, 2015
FWIW, #PennState OT Donovan Smith (+175) is the favorite to be the last player left in the green room.

— Sports Insights (@SportsInsights) May 1, 2015
The #Texans select CB Kevin Johnson with the 16th overall pick. He was +600 to be the last player left in the green room.

— Sports Insights (@SportsInsights) May 1, 2015
With the 15th overall pick the #Chargers select RB Melvin Gordon. The O/U on his draft position was 22.5.

— Sports Insights (@SportsInsights) May 1, 2015
We have our 1st trade as the #Chargers & #49ers agree to swap picks. The odds of at least 3 teams moving up in the 1st round closed at -600.

— Sports Insights (@SportsInsights) May 1, 2015
The #Dolphins select DeVante Parker with the 14th pick. He had the third best odds (+2,200) of being the 1st wide receiver drafted.

— Sports Insights (@SportsInsights) May 1, 2015
#Saints select Andrus Peat with the 13th pick. He becomes the 3rd offensive lineman selected in the 1st round — the O/U closed at 6.5.

— Sports Insights (@SportsInsights) May 1, 2015
The #Browns select Danny Shelton with the 12th overall pick. He was -900 to be the first DT drafted.

— Sports Insights (@SportsInsights) May 1, 2015
The #Vikings select Trae Waynes with the 11th overall pick. The former Michigan State Spartan was -800 to be the 1st defensive back drafted.

— Sports Insights (@SportsInsights) May 1, 2015
With the 10th overall pick the #Rams select RB Todd Gurley. The O/U on his draft position had dropped from 12.5 to 13.5 earlier today.

— Sports Insights (@SportsInsights) May 1, 2015
#Giants draft Ereck Flowers with the 9th pick. Flowers (+900) was behind Andrus Peat (+350) and La'el Collins (+600) for 1st OT selected.

— Sports Insights (@SportsInsights) May 1, 2015
With the 8th pick the #Falcons select Vic Beasley. The former Clemson Tiger was -200 to be the first OLB drafted.

— Sports Insights (@SportsInsights) May 1, 2015
The #Bears select WR Kevin White with the 7th overall pick — very fitting since that was the exact O/U on his draft position.

— Sports Insights (@SportsInsights) May 1, 2015
With the 6th pick the #Jets select DE Leonard Williams. The former USC Trojan had the 3rd best odds (+2,000) of being the 1st overall pick.

— Sports Insights (@SportsInsights) May 1, 2015
The #Redskins select OT Brandon Scherff with the 5th pick. He was -205 to be the first offensive lineman selected.

— Sports Insights (@SportsInsights) May 1, 2015
The #Raiders select #Alabama WR Amari Cooper with the 4th overall pick. The O/U on his draft position was 4.5.

— Sports Insights (@SportsInsights) May 1, 2015
With the 3rd overall pick, the #Jaguars select DE Dante Fowler. Fowler (+180) was expected to be drafted after Leonard Williams (-260).

— Sports Insights (@SportsInsights) May 1, 2015
With the second pick, the #Titans select Marcus Mariota. Tennessee was -110 to draft the former Oregon QB, though he could still be traded.

— Sports Insights (@SportsInsights) May 1, 2015
No surprise here as the #Bucs select Jameis Winston. The Florida State QB closed at -2500 to be the top pick.

— Sports Insights (@SportsInsights) May 1, 2015
The O/U on Todd Gurley's draft position has dropped from 12.5 to 13.5 at Bovada.

— Sports Insights (@SportsInsights) April 30, 2015
#NFLDraft Arbitrage Opportunity

Kevin White drafted first: +500 (BetOnline)
Amari Cooper drafted first: -420 (5Dimes)

— Sports Insights (@SportsInsights) April 30, 2015
The odds of Marcus Mariota being drafted by the #Titans is -110 at http://t.co/27lv6KxzUr, but he's -200 to land in Tennessee at BetOnline.

— Sports Insights (@SportsInsights) April 30, 2015
Mystery team in play for Mariota? TEN, PHI, CLE & SD viewed as top options, but the field has moved from +800 to +350 in the last hour.

— Sports Insights (@SportsInsights) April 30, 2015
Will #Missouri DE Shane Ray be selected in the 1st round of the #NFLDraft?

Yes -500 | No +350 (via TopBet)

— Sports Insights (@SportsInsights) April 30, 2015
Updated Mariota Landing Spot (via BetOnline)#Titans -175#Eagles +200#Browns +1400#Chargers +3300
Field +800

— Sports Insights (@SportsInsights) April 30, 2015
The odds of at least 3 teams trading up in the 1st round of tonight's #NFLDraft is -600.

— Sports Insights (@SportsInsights) April 30, 2015
Based on the current odds at @Sportsbook_com, the implied probability of the #Titans drafting Marcus Mariota is 50%.

— Sports Insights (@SportsInsights) April 30, 2015
Since this morning, the odds of #Georgia RB Todd Gurley being a top 12 pick have dropped from -120 to +130 at 5Dimes.

— Sports Insights (@SportsInsights) April 30, 2015
#NFLDraft Arbitrage Opportunity

Amari Cooper Over 4.5: +175 (Sportsbook,com)
Amari Cooper Under 4.5: -165 (BetOnline)

— Sports Insights (@SportsInsights) April 30, 2015
At Ladbrokes TEN -160, CLE +400, NYJ +400, TB +500 and SD +600 all have better odds of drafting Mariota than PHI +700. (h/t @jamesr32ca)

— Sports Insights (@SportsInsights) April 30, 2015
The #Titans (-110) are once again the favorite to land Oregon QB Marcus Mariota. The #Eagles have dropped from +140 to +175. (via BetOnline)

— Sports Insights (@SportsInsights) April 30, 2015
Since yesterday #Alabama WR Amari Cooper has moved from -280 to -800 to be the first wide receiver selected. #NFLDraft

— Sports Insights (@SportsInsights) April 30, 2015
The #Eagles (+140) have leapfrogged the #Titans (+150) as the favorite to land Marcus Mariota. (via BetOnline)

— Sports Insights (@SportsInsights) April 30, 2015
#NFLDraft Projections by Position:

2 QB
2 RB
6 WR
7 OL
6 DL
4 LB
5 DB

— Sports Insights (@SportsInsights) April 30, 2015
Since yesterday Dante Fowler has moved from +145 to -115 to be the first defensive end drafted. #NFLDraft

— Sports Insights (@SportsInsights) April 30, 2015
Mariota Landing Spot (via BetOnline)#Titans +130#Eagles +140#Browns +550#Chargers +2000#Field +650

— Sports Insights (@SportsInsights) April 30, 2015
Current NFL Draft props

Kevin White O/U 7th selection
Amari Cooper -405 before White
Gurley -900 before Gordon
Mariota -155 drafted by TEN

— Sports Insights (@SportsInsights) April 30, 2015
And now back to +115 to NOT get drafted by Titans. Tennessee currently -155 to select Mariota. https://t.co/EuYAUAPITu

— Sports Insights (@SportsInsights) April 30, 2015
In the past five days, the odds of #Alabama WR Amari Cooper being a top 5 draft pick have moved from -155 to -475

— Sports Insights (@SportsInsights) April 29, 2015
#NFLDraft Arbitrage Opportunity

Mariota to Titans: -140 (http://t.co/27lv6KxzUr)
Mariota to Anybody Else: +153 (CRIS)

— Sports Insights (@SportsInsights) April 29, 2015
Will at least 8 SEC players be selected in the 1st round of the #NFLDraft?

Yes -130 | No +100 (via CRIS)

— Sports Insights (@SportsInsights) April 29, 2015
Will Marcus Mariota be drafted by the #Titans? (via CRIS)

Yes -194 | No +153

— Sports Insights (@SportsInsights) April 29, 2015
1st DE Drafted (via BetOnline)

Leonard Williams -195
Dante Fowler +145
Randy Gregory +2000

— Sports Insights (@SportsInsights) April 29, 2015
The odds of Adrian Peterson being traded before the conclusion of the #NFLDraft has moved from +200 to +300 since yesterday.

— Sports Insights (@SportsInsights) April 29, 2015
Will Adrian Peterson be traded before the #NFLDraft concludes?

Yes +200 | No -300 (via Bovada)

— Sports Insights (@SportsInsights) April 28, 2015
Will Marcus Mariota be drafted by the #Titans?

Yes -110 | No -130 (via Bovada)

— Sports Insights (@SportsInsights) April 28, 2015
Who will be the 2nd pick in the #NFLDraft?

Marcus Mariota -500
Leonard Williams +300
Dante Fowler +750
Jameis Winston +1200
Field +900

— Sports Insights (@SportsInsights) April 28, 2015
Odds Jameis Winston is drafted ahead of Marcus Mariota:

Jan 16: +120
Feb 14: -225
April 15: -450
April 21: -600
April 24: -800
Today: -1000

— Sports Insights (@SportsInsights) April 25, 2015
Will #Alabama WR Amari Cooper be a top 5 pick in the #NFLDraft?

Yes -155 | No +115 (via @Sportsbook_com)

— Sports Insights (@SportsInsights) April 24, 2015
The odds of the #Chargers drafting QB Marcus Mariota have moved from +1500 to +250 in the past 24 hours.

— Sports Insights (@SportsInsights) April 23, 2015
Since yesterday the odds of Jameis Winston being selected with the 1st overall pick in the #NFLDraft have moved from -600 to -700.

— Sports Insights (@SportsInsights) April 23, 2015
Will at least three QB's be selected in the 1st round of the #NFLDraft?

Yes +400 | -650

— Sports Insights (@SportsInsights) April 22, 2015
The implied probability of Marcus Mariota being selected within the first three picks of the #NFLDraft is 66.94%.

— Sports Insights (@SportsInsights) April 22, 2015
The implied probability of Jameis Winston being selected with the 1st overall pick in the #NFLDraft is 82.61%.

— Sports Insights (@SportsInsights) April 22, 2015
The odds of #Oregon QB Marcus Mariota being selected in the top three picks of the #NFLDraft have moved from -185 to -220 since Wednesday.

— Sports Insights (@SportsInsights) April 21, 2015
Draft Position O/U

Winston 1.5 (U-550)
Mariota 3.5 (U-185)
Cooper 5.5 (U-125)
White 5.5 (O-125)
Gordon 20.5 (U-140)
Gurley 20.5 (O-120)

— Sports Insights (@SportsInsights) April 15, 2015
Who will be selected 1st in the #NFLDraft?

J. Winston -450 | M. Mariota +325
K. White -140 | A. Cooper +110
M. Gordon -130 | T. Gurley +100

— Sports Insights (@SportsInsights) April 15, 2015
In the past week the odds of Jameis Winston attending the 2015 NFL Draft have dropped from -200 to -150. (via TopBet)

— Sports Insights (@SportsInsights) April 2, 2015
Will at least two running backs be selected in the 1st round of the NFL Draft?

Yes -175 | No +145

— Sports Insights (@SportsInsights) March 26, 2015
Marcus Mariota was -140 to be drafted ahead of Jameis Winston only a week ago. Now Winston is listed at -225 to be selected 1st. (BetOnline)

— Sports Insights (@SportsInsights) February 14, 2015
Who will be drafted first in the 2015 NFL Draft? (via BetOnline)

Marcus Mariota -150
Jameis Winston +120

— Sports Insights (@SportsInsights) January 16, 2015
Will a quarterback be the 1st overall pick in the 2015 NFL draft?
"Yes" -200 | "No" +150 (via Bovada)

— Sports Insights (@SportsInsights) December 12, 2014