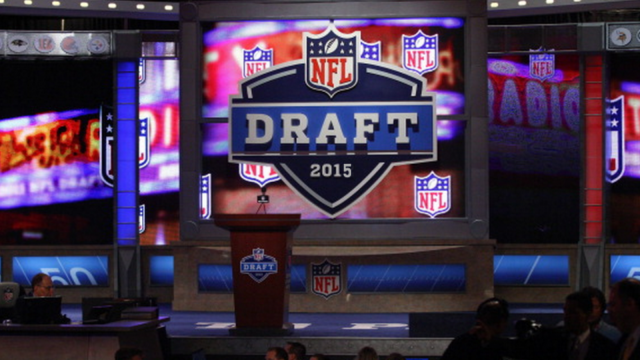 2015 NFL Mock Draft: An Oddsmakers Take
The first round of the 2015 NFL draft commences Thursday, April 30th at 8 p.m. ET as teams search for the best young talent from the college ranks. Although fans from across the country will be scouring the internet looking for mock draft predictions for their favorite team, there is a large segment of the population who believe that these mock drafts are typically inaccurate and offer limited insight.
Right now Florida State QB Jameis Winston seems to be the consensus for the number one overall pick, but things get murkier after that. Although Oregon QB Marcus Mariota seems like the front runner for the number two overall pick, it's highly questionable whether the Titans will be keeping or trading this pick. In fact, the popular offshore sportsbook Bovada posted a prop bet regarding this very subject.
Will Marcus Mariota be drafted by the #Titans?

Yes -110 | No -130 (via Bovada)

— Sports Insights (@SportsInsights) April 28, 2015
Mariota is -500 to be drafted with the second overall pick but just -110 to be drafted by the Titans. That's because teams like the Philadelphia Eagles and San Diego Chargers are viewed as potential trade destinations with veteran QB's like Sam Bradford and Philip Rivers conceivably being dealt to Tennessee along with additional draft pick compensation.
The table below compares the most recent 2015 NFL mock draft picks from Mel Kiper, Todd McShay and Peter King to these oddsmaker projections to see if there are any discrepancies.
| Team (Pick) | Oddsmakers | Todd McShay (4/22) | Mel Kiper (4/9) | Peter King (4/28) |
| --- | --- | --- | --- | --- |
| Tampa Bay Buccaneers (1) | Jameis Winston | Jameis Winston | Jameis Winston | Jameis Winston |
| Tennessee Titans (2) | Marcus Mariota | Marcus Mariota | Marcus Mariota | Marcus Mariota |
| Jacksonville Jaguars (3) | Leonard Williams | Dante Fowler | Leonard Williams | Amari Cooper |
| Oakland Raiders (4) | Dante Fowler | Amari Cooper | Amari Cooper | Leonard Williams |
| Washington Redskins (5) | Amari Cooper | Shane Ray | Dante Fowler | Dante Fowler |
| New York Jets (6) | Brandon Scherff | Todd Gurley | Brandon Scherff | Andrus Peat |
| Chicago Bears (7) | Kevin White | Leonard WIlliams | Kevin White | Bud Dupree |
As you can see, there are a number of differing opinions once we get past the top two picks. The over/under on Florida DE/OLB Dante Fowler's draft position is currently 3.5 with the over currently juiced up to -140. There's another prop bet that lists USC DT Leonard Williams as a -120 favorite to be selected ahead of Fowler (-110). Although it's only a slight lean, this was enough for us to slot Williams at 3 and Fowler at 4.
Another prop bet has the over/under for Alabama WR Amari Cooper's draft position at 5.5 with the under currently being juiced up. Although ESPN's tandem of Mel Kiper and Todd McShay project the Raiders to once again draft a wide receiver with the fourth pick, we believe Cooper will drop to Washington at 5. Between DeSean Jackson and Pierre Garcon the Redskins already have two highly capable receivers, but the team may want to surround RGIII with as much talent as possible before giving up on their supposed franchise quarterback.
Originally we felt that it was almost impossible to gauge what the New York Jets will do with the number six pick. All three draft experts have different players falling to New York and there have been rumors that the Jets are willing to trade up for Mariota or trade down to accrue additional draft picks. However, most experts agree that if the Jets stand pat, they will likely select an offensive lineman.
On Wednesday morning, BetOnline posted odds for the first player drafted at every position. The prop bet for offensive lineman can be viewed below:
Brandon Scherff -205
Andrus Peat +350
La'el Collins +600
Ereck Flowers +900
DJ Humphries +1200
TJ Clemmings +3300
Cedric Ogbuehi +400
Although Peter Kings believes that Stanford OT Andrus Peat (+350) will be the Jets selection, we feel much more comfortable agreeing with Mel Kiper's assessment on the pick.
The final pick that we feel comfortable projecting is the Chicago Bears selecting West Virginia WR Kevin White. After trading star receiver Brandon Marshall to the Jets, Chicago has a clear need for another pass catcher. White posted massive numbers last season for the Mountaineers (109 catches for 1,447 yards) and was incredibly impressive at the combine. The over/under on White's draft position is currently 7 with the under juiced up to -140.
Other NFL Draft Props to Monitor:
Wisconsin RB Melvin Gordon: Draft Position O/U 22.5

How many quarterbacks will be taken in the 1st round? O/U 2.5 (U-350)

How many running backs will be taken in the 1st round? O/U 1.5 (O-550)

How many wide receivers will be taken in the 1st round? O/U 5.5 (O-140

How many offensive linemen will be taken in the 1st round? O/U 6 (O-125)

How many defensive backs will be taken in the 1st round? O/U 6 (U-155)

How many defensive linemen plus linebackers will be taken in the 1st round? O/U 10 (O-150)

Which will be drafted first? Kicker -115 | Punter -115
Mr. Irrelevant's position: Offensive Player -115 | Defensive Player -115
Number of 1st round picks by position: Defense -140 | Offense +110
Will Adrian Peterson be drafted before the conclusion of the draft? Yes +200 | No -300
First Player Drafted by Position
Quarterback (4/29 vs. 4/30)

Jameis Winston -1000 | -2500
Marcus Mariota +800 | +800
Field +1200 | +3300
Running Back (4/29 vs. 4/30)
Todd Gurley -550 | -550
Melvin Gordon +375 | +300
Ameer Abdullah +2500 | +3300
Tevin Coleman +2800 | +3300
Wide Receiver (4/29 vs. 4/30)
Amari Cooper -280 | -800
Kevin White +220 | +500
DeVante Parker +2000 | +2800
Offensive Guard
AJ Cann -130
Laken Tomlinson +150
Arie Kouandijo +1200
Tre Jackson +1200
Defensive End (4/29 vs. 4/30)
Leonard Williams -195 | -130
Dante Fowler +145 | +100
Randy Gregory +2000 | +2500
Inside Linebacker (4/29 vs. 4/30)
Eric Kendricks -120 | -120
Benardrick McKinney +250 | +500
Denzel Perryman +500 | +150
Stephone Anthony +500 | +500
Ramik Wilson +2500 | +2500
Outside Linebacker (4/29 vs. 4/30)
Vic Beasley -300 | -225
Alvin Dupree +200 | +150
Eli Harold +1400 | +2500
Paul Dawson +1400 | +2500
Shaq Thompson +1400 | +2500
Cornerback (4/29 vs. 4/30)
Trae Waynes -600 | -800
Byron Jones +600 | +750
Marcus Peters +650 | +1000
Kevin Johnson +1000 | +900
Jalen Collins +1000 | +2000
We will continue to update this piece as the draft approaches and more prop bets are released. Have any questions for the staff at Sports Insights? Make sure to utilize our live chat or call us directly at 877-838-2853.
David Solar is the Content Manager at Sports Insights and can be reached directly at david@sportsinsights.com.
Join us live Sundays at noon ET
We're now holding our members-only live Sports Betting Hangouts Sunday mornings to prepare you for a full day of NFL games. Members, simply log into your account Sunday morning to access the hangout.
Not a member? Start a trial today to join our Sports Betting Hangouts held six days a week, plus all the other Sportsbook Insider Pro benefits.