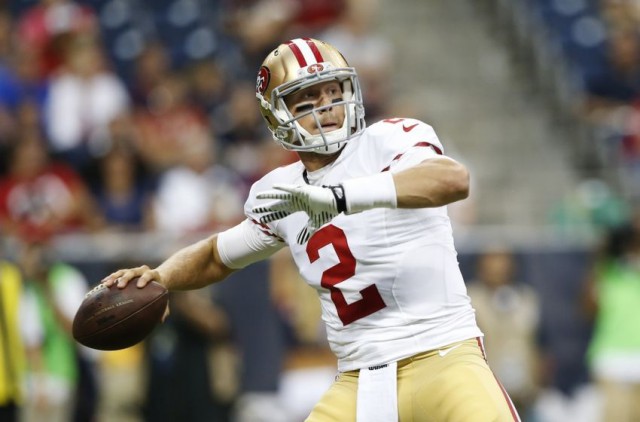 2015 NFL Betting: Week 9 Line Moves That Matter
Every week in this space we highlight the most interesting line moves at the market-setting offshore sportsbooks — typically CRIS, Pinnacle and 5Dimes which take the highest limits and therefore attract the sharpest bettors. By contrasting the opening and current lines with the public betting trends from our seven contributing offshore sportsbooks, we're able to explain what factors are influencing line movement.
In recent weeks we have started to compare our offshore trends with ticket count and total dollars wagered at William Hill — one of the most prominent Las Vegas sportsbooks. This gives us a more complete overview of the sports betting marketplace.
Although the only picks we fully endorse are our Best Bets, sharp money indicators like reverse line movement help offer insight into which teams are offering value and whether public perception is creating artificial line value.
In this week's edition we examine three of Sunday's most highly bet games — all of which have seen extremely one-sided public betting.
Washington Redskins at New England Patriots (Sunday at 1:00 PM eastern)
In this week's most heavily bet game, the Patriots opened as a 13.5-point favorite at CRIS and have received 78% of spread bets at our contributing sportsbooks. This lopsided public betting has moved New England from -13.5 to -14 across the sports betting marketplace.
Since there have been no steam moves or reverse line movement alerts triggered on this game, we can determine that public money is responsible for this half-point line move, which means that Washington could be offering contrarian value. It's also worth noting that 14 is the sixth most common margin of victory, making it one of the more important key numbers.
The screenshot below displays the individual betting trends at our contributing sportsbooks:

Over at William Hill, the Patriots are receiving 78% of tickets but just 65% of total dollars wagered. This discrepancy could indicate that sharp money is leaning towards Washington +14. Double-digit 'dogs have gone 221-188 ATS (54.0%) since 2003, which would seem to validate that value on the Redskins.
Atlanta Falcons at San Francisco 49ers (Sunday at 4:05 PM eastern)
It can be argued that no NFL team has had a worse year than the 49ers. Head coach Jim Harbaugh left for the coaching vacancy at Michigan (where he subsequently had tremendous success). Anthony Davis, Patrick Willis and Chris Borland unexpectedly retired. Star running back Frank Gore and guard Mike Iupati left via free agency. Former Pro Bowler Aldon Smith was released during training camp.
Flash forward several months and the 2-6 49ers are replacing their supposed franchise quarterback, Colin Kaepernick, which a proven bust in Blaine Gabbert. However, at Sports Insights we always advocate buying on bad news which could make San Francisco an interesting play.
The 49ers opened as 3-point home underdogs at CRIS and have received just 16% of spread bets — the least public support of any Week 9 team. By the time it was announced that Gabbert would start over Kaepernick on Monday night, the line had already moved to +4.5. The line quickly jumped from San Francisco +4.5 to +6 following this announcement, but that didn't slow bettors from pounding Atlanta. At the time of publication, the 49ers had moved to +7 at CRIS.

Over at William Hill, the public betting has somehow been even more lopsided with 98% of tickets and 95% of total dollars wagered taking Atlanta.
New York Giants at Tampa Bay Buccaneers (Sunday at 4:05 PM eastern)
Last Sunday, Eli Manning passed for 350 yards and 6 touchdowns in a 52-49 loss to the Saints. This week, New York will try to bounce back against a steadily improving Tampa Bay squad.
The Giants opened as a 1.5-point favorite at CRIS and have received 77% of spread bets at our contributing sportsbooks. This one-sided public betting has moved New York from -1.5 to -2.5, and public betting has been quite similar in Las Vegas.
At William Hill, the Giants have received 87% of tickets and 97% of total dollars wagered. This would seem to indicate that both sharp and square bettors are both on New York this weekend.
Want our official Best Bet picks for NFL Week 9?
Sign up for a 4-day trial of our Sportsbook Insider Pro and access all of our picks instantly! That includes NFL, NCAAF, NBA and NHL. Schedule a one-on-one demo with our customer service manager and we'll tack four free days onto your subscription.
These numbers are subject to change before kickoff, so bettors should be sure to visit our free NFL odds page for the latest lines, injuries, public betting trends and more.
Have any questions for the staff at Sports Insights? Utilize our live chat to speak with a customer service representative or e-mail us at help@sportsinsights.com.
David Solar is the Content Manager for Sports Insights and can be reached directly at David@sportsinsights.com