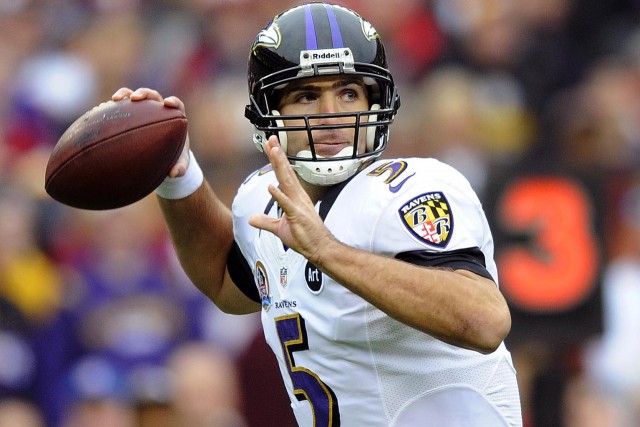 2015 NFL Betting: Week 7 Line Moves That Matter
Every week in this space we highlight the most interesting line moves at the market-setting offshore sportsbooks (typically CRIS, Pinnacle and 5Dimes) to determine the impact that public betting has on the week's biggest games. By looking at historically profitable trends and sharp money indicators like steam moves and reverse line movement, we're able to diagnose which games are offering value to bettors.
Recently, we have begun speaking with representatives at William Hill — one of the world's most prominent oddsmakers — about how our offshore trends compare to the action at their Las Vegas sportsbook. This allows bettors to have the most in-depth coverage and analysis of the sports betting marketplace.
This week's analysis highlights three fascinating matchups with sharp money indicators in each game.
Buffalo Bills vs. Jacksonville Jaguars (Sunday at 9:30 AM eastern)
In the final London game of the season, Buffalo opened as a 6-point favorite at CRIS and have received 67% of early spread bets. Despite this one-sided public betting, the Bills have dropped from -6 to -4. Typically this reverse line movement is a strong indicator of sharp money, but there are other factors at work.
Starting quarterback Tyrod Taylor missed last week's game due to a knee injury, and many sportsbooks took this game off the board entirely while waiting for a status update. CRIS finally posted their opening line on Wednesday afternoon, but it wasn't until the following morning that Taylor was officially ruled out. With EJ Manuel starting for the second straight week, the line almost immediately dropped from Buffalo -6 to -4.

This information allows us to determine that the drop off from Taylor to Manuel is worth 2-points, and that it was breaking news that was responsible for this line move — not sharp money.
The public betting trends from William Hill show that 74% of tickets and 76% of total dollars wagered are taking the Bills. This would seem to indicate that sharp money has yet to pick a side in Las Vegas, but it will be interesting to see if there numbers change before kickoff on Sunday morning.
We typically recommend buying on bad news, and it could be a good time to buy low with Buffalo playing their backup quarterback. It's also interesting to note that Buffalo flew out to London on Monday while Jacksonville won't arrive until Friday morning. This gives the Bills more time to adjust to the five-hour time change.
We've spoken in the past about the value of circadian rhythms and how west coast teams are adversely affected when traveling to the east coast. That opinion is shared by Eric Adelson of Yahoo! sports who writes, "Part of the challenge this year, though, is the time of the game. It starts Sunday at 9:30 a.m. ET and that's hardly an optimum start for performance. [W. Christopher] Winter says athleticism is at its peak in the late afternoon, and by Sunday the Bills will be honed for that time frame while he expects the Jags to be sloppy."
Although the Jaguars appear to be offering contrarian value, the reverse line movement we noticed is not a sharp money indicator. For that reason, we would lean towards Buffalo in this matchup.
New York Jets at New England Patriots (Sunday at 1:00 PM eastern)
Last week the Patriots were one of the week's most popular teams, and sharp contrarian bettors (especially those who read our game preview) were able to grab the Colts as a double-digit underdog. This week the Patriots opened as a large favorite once again, but public betting has been far different.
After opening as a 9.5-point favorite, the Patriots have received just 47% of spread bets. This is the first time that New England hasn't received a majority of public bets since last season against Denver (11/2/14). In fact, since 2003 the Patriots have gone 25-13 ATS when receiving less than 50% of spread bets.
While public betting at our offshore sportsbooks has been fairly even, William Hill has taken most of their action on the Jets with 71% of tickets and 75% of total dollars wagered taking New York. Even more bettors believe that New England's undefeated season will come to an end, with 88% of tickets and 98% of total dollars wagered taking the Jets moneyline.
At the time of publication there were no bet signals triggered on this game, but there are other sharp money indicators pointing towards value on the Jets. Our Week 5 contrarian betting system (which is available for ESPN Insider subscribers) highlights road underdogs who performed poorly in the previous season. This system has gone 383-298 ATS (56.2%) and features a current game match on the Jets.
Underdogs have performed exceptionally well in divisional game, as the familiarity between teams levels the playing field which disproportionately benefits the team getting points. For this reason, we're happy to snap up NYJ +8.5 in what could be a surprisingly low-scoring game — at least by Tom Brady standards.
Baltimore Ravens at Arizona Cardinals (Monday at 8:30 PM eastern)
In this week's Monday night game, the Cardinals opened as 7-point home favorites and have received 67% of early spread bets. This one-sided public support has moved Arizona from -7 to -8.5 at CRIS. Since there hasn't been any profitable bet signals triggered on this game, we can safely assume that public perception is purely responsible for this 1.5-point line move.
Getting free points based on public betting is one of the hallmarks of our betting against the public strategy, but there are also a number of profitable betting systems that have been triggered on Baltimore. The Ravens fit our ESPN Week 6 contrarian betting system from this season and our Week 7 contrarian betting system from last season. We have also found that teams who have played back to back road games have been undervalued when they receive no more than 35% of spread bets.

The Ravens are coming off back to back losses against the Browns and 49ers — two of the league's worst teams. With so much contrarian value and betting system matches, this might be the best opportunity to buy low on Baltimore and grab them as an 8.5-point road dog.
---
Want our official Best Bet picks for NFL Week 7?
Sign up for a 4-day trial of our Sportsbook Insider Pro and access all of our picks instantly!
These numbers are subject to change before kickoff, so bettors should be sure to visit our free NFL odds page for the latest lines, injuries, public betting trends and more.
Have any questions for the staff at Sports Insights? Utilize our live chat to speak with a customer service representative or e-mail us at help@sportsinsights.com.
David Solar is the Content Manager for Sports Insights and can be reached directly at David@sportsinsights.com