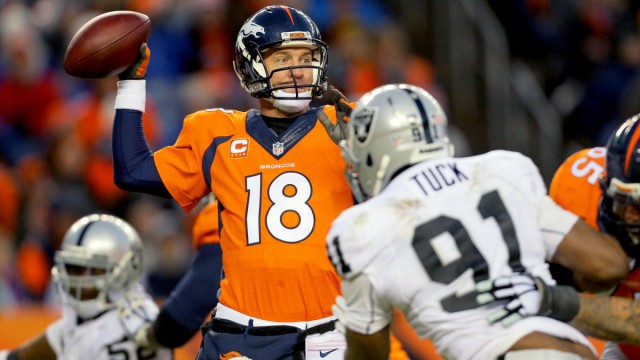 2015 NFL Betting: Week 5 Line Moves That Matter
After our contrarian strategies took a pounding in Week 3, we were back with a vengeance in Week 4. Teams receiving less than 40% of spread bets were 7-4 ATS while teams who finished last season with a losing record (7 or fewer wins) were 11-2 ATS in Week 4. When we eliminate the two games involving two subpar teams (Tampa Bay/Washington and Chicago/Atlanta) that record improves to 9-0 ATS.
We have always stressed the importance of buying on bad news and selling on good news. We have also explained how contrarian bettors will need to take some of the least popular teams which can be difficult for many people. After all, it's tough not to cringe when you're rooting for Blake Bortles and the Jaguars anemic offense.
In this week's edition of Line Moves That Matter, we wanted to dig deeper into this philosophy by examining three teams who lost their previous game — Tennessee, Dallas and Oakland. None of these teams are receiving more than 25% of spread bets, which has been a sweet spot for betting against the public in the past. However, only two of these games have triggered sharp money indicators.
This week we will examine line movement from one of the sharpest offshore sportsbooks, while comparing public betting trends from our seven contributing sportsbooks and one of the most prominent Las Vegas books.
Buffalo Bills at Tennessee Titans (Sunday at 1:00 PM eastern)
Two weeks ago, the Titans almost pulled off a shocking upset — falling 35-33 against the Indianapolis Colts. Despite 367 passing yards and two touchdowns from rookie quarterback Marcus Mariota, the Colts tallied three touchdowns in a 4-minute span during the fourth quarter to hold off the Titans.
With a bye week to recover from this tough loss, the Titans opened as 4-point underdogs at CRIS and have received just 25% of spread bets. Despite this lopsided public betting, Tennessee has dropped from +4 to +2 — a surefire indicator of sharp money.
Reverse line movement is one of the easiest ways to track sharp money, but we wanted to know how public betting was affecting the line in Las Vegas, so we spoke with Michael Grodsky from William Hill. He informed us that although 74% of bettors were taking the Bills, 84% of total dollars had been wagered on the Titans (these counts are from William Hill's 100+ Nevada sportsbooks and mobile sports app).
Essentially squares are taking Buffalo and sharps are taking Tennessee, making this the quintessential "Pros vs. Joes" game.
It should be noted that most of our sharp money indicators took Tennessee from +4 to +3, while most of the sports betting marketplace has already moved to Titans +2. This means that much of the value has already been sucked out, although there are a few sportsbooks still hanging Tennessee +3.
If bettors can get the hook in this game, we love the value on Tennessee as a home underdog this week. Since a majority of public bets continue to take Buffalo, it's entirely possible that more offshore books will move back to +3. For that reason, we would strongly suggest that Sportsbook Insider customers set a line watcher alert on Titans +3.
The screenshot below displays the current public betting trends at our contributing offshore sportsbooks:

New England Patriots at Dallas Cowboys (Sunday at 4:25 PM eastern)
Over the summer, CG Technology posted look ahead lines for every NFL game between week 1 and 16 (week 17 lines are not typically posted because many teams will have already locked up a playoff spot and will be resting their starters, making the line entirely unpredictable). When these lines were first posted, the Cowboys were listed as a pick 'em against New England, but oh how the times have changed.
With Tony Romo and Dez Bryant out for the Cowboys and the Patriots seemingly clicking on all cylinders, New England opened as a 7-point favorite at the market-setting CRIS sportsbook. In early betting, the Pats have received 89% of spread bets which has moved the line from -7 to -8.
The last team to receive such overwhelming public support? The Pats received 91% of spread bets in Dec 08 at SEA. https://t.co/EMP5V6sKkf

— Sports Insights (@SportsInsights) October 9, 2015
Bettors aren't only pounding the Patriots at offshore sportsbooks as Vegas book William Hill has seen similar one-sided public betting. As of October 7th at 12 PM ET, a whopping 96% of tickets and total dollars were taking the Patriots.
Our past research indicates that there is contrarian value on the Cowboys this week, with the Dallas fitting our often discussed 80/20 rule. It's also worth noting that Jason Garrett has gone 22-10 ATS (68.8%) as an underdog in his career.
For those who are curious, we haven't seen many sharp money indicators although there were a handful of reverse line movement alerts triggered on Dallas +10. However, at the time of publication Bovada was the only offshore sportsbook still hanging this line.
The screenshot below displays the line chart for Sunday's matchup:

Denver Broncos at Oakland Raiders (Sunday at 4:25 PM eastern)
Who would have thought that the Broncos Super Bowl prospects would be in the hands of their defense as opposed to the right arm of Peyton Manning? Denver currently ranks 25th in the league in passing yards per game (225.2), while their defense has allowed the second fewest points against per game (17.2).
The undefeated Broncos opened as 5.5-point road favorites at CRIS and have received 77% of early spread bets. Despite this overwhelming public support, Denver has actually dropped from -5.5 to -4.5. This reverse line movement once again indicates that sharp money likes Oakland in this matchup.
Need further evidence? Over at William Hill 75% of total tickets have taken Denver while 80% of total dollars wagered are on Oakland. Just like the aforementioned Bills/Titans game, this is setting up as a "Pros vs. Joes" game with squares taking Denver and sharps taking Oakland.
In addition to these sharp money indicators, the Raiders fit a number of profitable betting systems we have previously featured on the blog. Two of the most prominent systems involve buying on bad news, which is fitting since Oakland lost to the lowly Bears last week.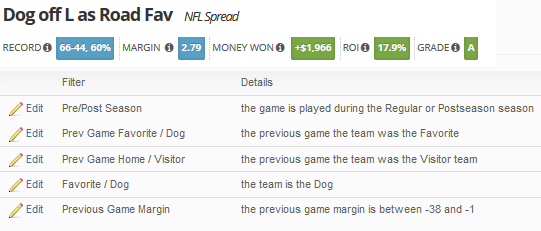 These numbers are subject to change before kickoff, so bettors should be sure to visit our free NFL odds page for the latest lines, injuries, public betting trends and more.
Have any questions for the staff at Sports Insights? Utilize our live chat to speak with a customer service representative or e-mail us at help@sportsinsights.com.
David Solar is the Content Manager for Sports Insights and can be reached directly at David@sportsinsights.com.