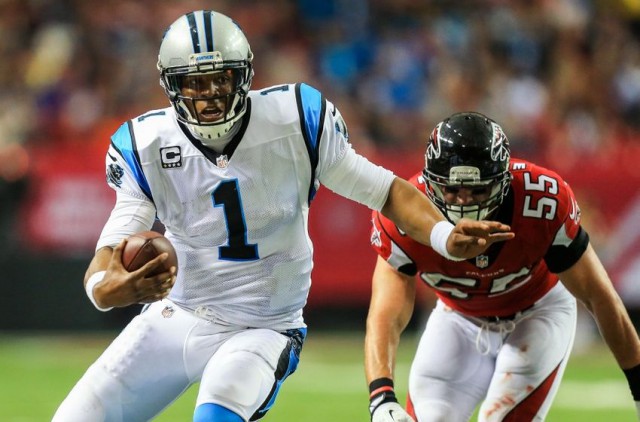 2015 NFL Betting: Week 16 Line Moves That Matter
Every week in this space we highlight the most interesting line moves at the market-setting offshore sportsbooks — typically CRIS, Pinnacle and 5Dimes which take the highest limits and therefore attract the sharpest bettors. By contrasting the opening and current lines with the public betting trends from our seven contributing offshore sportsbooks, we're able to explain what factors are influencing line movement.
In recent weeks we have started to compare our offshore trends with ticket counts and total dollars wagered at William Hill — one of the most prominent Las Vegas sportsbooks. This gives us a more complete overview of the sports betting marketplace.
Although the only picks we fully endorse are our Best Bets, sharp money indicators like reverse line movement help offer insight into which teams are offering value and whether public perception is creating artificial line value.
Our past analysis has revealed that home-field advantage is typically overvalued; however, that's not always the case. An article from several years ago found that NFL home underdogs provide excellent late season value, especially when they're a large 'dog.
In the final two weeks of the season, home underdogs have gone 49-47 ATS (51%). This shows a slight edge, but it isn't enough to cover the standard -110 vig charged by most sportsbooks. However, that record improves to 41-35 ATS (53.9%) when we analyze 'dogs of at least 2-points, 25-20 ATS (55.6%) when we analyze 'dogs of at least 6-points and 7-2 ATS when we analyze 'dogs of at least 10-points.
All of these strategies improve significantly when we apply a betting against the public filter, so we wanted to focus on contrarian home dogs and determine whether they are offering value this week.
Carolina Panthers at Atlanta Falcons (Sunday at 1:00 PM eastern)
This week the Carolina Panthers will look to continue their perfect season against one of their toughest division rivals — the Atlanta Falcons. The Panthers opened at 7-point favorites and, at the time of publication, were receiving 80% of spread bets.

Despite this lopsided public betting, the line has not moved at Pinnacle. Carolina has garnered a similar level of public support in Las Vegas, receiving 79% of tickets and 68% of total dollars wagered at the William Hill sportsbook. This split indicates there have likely been a handful of large bets placed on the Falcons +7.
That said, we have a number of contradicting betting systems triggered on this game. The Falcons fit our 80/20 betting rule and our ESPN Week 8 analysis, but the Panthers fit our ESPN Week 15 analysis in addition to a highly profitable system focusing on good rushing teams in road games.
Since there are profitable systems triggered on both sides, we would recommend laying off this game.
New England Patriots at New York Jets (Sunday at 1:00 PM eastern)
Although the Patriots have already wrapped up a first-round bye, this qualifies as a "must-win" game for the Jets who are currently tied with the Steelers and Chiefs for the final two wild-card spots. It's especially important because the Jets would lose the tiebreaker to both of those teams.
The Patriots opened as 3-point favorites at CRIS and have received 83% of spread bets, yet the line remains unchanged. This line seems almost too good to be true given New England's track record in games where they aren't large favorites.
Since 2003, New England has gone just 49-50 ATS (49.5%) when they are favored by at least 7-points and 82-43 ATS (65.6%) in all other games. In addition, we found that the Patriots have gone 24-12 ATS (66.7%) as a road team in division games.

Despite these trends favoring New England, there is a popular adage that is very pertinent to sports bettors: "If it seems too good to be true, it probably is."
There have been a handful of sharp money indicators on this game including a steam move triggered at CRIS on the Jets +3. There have also been two solid reverse line moves triggered on the Jets +3.5. Our research has also shows that contrarian betting is exceptionally profitable in late season games, with teams receiving less than 20% of spread bets posting a 31-21 ATS (59.6%) record in December or later.
There is definitely contradicting information on this game, but it's quite telling that sharper sportsbooks have been unwilling to adjust their line from 3 to 3.5. Essentially, oddsmakers are welcoming square bettors to pound the Patriots because they like the Jets to cover.
Pittsburgh Steelers at Baltimore Ravens (Sunday at 1:00 PM eastern)
It's still unknown whether Jimmy Clausen, Matt Schaub or Ryan Mallett will start at quarterback, but it doesn't appear that bettors are waiting to find out. The Ravens opened as 9.5-point home underdogs at CRIS and have received just 18% percent of spread bets.
This one sided public betting has pushed the line from Baltimore +9.5 to +10, meaning that bettors can pick up a free half-point purely based on public perception.

This half-point line move is interesting for numerous reasons. Our research found that double-digit home underdogs have been extremely profitable with a record of 38-25 ATS (60.3 percent) over the past 12 seasons.
The Ravens also fit several profitable strategies including our ESPN contrarian betting systems from Week 6, Week 9 and Week 16. Baltimore also fits our updated 80/20 system which has gone a ridiculous 38-14 ATS (73.%).
The Steelers are arguably the hottest team in football while the Ravens are in contention for the worst record in the league. This creates the perfect opportunity to sell high on Pittsburgh and buy low on Baltimore.
---
Want our official Best Bet picks for NFL Week 16?
Sign up for a 4-day trial of our Sportsbook Insider Pro and access all of our picks instantly! That includes NFL, NCAAF, NBA, NCAAB and NHL. Schedule a one-on-one demo with our customer service manager and we'll tack four free days onto your subscription.
These numbers are subject to change before kickoff, so bettors should be sure to visit our free NFL odds page for the latest lines, injuries, public betting trends and more.
Have any questions for the staff at Sports Insights? Utilize our live chat to speak with a customer service representative or e-mail us at help@sportsinsights.com.
David Solar is the Content Manager for Sports Insights and can be reached directly at David@sportsinsights.com