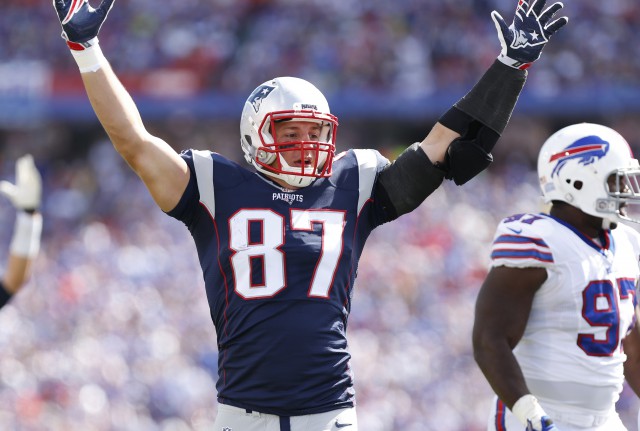 2015 NFL Betting: Week 11 Line Moves That Matter
Every week in this space we highlight the most interesting line moves at the market-setting offshore sportsbooks — typically CRIS, Pinnacle and 5Dimes which take the highest limits and therefore attract the sharpest bettors. By contrasting the opening and current lines with the public betting trends from our seven contributing offshore sportsbooks, we're able to explain what factors are influencing line movement.
In recent weeks we have started to compare our offshore trends with ticket count and total dollars wagered at William Hill — one of the most prominent Las Vegas sportsbooks. This gives us a more complete overview of the sports betting marketplace.
Although the only picks we fully endorse are our Best Bets, sharp money indicators like reverse line movement help offer insight into which teams are offering value and whether public perception is creating artificial line value.
Our contrarian betting strategies typically involves taking favorites and unders since the betting public has a tendency to pound favorites and overs. Recently we have seen 'dogs performing at an exceptionally high level. Underdogs have gone 82-59 ATS this season including a 12-2 ATS mark last week.
On the other hand, the under has gone just 69-72 this season despite an 8-4 record in Week 10. However, our Week 11 analysis for ESPN Insider highlights a new over/under betting system that has gone 115-71 (61.8%) with +37.58 units won and an impressive 20.2% ROI.
In this week's edition, we examine three games with potential contrarian value including Monday night's AFC East showdown between the Buffalo Bills and New England Patriots.
Oakland Raiders at Detroit Lions (Sunday at 1:00 PM eastern)
This could be the ugliest game of the week, but oftentimes bettors can find excellent value in games that are being ignored by the public.
This game opened as a pick 'em at CRIS and, understandably, bettors were quick to fade the Lions. Detroit enters this week with the league's second worst offense (scoring 18.3 ppg) and the second worst defense (allowing 29.0 ppg). We constantly preach the importance of buying on bad news, which means we're closely monitoring the Lions line movement almost every week.
Given the opportunity to bet against the Lions without having to give points, 72% of spread bettors have taken Oakland. This lopsided public betting has moved the Raiders from a pick 'em to -1. There has been similar public betting at the William Hill sportsbook where 80% of tickets and 89% of total dollars wagered have taken the Raiders.
The screenshot below displays the individual public betting trends from our seven contributing offshore sportsbooks:

This type of public support is very uncommon for the Raiders, who haven't received more than 70% of spread bets since September 15, 2013 when they were 3.5-point favorites against the Jaguars. Dating back to 2003 the Raiders have received more than 70% of spread bets just 11 times, going just 4-7 ATS in those games.
For bettors who are interested in going against the grain and taking the Lions, make sure to shop for the best line. Many sportsbooks are offering the Lions +1.5 with a number of square books hanging +2.
Kansas City Chiefs at San Diego Chargers (Sunday at 4:05 PM eastern)
In this AFC West showdown, the Chiefs opened as 3-point road favorites at CRIS and have received 60% of early spread bets. With fairly even public betting, there has been minimal line movement. The Chiefs moved from -3 to -3.5 immediately after opening, but dropped back to -3 just 12 minutes later.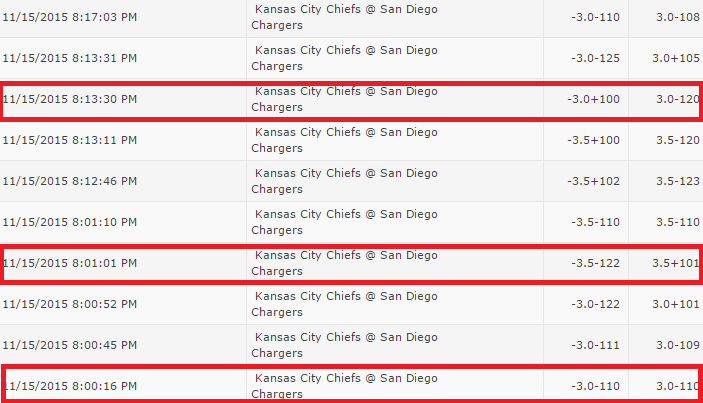 Since dipping back to Chiefs -3, the line has not moved all week. That would seem to indicate that there is no value on this game, but the public betting trends from the William Hill sportsbook tell an entirely different story.
Although the Chiefs have received 64% of spread bets, the Chargers have received 76% of total dollars wagered. This type of discrepancy between ticket count and money count is an excellent indication that sharp money has taken the Chargers as a home underdog. In other words, Pros love San Diego and Joes love Kansas City.
Ideally bettors should have access to at least three sportsbooks: one sharp (i.e. CRIS, The Greek), one square (i.e. Bovada, BetOnline, SIA) and one reduced juice (i.e. 5Dimes, Pinnacle). In this instance, having access to a square sportsbook would allow bettors to grab the hook and take San Diego +3.5.
Buffalo Bills at New England Patriots (Monday at 8:30 PM eastern)
In Week 2 of the season, the Patriots (who closed as 2-point road underdogs) defeated the Bills 40-32. In their Week 11 rematch, the Patriots opened as 9.5-point favorites and have received 67% of spread bets. Despite this one-sided public betting, New England has dropped from -9.5 to -7 at CRIS which seemingly indicates sharp money on Buffalo.

Although this 2.5-point reverse line move would seem to imply that sharp money is taking Buffalo, there are other factors to consider. For starters, Julian Edelman was downgraded from "Questionable" to "Out Indefinitely" as you can see on the line chart. While no wide receiver is worth 2.5-points to the spread, "9" is the 20th common margin of victory which makes it a dead number.
The public betting trends from William Hill also help shed light on this conundrum. The Patriots are receiving 75% of tickets and 96% of total dollars wagered. These figures would seem to indicate that both sharps and squares are taking the Patriots.
Tom Brady has thrived in high-scoring games, posting a record of 37-23 ATS (61.7%) when the closing total is at least 48. The MVP front runner has also gone 52-24 ATS (69.2%) when his offense scores fewer than 28-points in the previous game.

Although contrarian value and reverse line movement would seem to indicate that the Bills are being undervalued, there are other mitigating factors at play.
---
Want our official Best Bet picks for NFL Week 11?
Sign up for a 4-day trial of our Sportsbook Insider Pro and access all of our picks instantly! That includes NFL, NCAAF, NBA, NCAAB and NHL. Schedule a one-on-one demo with our customer service manager and we'll tack four free days onto your subscription.
These numbers are subject to change before kickoff, so bettors should be sure to visit our free NFL odds page for the latest lines, injuries, public betting trends and more.
Have any questions for the staff at Sports Insights? Utilize our live chat to speak with a customer service representative or e-mail us at help@sportsinsights.com.
David Solar is the Content Manager for Sports Insights and can be reached directly at David@sportsinsights.com