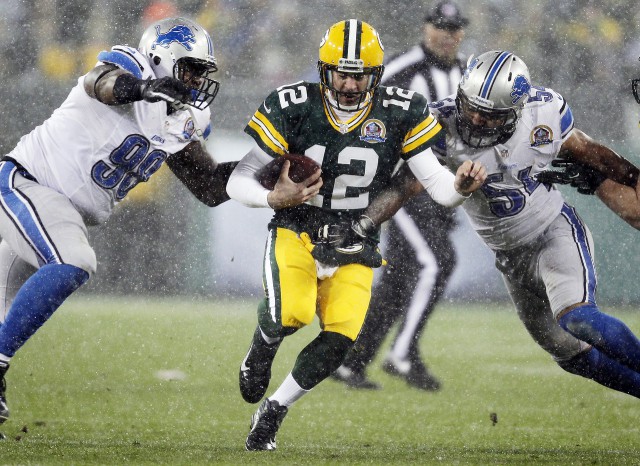 2015 NFL Betting: Week 10 Line Moves That Matter
Every week in this space we highlight the most interesting line moves at the market-setting offshore sportsbooks — typically CRIS, Pinnacle and 5Dimes which take the highest limits and therefore attract the sharpest bettors. By contrasting the opening and current lines with the public betting trends from our seven contributing offshore sportsbooks, we're able to explain what factors are influencing line movement.
In recent weeks we have started to compare our offshore trends with ticket count and total dollars wagered at William Hill — one of the most prominent Las Vegas sportsbooks. This gives us a more complete overview of the sports betting marketplace.
Although the only picks we fully endorse are our Best Bets, sharp money indicators like reverse line movement help offer insight into which teams are offering value and whether public perception is creating artificial line value.
In this week's edition we examine three games with extremely one-sided public betting, including two divisional rivalries.
Detroit Lions at Green Bay Packers (Sunday at 1:00 PM eastern)
Sunday's most heavily bet game features a showdown of two NFC South rivals as the Green Bay Packers host the Detroit Lions. Despite losing their past two games (both to undefeated opponents), the Packers opened as 13-point favorites at the market-setting Pinnacle sportsbook and have received 79% of spread bets.
Despite this overwhelming public support, the Packers have dropped from -13 to -11.5. This reverse line movement is an excellent indicator that sharp money likes the Lions as a big road dog.

We typically recommend buying on bad news, selling on good, and taking the league's least popular teams. Considering that the Lions have gone just 1-7 this season and are coming off a 35-point loss to the Chiefs, this may be the perfect time to buy low.
Since 2003, double-digit underdogs have gone 221-190 ATS (53.8%) and that record improves to 93-68 ATS (57.8%) in divisional games. Past research has shown that teams coming off a loss of at least 20-points have gone 340-288 ATS (54.1%), which also bodes well for Detroit.
We should note that Aaron Rodgers (72-47 ATS,  +22.51 units won) has been the third most profitable quarterback in our database while Matthew Stafford (33-51 ATS, -18.85 units lost) has been the second worst quarterback.
It's also interesting to see that the betting trends at William Hill don't necessarily validate our sharp money indicators, as the Packers are receiving 83% of tickets and 82% of total dollars wagered. Ideally the Lions would be receiving a higher percentage of the total dollars wagered, but they do appear to be offering contrarian value.
Carolina Panthers at Tennessee Titans (Sunday at 1:00 PM eastern)
Cam Newton and company will look to continue their undefeated season this weekend against the Titans. The Panthers opened as a 4-point favorite at Pinnacle and have received 79% of spread bets. This high level of public support has helped the line moved from Carolina -4 to -5.5
The screenshot below displays the individual betting trends at our contributing sportsbooks:

At the time of publication, there have been no bet signals triggered on Carolina which means that public betting is solely responsible for this 1.5-point line move. Although "5" is considered a dead number, "4" is the fifth most common margin of victory over the past 12 seasons.
We would also strongly advise that bettors shop for the best line before placing any wagers. A number of square sportsbooks (including Sportsbook.com and Bovada)  are offering Tennessee +6, which is the fourth most common margin of victory.
Over at William Hill, there has been similar lopsided public betting with the Panthers receiving 90% of tickets and 81% of total dollars wagered.
Cleveland Browns at Pittsburgh Steelers (Sunday at 1:00 PM eastern)
This is one of the week's more intriguing games purely based upon the uncertainty surrounding the starting quarterback. Ben Roethlisberger suffered a foot injury in last week's victory over the Raiders and was initially expected to miss several weeks, however, Adam Schefter reported that Big Ben is ahead of schedule and could potentially play this week.
Steelers' QB Ben Roethlisberger was expected to be in walking boot all week, but he is out and "progressing ahead… https://t.co/7jm3ckbROL

— Adam Schefter (@AdamSchefter) November 12, 2015
If Roethlisberger is unable to play, Landry Jones would get his second start of the season but this backup quarterback doesn't appear to be affecting public perception. The Steelers opened as 4.5-point favorites at Pinnacle and have received 71% of spread bets, which has moved the line from Pittsburgh -4.5 to -5.
Again, there have been no bet signals triggered on this game which seems to indicate that public money is responsible for this half-point line move. That said, a move from -4.5 to -5 is fairly insignificant considering that just 3.6% of all games played since 2003 have been decided by 5-points — the 13th most common margin of victory.
We have previously mentioned that the familiarity between divisional opponents disproportionately benefits the underdog, which would seem to point towards value on Cleveland. We have also found that underdogs offer value in games with low totals, which indicates that Cleveland +5 could be a good bet. That said, we would likely suggest waiting until there's more clarity regarding Big Ben's status for Sunday.
Want our official Best Bet picks for NFL Week 10?
Sign up for a 4-day trial of our Sportsbook Insider Pro and access all of our picks instantly! That includes NFL, NCAAF, NBA and NHL. Schedule a one-on-one demo with our customer service manager and we'll tack four free days onto your subscription.
These numbers are subject to change before kickoff, so bettors should be sure to visit our free NFL odds page for the latest lines, injuries, public betting trends and more.
Have any questions for the staff at Sports Insights? Utilize our live chat to speak with a customer service representative or e-mail us at help@sportsinsights.com.
David Solar is the Content Manager for Sports Insights and can be reached directly at David@sportsinsights.com