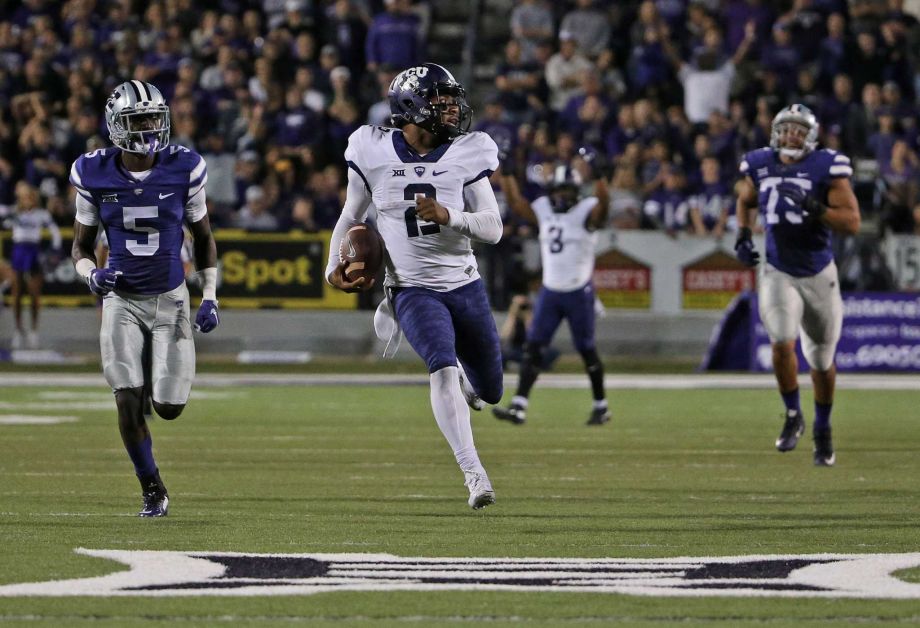 2015 College Football: Week 6 Betting Recap
We're now through 6 weeks of the college football season and there's plenty to examine including upsets, comebacks, coaching changes and more.
Largest Moneyline Upsets:
Washington +632 at USC
Washington State +613 at Oregon
Texas +549 vs. Oklahoma
Wake Forest +313 at Boston College
On Thursday night SMU was down 49-21 late in the 4th quarter but scored on a 3rd and goal from the 25 yard line to cut the deficit to 21. The game ended 49-28 with SMU covering the closing spread of 24. The TD also sent the game over the closing total 71.5.
Friday night the total for NC State-Virginia Tech dropped nearly 10 points by game time, from 53 to 44. Despite the massive move, even late bettors on the under were able to cash, as the game ended 28-13.
On Friday night there was also a huge line move on Michigan, moving them from -7.5 to -10 despite getting just 24% of spread bets. This was a sure indicator of big, sharp money on the Wolverines and they won easily 38-0. It's now the 3rd consecutive shutout for Michigan, first time that's happened in FBS since Kansas State in 1995.
We've never tracked a total below 36 in our Bet Labs database but the Northwestern-Michigan total had been bet down to 34 during the week. It closed at 37 but still wasn't the lowest closing total of the week (Wake Forest-BC 36 was the lowest, and also the most popular under at 70%).
It's become a trend this year– the highest total of the week, UMass/Bowling Green 79, easily went over while the lowest total, Wake Forest-BC 36, ended just about as low as possible at 3-0.
Kansas closed +46 vs. Baylor, which is the largest home underdog we've tracked in our Bet Labs database. Even with a 52-7 halftime lead, Baylor was -16.5 on the 2nd half line but Kansas covered that line, ultimately losing 66-7.
Nebraska lost their 4th game of the year on their opponent's final offensive possession. This time they gave Wisconsin two field goal chances in the last 2 minutes and they converted on one, winning 23-21.
Tennessee was finally on the right side of a comeback victory, coming back from 21 down to beat Georgia 38-31. The Vols were available at +775 on the live moneyline.
There were four teams playing this week with a chance to go over their Season Win Total. Cal (5.5), Illinois (4.5), UNLV (2.5), and EMU (1.5). All were underdogs heading into the week's matchups and none of them were able to win.
Unanswered points scored on Saturday: Portland State 66, Baylor 59, Ole Miss 49, Temple 42.
Portland State, an FCS squad who already won as 52:1 underdogs this season at Washington State, beat North Texas 66-7, and the result led to the dismissal of North Texas head coach Dan McCarney.
Maryland covered against Ohio State but that wasn't enough to keep Randy Edsall, as the Terps relieved the head coach on Sunday. Edsall went just 24-32 ATS in his 5+ years, including a 2-10 ATS mark in his first year.
Another unfortunate coaching coach is happening at USC, where Steve Sarkisian is taking a leave of absence to address an alcohol problem. Sarkisian had gone 10-7 ATS in his brief time but couldn't avoid the big upset each year.
Road teams went 27-26 ATS this week while favorites went 31-23 ATS.
After a historic week of unders in Week 5, Overs went 29-25 in Week 6.
Heisman Watch: Yep, still Leonard Fournette against everyone else, although guys like Seth Russell are putting up stats to at least stay in the conversation. Fournette was available at -175 to win the Heisman heading into the week and likely to become a bigger fave next week. TCU QB Trevone Boykin is also making a strong case as he led the Horned Frogs to another comeback win at Kansas State 52-45.
Major Injuries: UGA RB Nick Chubb is likely out for the remainder of the year after suffering a gruesome leg injury vs. Tennessee, a tough blow to a team who has now lost 2 straight SEC games.
Videos/Vines of the Week: Baylor was in such a cake-walk against Kansas that 410-pound TE LaQuan McGowan was able to rumble into the end zone in the 1st half:
Poetry in motion. http://t.co/ryaR9Ur1mw pic.twitter.com/8YjiMUHM9v — Deadspin (@Deadspin) October 10, 2015
It's hard to imagine a 3-0 game to be captivating in any aspect but the 4th quarter of Wake Forest-BC aboslutely was.
With Rutgers looking to come back against Michigan State, they decided to spike the ball on 4th down instead of running an actual play.