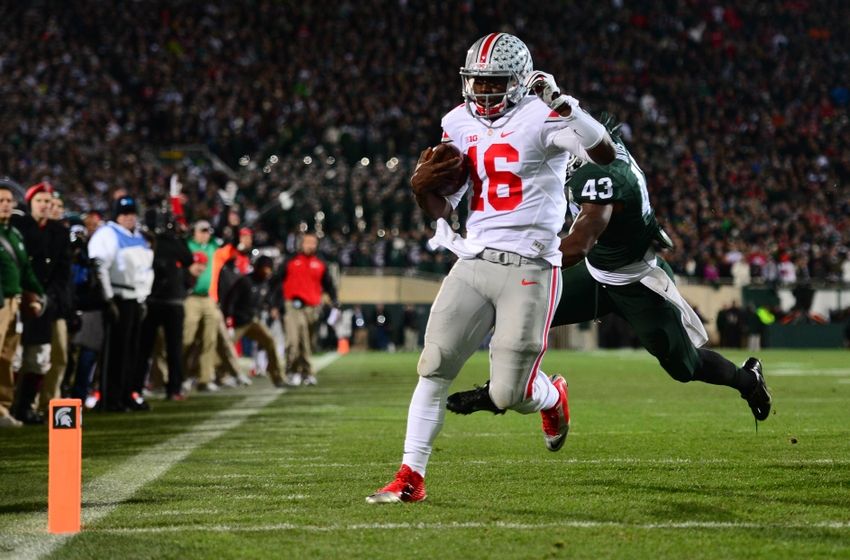 2015 College Football: Week 12 Opening Line Report
Notre Dame vs. Boston College (at Fenway Park): BetOnline opened ND -16 and moved to -16.5 while the rest of the market then opened ND -17. BC has historically played the Irish very tough and they have one of the best defenses in the nation this season, but BC's offense simply cannot score. There's no total out yet but will likely open in the high 30s or low 40s, which would present some value on the big underdogs. Right now betting is relatively split with the entire market sitting on ND -17, and we'd expect the line to come down slightly during the week with some BC money.
Ohio State vs. Michigan State: Ohio State opened -13 across the board against Michigan State and the line has yet to move. Early betting has been on Michigan State (65%) and the lookahead line for this before the year was Ohio State -14, so not a whole lot has changed. Michigan State really should be undefeated, which would have magnified the importance of this game, but they have a chance to destroy the Buckeyes' dream season. One thing to keep an eye on for this game is the health of Michigan State QB Connor Cook, who is expected to play with a shoulder injury but could be hindered. It's always tough to predict where a line will go but we'd expect this to move to Ohio State -14 at some point.
Baylor at Oklahoma State: Oklahoma State comes into this game undefeated with a great chance of getting into the playoff, but only opened -1 against a Baylor team who lost at home last week to Oklahoma. The short line can partly be attributed to the lookahead line over the summer, which was Baylor -10, so oddsmakers still believe Baylor is a better team than Oklahoma State. Again, this is a matchup that is seeing split betting early on and should be one of the most bet games of the weekend. After coming off their home loss last week, there should be some value on Baylor, especially if they tick up to +3.
Toledo at Bowling Green: In Tuesday MACtion, this is a matchup between the top two ATS teams in the nation (Toledo 7-1-1 ATS, Bowling Green 8-2 ATS). Bowling Green opened -9.5 at BetOnline, -7.5 at CRIS, and -8.5 at 5Dimes so there's a big difference in openers for this game. The majority of early bets is coming in on Toledo, which has brought the line down to -7 and -6.5 across the market. This game technically means more for Toledo, as they're in a race to win the MAC West division, while Bowling Green has already wrapped up the MAC East division. This will help explain why bettors will bet on the team that "needs" the game more (Toledo in this case), but more pressure on the road dogs may actually present value on Bowling Green, especially at -6.5.
As always, bettors can view live odds, opening odds, betting percentages, injuries and more at our Free Live Odds page.