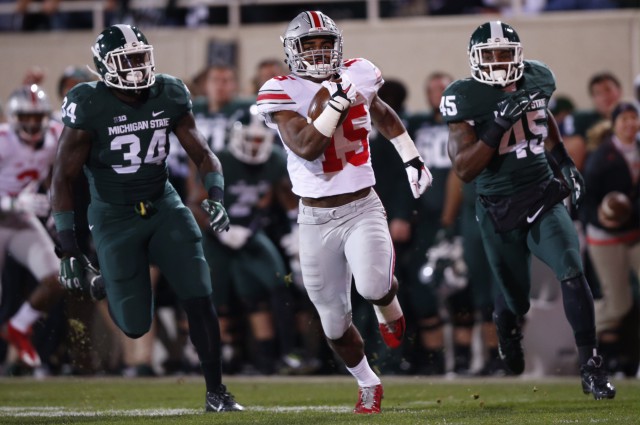 2015 College Football: Week 12 Line Moves That Matter
In one of Saturday's least popular games New Mexico, who closed +31 on the spread and +5,500 on the moneyline, defeated Boise State 31-24. This surpassed Portland State (+5250 over Washington State) as the biggest upset of the year, but overall it wasn't a great week for the little guy.
Last week the underdog went just 26-32 ATS and teams receiving less than 50% of spread bets posted a 24-34 ATS record. Those results don't improve when we examine increasingly lopsided bet games, as teams receiving less than 40% of spread bets were just 14-27 ATS and teams receiving less than 30% of spread bets were a woeful 4-11 ATS.
Overall, there have been mixed results for betting against the public this season. Teams receiving less than 50% of spread bets have gone 325-341 ATS (48.8%), teams receiving less than 40% of spread bets have gone 198-227 ATS (46.6%) and teams receiving less than 30% of spread bets have gone 85-111 (43.4%). These number vastly contradict our historical trends, and it's shocking to see that the winning percentage drops at we look at increasingly lopsided public betting.
However, we have stressed time and time again that the value of betting against the public is directly correlated with the number of bets placed on a game. If there isn't an influx of public money coming down on the favorite, oddsmakers won't be forced to adjust their lines to encourage action on the underdog. For that reason, it's important to focus on heavily bet games which typically feature teams from the five power conferences: ACC, Big Ten, Big 12, Pac-12 and SEC.
When we re-examine our betting against the public strategy and focus on teams from these conferences, we see dramatically different results. This season teams receiving less than 50% of spread bets have gone 140-129 ATS (52%), teams receiving less than 40% of spread bets have gone 79-71 ATS (52.7%) and teams receiving less than 30% of spread bets have gone 28-25 ATS (52.8%).
When we look for reverse line movement in these games, those results improve tremendously.

In this week's edition, we wanted to analyze three of the weekend's most heavily bet games — all of which feature conference rivalry games in major conferences. Each game is offering contrarian value; however, only two of these teams have triggered reverse line movement.
By comparing the public betting trends from our contributing sportsbooks and from the Las Vegas based William Hill sportsbook (@WilliamHillUS on twitter), we're able to identify sharp money and explain why factors have caused early line movement.
Michigan State at Ohio State (Saturday at 3:30 PM eastern)
In this season-defining game, the Buckeyes (10-0, 6-0 Big Ten) opened as 13-point home favorites against the Spartans (9-1, 5-1 Big Ten) at the market-setting Pinnacle sportsbook. As we've seen time and time again, bettors are more than happy to pound a ranked team as an underdog — particularly as a double-digit 'dog.
Although Michigan State has received 73% of spread bets, they have actually dropped from +13 to +13.5 at Pinnacle. This reverse line movement is an excellent indicator that early sharp money is pounding Ohio State.

The public betting trends over at William Hill have been fascinating, and also indicate that Ohio State is offering tremendous value. Although Michigan State has received 86% of tickets, Ohio State has received 85% of total dollars wagered. This would appear to be the perfect example of "Pros vs. Joes," with Pros taking Ohio State and Joes taking Michigan State.
USC at Oregon (Saturday at 3:30 PM eastern)
In this Pac-12 rivalry, Oregon opened as a 3.5-point home favorite at Pinnacle and have received 68% of early spread bets. This one-sided public betting has moved the Ducks from -3.5 to -4.5 across the sports betting marketplace.

Since there have been no bet signals triggered at the time of publication, we can assume that public money is largely responsible for this 1-point line move. Our research indicates that "4" is the fifth most common margin of victory, which makes this line move fairly significant.
At William Hill, Oregon has received 78% public bets and 89% of total dollars wagered. That data would seem to negate our earlier assumption, and points towards the possibility that both sharps and squares are taking Oregon. With this type of contradicting information, we would recommend laying off this game — at least until we have more definitive sharp money indicators.
Baylor at Oklahoma State (Saturday at 7:30 PM eastern)
In this week's most heavily bet game, Oklahoma State opened as a 1-point home favorite against Baylor. The Cowboys have received 69% of early spread bets; however, the line has actually moved to a pick 'em at Pinnacle. This reverse line movement would seem to indicate that sharp money likes Baylor in this matchup.
Despite losing Heisman candidate Seth Russell in their October 24th victory over Iowa State, Baylor's offense hasn't missed a beat in recent weeks. Freshman quarterback Jarrett Stidham has passed for 1,007 yards with 11 touchdowns and 2 interceptions this season including a 419 yard, 3 touchdown performance in his first start of the season (November 5th against Kansas State).
Over at William Hill, Oklahoma State has received 89% of all tickets and 97% of total dollars wagered. This would seem to point towards potential contrarian value on Baylor, but bettors will need to monitor upcoming sharp money indicators like steam moves and reverse line movement alerts.
---
These numbers are subject to change before kickoff, so bettors should be sure to visit our free College Football odds page for the latest lines, injuries, public betting trends and more.
We would like to stress that the only picks we fully endorse are our Best Bets which are available to Sportsbook Insider Pro subscribers. Bettors can access these picks plus real-time odds, public betting trends, steam moves, reverse line movement alerts and more by signing up for a 4-day Pro trial.
Interested in adding more time to your subscription? Schedule a one-on-one demo with our customer service manager and receive an additional four days for free!
Have any questions for the staff at Sports Insights? Utilize or live chat to speak with a customer service representative or e-mail us at help@sportsinsights.com
Join us live Saturday mornings at 11am ET
We're now holding our members-only live Sports Betting Hangouts Saturday mornings to prepare you for a full day of College Football. Members, simply log into your account Saturday morning to access the hangout.
Not a member? Start a trial today to join our Sports Betting Hangouts held six days a week, plus all the other Sportsbook Insider Pro benefits.