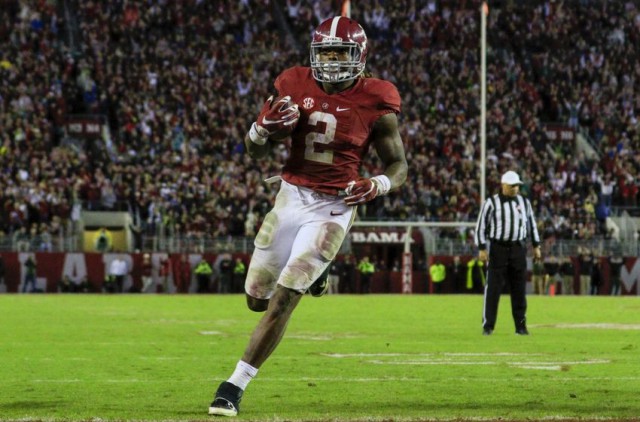 2015 College Football: Week 11 Line Moves That Matter
Last week in this space, we examined three of Saturday's most heavily bet games and re-iterated how the value of betting against the public is amplified in marquee games. We also explained how underdogs have traditionally performed better in conference games, as the familiarity between teams levels the playing field and disproportionately benefits the team getting points.
In this analysis we explained how Vanderbilt (+21), Oklahoma State (+5) and Nebraska (+5.5) were offering contrarian value and all three 'dogs came through with the cover. In fact, our betting against the public strategies performed exceptionally well in Week 10.
Teams receiving less than 50% of spread bets were 30-28 ATS and teams receiving less than 25% of spread bets were 5-2 ATS. On the season teams receiving less than 25% of spread bets are just 40-50 ATS, but that record improves to 11-8 ATS when we focus on teams from the five major conferences (ACC, Big Ten, Big 12, SEC and Pac-12).
In this week's edition, we once again analyzed three of the most heavily bet games including conference rivalry games in the Big Ten, Big 12 and SEC. By comparing the opening and current lines at market-setting sportsbooks with public betting trends from our contributing sportsbooks, we are able to determine what has been responsible for early line movement. We will also be posting public betting trends from the Las Vegas sportsbook William Hill (@WilliamHillUS on twitter) later in the week.
We are also able to utilize a number of tools available to Sportsbook Insider customers to help identify sharp money and other historically profitable betting trends.
Ohio State at Illinois (Saturday at 12:00 PM eastern)
The first edition of the College Football Playoffs (CFP) rankings were released on Tuesday and Ohio State ranked third behind Clemson and Alabama. This was an interesting development since Clemson (+400) has worse odds of winning the National Championship than both Ohio State (+275) and Alabama (+245).
In their quest to remain undefeated and clinch a spot in the playoffs, the Buckeyes opened as a 17-point favorite at CRIS and have received 84% of spread bets. Despite this one-sided public betting, Ohio State has actually slipped from -17 to -15.5. This reverse line movement indicates that early sharp money pounded Illinois as a double-digit home underdog.

William Hill Trends: Ohio State receiving 91% of tickets and 93% of total dollars wagered.
Alabama at Mississippi State (Saturday at 3:30 PM eastern)
Alabama has done an excellent job overcoming their early loss to Mississippi and now have the best odds of winning the National Championship and the number two ranking in the first CFP rankings. It's also been an excellent few weeks for running back Derrick Henry who has emerged at the Heisman front runner (+150) at Bovada.
In this week's game, the Crimson Tide opened as 7-point favorites at CRIS and have received 79% of spread bets. This overwhelming public support has pushed Alabama from -7 to -7.5. However, there were two steam moves triggered on Alabama which indicates that it's not necessarily public money that's responsible for this half-point line move.
Although Mississippi State appears to be offering contrarian value, there are actually a number of contradicting betting systems on this game. Since 2003, the favorite has gone 252-211 ATS (54.4%) when two ranked teams play each other which would seem to favor Alabama. Conversely, Mississippi State fits a highly profitable betting system that focuses on well-rested teams against ranked opponents.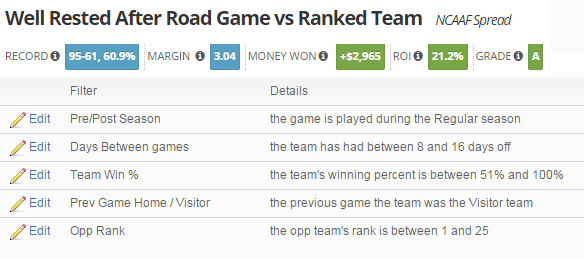 We typically recommend laying off whenever we have contradicting sharp money indicators, so bettors may want to look elsewhere for value this weekend.
William Hill Trends: Alabama receiving 75% of tickets but just 51% of total dollars wagered
Oklahoma at Baylor (Saturday at 8:00 PM eastern)
In Saturday's most heavily bet game, Baylor opened as a 5-point home favorite at Pinnacle. In early action, public betting has been fairly split with 56% of spread bettors taking Oklahoma and the points. In spite of this even split, Baylor has dropped from -4 to -2.5. This is particularly significant since it passed through the key number of 3.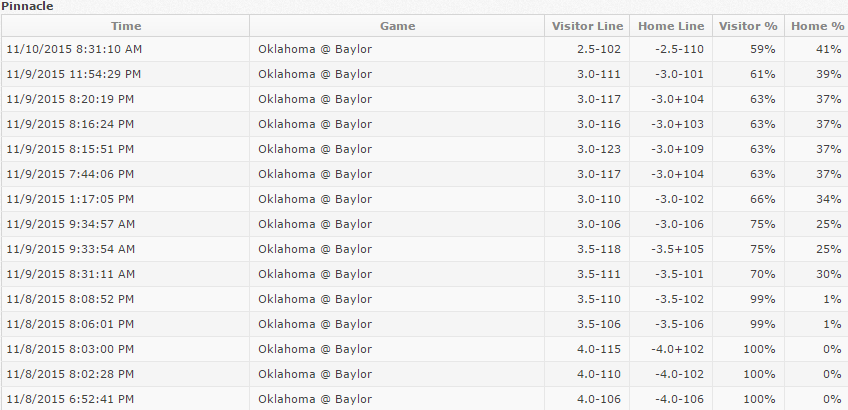 As you can see from the line history chart, Oklahoma moved from +4 to +3.5 within 80 minutes of opening on Sunday morning and the line reached +3 the following morning. The line remained stagnant at Oklahoma +3 until Tuesday morning when it dropped to +2.5.
William Hill Trends: Oklahoma receiving 60% of total tickets but 80% of total dollars wagered.
---
These numbers are subject to change before kickoff, so bettors should be sure to visit our free College Football odds page for the latest lines, injuries, public betting trends and more.
We would like to stress that the only picks we fully endorse are our Best Bets which are available to Sportsbook Insider Pro subscribers. Bettors can access these picks plus real-time odds, public betting trends, steam moves, reverse line movement alerts and more by signing up for a 4-day Pro trial.
Interested in adding more time to your subscription? Schedule a one-on-one demo with our customer service manager and receive an additional four days for free!
Have any questions for the staff at Sports Insights? Utilize or live chat to speak with a customer service representative or e-mail us at help@sportsinsights.com