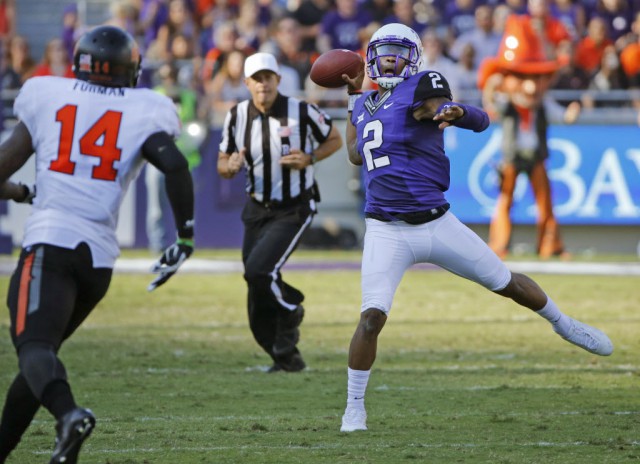 2015 College Football: Week 10 Line Moves That Matter
Last week was highlighted by Miami's ridiculous and improbable victory over Duke. The Hurricanes (closed +10 on the spread, +290 on the moneyline) eight-lateral game-winning kickoff return was reminiscent of "The Play" and helped give Miami the weekend's biggest upset.
Miami received just 35% of spread bets in this matchup, helping contribute to another profitable week for our betting against the public strategy. Teams receiving less than 50% of spread bets were 27-26 ATS and teams receiving less than 40% of spread bets were 24-19 ATS. When we examine major conference teams receiving less than 40% of spread bets, that record improves to 12-8 ATS.
This week we wanted to look at four of the most heavily bet games including conference rivalry games in the Big Ten, Big 12 and SEC. By comparing the opening and current lines at market-setting sportsbooks with public betting trends from our contributing sportsbooks, we are able to determine what has been responsible for early line movement. We will also be posting public betting trends from the Las Vegas sportsbook William Hill (@WilliamHillUS on twitter) later in the week.
We are also able to utilize a number of tools available to Sportsbook Insider customers to help identify sharp money and other historically profitable betting trends.
Vanderbilt at Florida (Saturday at 12:00 PM eastern)
In this matchup of two stout defenses, Florida opened as a 19-point home favorite at the market-setting CRIS sportsbook. In early action, 82% of spread bets have taken the Gators which has moved the line from -19 to -21 across the sports betting marketplace.
This lopsided public betting would seem to indicate that Vanderbilt is offering contrarian value, and there are other historical trends to support this. Past research has found that underdogs (and particularly double-digit dogs) have been undervalued in low-scoring games. Since opening, this total has dropped from 39.5 to 37.5 making it the 7th lowest over/under of the season.
We strongly advocate that bettors buy on bad news and sell on good. The idea is that public perception will artificially move the line, and opportunistic bettors can get free points by taking the unpopular side of a game. Vandy is coming off a 34-point loss to Houston while Florida defeated Georgia by 24-points in their previous game. These signs all point towards contrarian value on Vandy +21.
William Hill Trends: Florida receiving 91% of tickets and 96% of total dollars wagered.
TCU at Oklahoma State (Saturday at 3:30 PM eastern)
TCU opened as a 5-point road favorite at CRIS and have received 77% of spread bets. Despite this one-sided public betting, the line remains unchanged at TCU -5. Although this would seem to point towards contrarian value on Oklahoma State, there are a few mitigating factors.
Since 2003, the favorites has gone 251-209 ATS when two ranked teams play each other. We have also found that favorites perform well in games with high totals, and the over/under for this game is currently 77.5.
The screenshot below displays the individual breakdown of our public betting trends from our seven contributing offshore sportsbooks.

William Hill Trends: TCU receiving 68% of tickets and 80% of total dollars wagered.
Michigan State at Nebraska (Saturday at 7:00 PM eastern)
In this week's most lopsided bet game, Michigan State opened as a 4.5-point favorite at CRIS and have received a whopping 91% of spread bets and 99% of moneyline bets. This overwhelming public support has moved the Spartans from -4.5 to -5.5. Since there have been no bet signals triggered on this game, we can determine that public money is solely responsible for this 1-point line move.
Since 2003, there have been just 24 games in which a team received at least 90% of spread bets. In those games, teams receiving overwhelming public support have gone 16-8 ATS including an 8-3 ATS record for major conference teams.

Because we are examining such a small sample size, bettors should make sure to not overreact to this data. Nebraska is still offering contrarian value, but bettors should shop for the best line since many square books (including Sportsbook.com) have already moved adjusted their line to Nebraska +6.5.
William Hill Trends: Michigan State receiving 96% of tickets and 99% of total dollars wagered.
LSU at Alabama (Saturday at 8:00 PM eastern)
In the most heavily bet game of the week, Alabama opened as a 7-point favorite at CRIS but have received just 27% of spread bets. This is fascinating because the Crimson Tide have never received less than 28% of spread bets (10/21/06 against Tennessee).
With a majority of public bettors taking LSU, the Tigers have moved from +7 to +6.5. Since there have been no bet signals triggered on the spread, this would seem to indicate that it's solely public money responsible for this half-point line move. That said, our line predictor believes that Alabama will move from -6.5 back to -7.
Our line predictor tool is designed to help bettors decide when they should place a bet. In order to get the best line possible, Alabama bettors should take the Crimson Tide -6.5 before the line moves, while LSU bettors should wait until they can take the Tigers at +7.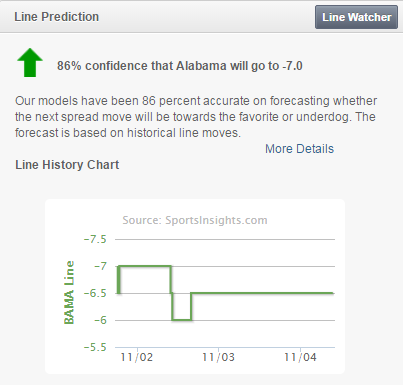 William Hill Trends: LSU receiving 75% of tickets and 62% of total dollars wagered.
---
These numbers are subject to change before kickoff, so bettors should be sure to visit our free College Football odds page for the latest lines, injuries, public betting trends and more.
We would like to stress that the only picks we fully endorse are our Best Bets which are available to Sportsbook Insider Pro subscribers. Bettors can access these picks plus real-time odds, public betting trends, steam moves, reverse line movement alerts and more by signing up for a 4-day Pro trial.
Interested in adding more time to your subscription? Schedule a one-on-one demo with our customer service manager and receive an additional four days for free!
Have any questions for the staff at Sports Insights? Utilize or live chat to speak with a customer service representative or e-mail us at help@sportsinsights.com.