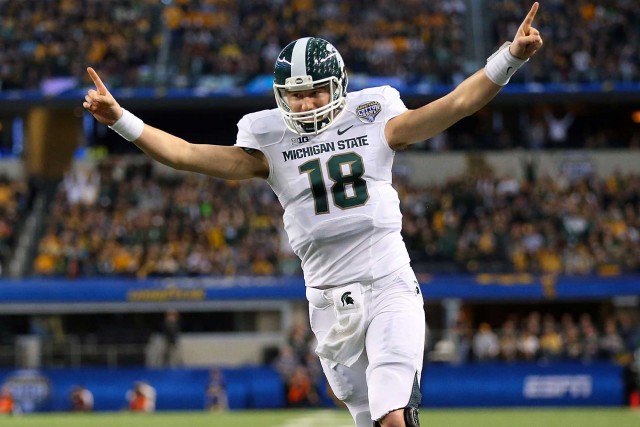 2015 College Football: Previewing Thursday and Friday's Week 1 Action
After an eight-month layoff, College Football is finally back and the excitement is palpable. The inaugural year of the 4-team playoff was a rousing success in multiple ways. Not only did the ratings blowing away previous BCS games, but our betting against the public philosophy thrived as teams receiving less than 50% of spread bets posted a 38-23 ATS record (+12.96 units).
[ Save 40% off our Pro subscription by purchasing the Early Bird Special ]
This season we have already posted our latest Betting Against the Public Report and explained which teams were being overvalued according to oddsmakers, but we wanted to examine the most interesting line movement for the early Week 1 games. Analysis for Saturday's action (along with Monday's highly anticipated Ohio State/Virginia tech team) will be posted later in the week.
What's particularly interesting about Week 1 action is that many of these lines have been posted for months now. Sportsbooks typically see lower revenues and fewer bettors during the summer and will attempt to entice action by posting a plethora of football-related betting opportunities. Although the limits are usually low, this often leads to some fascinating line movement.
BetOnline, a renowned "square" sportsbook that caters to casual bettors, first posted their Week 1 College Football lines on July 1st. During those two months we have observed some monumental line moves due to injuries, sharp action or simply moving on air to adjust to the new market consensus. Some of the biggest movers for Thursday and Friday's games include:
Western Kentucky (+17.5 to -2.5 at Vanderbilt)
Baylor (-20 to -36 at SMU)
Colorado (+2.5 to -7.5 at Hawaii)
Tulane (+13.5 to +7.5 vs. Duke)
Western Michigan (+23.5 to +17.5 vs. Michigan State)
Oklahoma State (-20.5 to -24.5 at Central Michigan)
Florida International (+17 to +14 at Central Florida)
Some of these line movements are almost laughable and likely won't be seen at any other point during the season. The most ridiculous move is clearly the 20-point swing in Thursday night's Western Kentucky/Vanderbilt game. WKU, which opened as a 17.5-point favorite, moved to +10 within three hours of opening.

Sharper sportsbooks, such as Pinnacle, waited much longer to release their Week 1 lines. Pinnacle opened Vanderbilt as a 2.5-point on favorite back on July 27th, but with 65% of spread bettors taking Western Kentucky; Vandy has dropped to +2.5.
To highlight the difference between sharp (Pinnacle) and square (BetOnline) sportsbooks, we decided to compare the opening lines for all of the games listed above:
Western Kentucky (+17.5 at BetOnline | +2.5 at Pinnacle)
Baylor (-20

at BetOnline | -34 at Pinnacle)

Colorado (+2.5

at BetOnline | -8 at Pinnacle)

Tulane (+13.5

at BetOnline | +9.5 at Pinnacle)

Western Michigan (+23.5

at BetOnline | +19 at Pinnacle)

Oklahoma State (-20.5

at BetOnline | -22 at Pinnacle)

Florida International (+17

at BetOnline | +17 at Pinnacle)
As you can see, Pinnacle was closer to the current number with every single one of their opening lines. This highlights the importance of having access to multiple sportsbooks and shopping for the best line.
---
While the line movement at BetOnline can essentially be qualified as a fluke, we will typically examine the odds at market-setting sportsbooks like CRIS, Pinnacle or 5Dimes when examining line movement. These books take the highest limits, which attracts the sharpest sports bettors and thus produces the sharpest lines.
Looking at early line movement from Pinnacle, there are four games that jump off the board:
Michigan State at Western Michigan (Friday at 7PM ET)
Last season Michigan State posted an 11-2 record including a narrow victory over Baylor in the Cotton Bowl. With 15 returning starters including All-Big Ten quarterback Connor Cook, the Spartans opened the season as the nation's 5th ranked team.
Riding this hype, Michigan State opened as a 19-point favorite at Pinnacle and are currently receiving 81% of spread bets at our contributing sportsbooks. Although you would expect this type of one-sided action would move MSU to -20 or -21, they have actually dropped to -17.5.
When the line moves against our public betting trends it's referred to as reverse line movement — an excellent indicator of sharp money. Based on this information, we can ascertain that although public money is taking Michigan State, the smart money is on Western Michigan.
The line graph below, which is available to Sportsbook Insider subscribers, shows the line movement since opening at Pinnacle.

Charlotte at Georgia State (Friday at 3:35 PM ET)
Georgia State opened as a 4-point favorite at Pinnacle and are currently receiving 71% of spread bets. With such one-sided betting it would appear as though public money were responsible for the line moving to -7.5, but there's more to this line movement than meets the eye.
At the time of publication, we have only recorded 577 bets on this game — one of the lowest totals on the board. The concept of public bets moving the line is only applicable when there is enough public money that sportsbooks need to adjust their lines to mitigate risk. Despite the lopsided betting, it's far more likely that sharp money has moved the Georgia State line 3.5-points.
The game opened back on July 27th and, by August 23rd, has only moved 1-point to GSU -5. However, there was a 1.5-point line move the following day and a significant move (across the key number of 7) from -6.5 to -8 on August 31st. This correlates with a steam move triggered at Heritage on Georgia State -6. For what it's worth, the Heritage steam move has gone 90-73 ATS all-time with 9.9 units won.
Florida International at Central Florida (Thursday at 6PM ET)
We speak at length about not only betting against the public, but taking a contrarian viewpoint when analyzing the sports betting marketplace. We want to buy on bad news and sell on good news. We want to take teams that others won't touch. We want to zig when others zag.
Last season Central Florida (UCF) posted a 9-4 record while Florida International struggled mightily with a 4-8 record. Based largely on this information, UCF opened as a 17-point favorite at Pinnacle despite returning only 9 starters. Although public betting has been fairly even, the Knights dropped from -17 to -14. This is particularly noteworthy because it involves two of the most significant key numbers.
Another interesting aspect involves the total. We've discussed the correlation between underdogs and low totals in regards to NFL betting, but we haven't spent as much time analyzing that impact for College Football bettors. Since 2005, road dogs have gone 681-562 ATS (+84.95 units, 6.8% ROI) when the total closes at 48 or less.

The FIU/UCF total hasn't moved since opening at 47, which indicates that Florida International may be offering some value to bettors.
Ohio at Idaho (Thursday at 9PM ET)
Ohio opened as a 9.5-point favorite at Pinnacle and, according to our betting trends, are receiving 70% of spread bets. Despite this lopsided betting, Ohio has actually dropped from +9.5 to +8.5. Once again, this reverse line movement indicates that sharp money is taking Idaho as a home underdog.
These numbers are subject to change before kickoff, so bettors should be sure to visit our free College Football odds page for the latest lines, injuries, public betting trends and more.
Have any questions for the staff at Sports Insights? Utilize our live chat to speak with a customer service representative or e-mail us at help@sportsinsights.com.
David Solar is the Content Manager for Sports Insights and can be reached directly at David@sportsinsights.com.