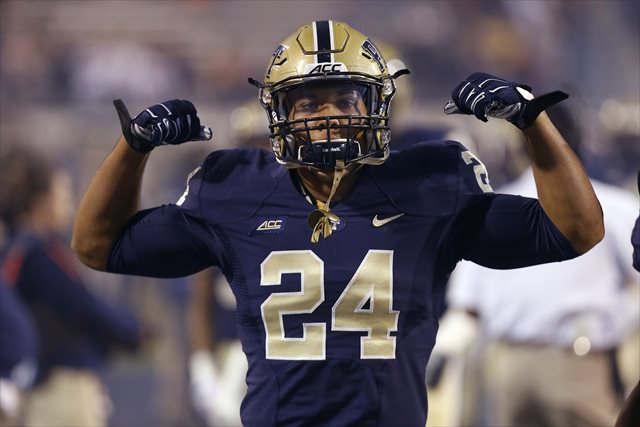 2015 College Football Player Props
With the 2015 College Football season fast approaching, Bovada has released some Over/Under player props for some of the most prominent players in the nation. Below we've compiled tables to quickly show what oddsmakers expect, along with their preseason Heisman Trophy odds at 5Dimes: (NOTE: Over/Unders are for regular season only and do not include conference championships or 4-team playoffs)
| QB | O/U Pass TDs | O/U Pass Yards | Heisman Odds |
| --- | --- | --- | --- |
| Cody Kessler (USC) | 34.5 | 3700 | +1400 |
| Trevone Boykin (TCU) | 30.5 | 3800 | +625 |
| Deshaun Watson (Clem) | 29.5 | 3800 | +2000 |
| Seth Russell (Bay) | 29.5 | 3650 | +2500 |
| Everett Golson (FSU) | 27.5 | 3200 | +5000 |
| Dak Prescott (Miss St) | 26.5 | 3300 | +2000 |
| Connor Cook (Mich St) | 22.5 | 3000 | +3000 |
| RB | O/U Rush TDs | O/U Rush Yards | Heisman Odds |
| --- | --- | --- | --- |
| James Conner (Pitt) | 22.5 | 1500 | +8500 |
| Royce Freeman (Oregon) | 16.5 | 1300 | +5000 |
| Samaje Perine (Okla) | 15.5 | 1300 | +2700 |
| Derrick Henry (Bama) | 14.5 | 1300 | +2500 |
| Ezekiel Elliott (Ohio St) | 14.5 | 1500 | +925 |
| Nick Chubb (UGA) | 13.5 | 1350 | +1225 |
| Leonard Fournette (LSU) | 12.5 | 1200 | +1300 |
| WR | O/U Rec TDs | O/U Rec Yards | Heisman Odds |
| --- | --- | --- | --- |
| Corey Coleman (Bay) | 12.5 | 1200 | +18500 |
| JuJu Smith (USC) | 12.5 | 1100 | N/A |
| Sterling Shepard (Okla) | 10.5 | 1200 | N/A |
| Laquon Treadwell (Miss) | 9.5 | 1000 | +17500 |
| Tyler Boyd (Pitt) | 9.5 | 1200 | +25000 |
Of course team success is a big component of the Heisman Trophy, but it's interesting to note that Pitt RB James Conner is expected to put up some huge numbers. Pittsburgh's Season Win Total is currently listed at just 6 wins, which is a big reason why Conner is a mere afterthought in the Heisman race. However, if he exceeds the O/U numbers that oddsmakers expect, it will be tough to leave him out of the conversation.
Join us live Saturday mornings at 11am ET
We're now holding our members-only live Sports Betting Hangouts Saturday mornings to prepare you for a full day of College Football. Members, simply log into your account Saturday morning to access the hangout.
Not a member? Start a trial today to join our Sports Betting Hangouts held six days a week, plus all the other Sportsbook Insider Pro benefits.