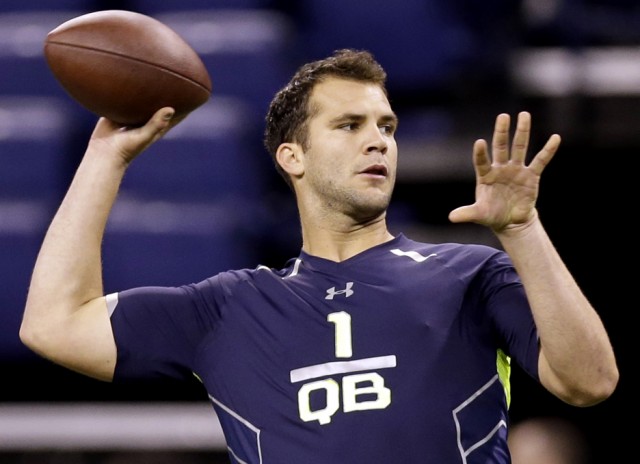 2014 NFL Draft Prop Betting
Two weeks ago we detailed a proposition bet regarding the draft position of former Heisman Trophy winning quarterback Johnny Manziel; however, there had been no other action available for NFL draft prop bettors. That all changed last Saturday when Sportsbook.com posted a number of heavily juiced prop bets.
The draft is completely unpredictable and these prop bets aren't necessarily the best indicator of draft results. Last season the Over/Under for Geno Smith's draft position was 8.5, and the former West Virginia QB was drafted 39th overall by the New York Jets. Odds can often times offer a level of insight not offered by draft experts like ESPN's Mel Kiper Jr. and Todd McShay.
Last season many analysts predicted that size and off-field issues would cause Tyrann "The Honey Badger" Mathieu to slip into at least the fourth round. Oddsmakers on the other hand were optimistic about Mathieu's draft prospects and set his Over/Under at 75.5. He was eventually drafted 69th by the Arizona Cardinals.
This season, much of the debate has centered on which quarterback will be selected first. It looks more and more apparent that the Houston Texans will select South Carolina DE Jadeveon Clowney with the first overall pick, but many teams with high draft picks (including #3 Jacksonville, #4 Cleveland, #5 Oakland, #7 Tampa Bay, #8 Vikings) have a need at QB.
Last week Sportsbook.com had Johnny Manziel listed as a slight favorite to be drafted over Central Florida QB Blake Bortles (-130 vs. -110), however, Manziel is now a -280 favorite to be selected first.
Another intriguing prop bet involves two very different players — Clemson WR Sammy Watkins and Buffalo LB Khalil Mack. Although many mock drafts have the relative unknown Mack being selected ahead of Watkins, the speedy receiver is actually a -150 favorite to be selected first. Right now the O/U on both players draft position is 4.5; however, the juice on the Under is heavier for Watkins (-360) than Mack (-265).
We've previously mentioned Johnny Manziel draft props but now we have the first Over/Under on his draft position as well. Although many oddsmakers have predicted that the speedy quarterback will be selected by the Browns with the fourth overall pick, his Over/Under had been set at 5.5 with considerable juice -260. While the O/U is still at 5.5, odds have adjusted to an appropriate juice of -130 on the Under 5.5.
It's also worth noting that on Monday afternoon we tweeted out the following prop bet:
At 5Dimes, Jadeveon Clowney is a -475 favorite to be the first pick in the #NFLDraft. You can take the field at +325.

— SportsInsights.com (@SportsInsights) May 5, 2014
When we compile these prop bets together, we start to get a sense of how the first four picks will unfold on Thursday night (assuming there are no major trades).
1. Houston Texans – DE Jadeveon Clowney
2. St. Louis Rams – WR Sammy Watkins
3. Jacksonville Jaguars – LB Khalil Mack
4. Cleveland Browns – QB Johnny Manziel
In this situation, OT Greg Robinson — who is projected by many as the potential number two overall pick — would be the odd man out.
Quarterbacks are typically the most discussed position by fans and analysts alike, so perhaps it's not surprising that a majority of prop bets focus on the signal callers. CBS Sports lists five QB's among their top 32 prospects (Blake Bortles at 6, Johnny Manziel at 7, Teddy Bridgewater at 15, Derek Carr at 26 and Tom Savage at 31); however, oddsmakers have set the Over/Under on first round quarterbacks at 3.5. When we wrote this article last week the Over was juiced up to -140, but since then public opinion has changed and the Under is now juiced up to -245 from -145.
Another interesting battle surrounds quarterbacks Teddy Bridgewater and Derek Carr. In the past few weeks, oddsmakers and analysts alike have been anticipating that Louisville's Bridgewater would be the third signal caller to be drafted. However, Todd McShay's most recent mock draft has Carr going 20th to the Cardinals with Bridgewater slipping to the second round. Oddsmakers have similarly adjusted their odds Carr is listed at -245 to be selected prior to Bridgewater (+175)
– Will a running back be selected in the first round? "Yes" +450 or "No" -750
– Over/Under 7.5 WR + TE selected in the 1st round (Over +150, Under -200)
– Which player will be selected first? Johnny Manziel (-280) or Blake Bortles (+195)
– Over/Under on Blake Bortles' draft position: 8.5 (Over -165, Under +125)
– Over/Under on Marquise Lee's draft position: 22.5 (Over -130, Under -110)
– Over/Under on Michael Sam's draft position: 125.5 (Over -300, Under +220 via 5Dimes)
– Which player will be drafted first? Eric Ebron -130 or Odell Beckham Jr. -110
– Which player will be drafted first? Ha Ha Clinton Dix +240 or Aaron Donald -360
– Which player will be drafted first? Darqueze Dennard +115 or Justin Gilbert -155
– Which side of the football will Mr. Irrelevant play on? Offense (-105) or Defense (-105)
On Wednesday morning BetOnline joined the party and posted a number of prop bets:
– Will AJ McCarron be drafted in the first three rounds? "Yes" -165, "No" +135
– Will Louis Nix be drafted in the 1st round? "Yes" +185, "No" -225
– Will Teddy Bridgewater be drafted in the 1st round? "Yes" +200, "No" -260
– Which player will be selected first? Taylor Lewan +105 or Jake Matthews -135
– Which player will be selected first? Louis Nix -120 or Timmy Jernigan -110
– Which player will be selected first? Tre Mason -115 or Bishop Sankey -115
– Which player will be selected first? Marquise Lee +175, Cody Latimer +265, Brandin Cooks +105
– Will Michael Sam get drafted? "Yes" -140, "No" +110
– Which round will Tajh Boyd be selected? 1st +3000, 2nd +2000, 3rd+1000, 4th +450, 5th +325, 6th +250, 7th or undrafted +115
If you have any questions or would like assistance with your account, please contact our customer service department at 877-838-2853 or utilize our live chat to speak directly with a representative.
[adrotate group="4″]