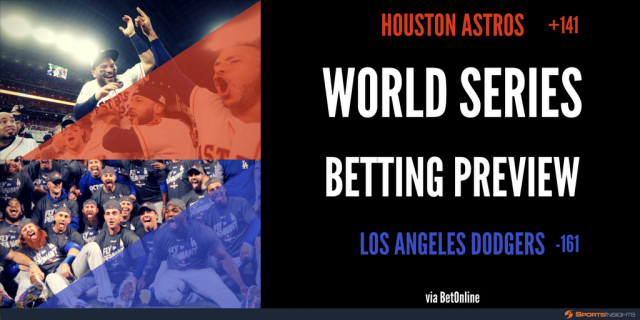 World Series Betting Preview
Originally published Oct. 23rd
Well, how about that? The two teams with the best pennant odds half way through the season are the two teams in the World Series. I thought baseball was supposed to be unpredictable…I guess I was wrong!
Most likely World Series matchups (5Dimes)

LAD/HOU +931
WAS/HOU +1135
CHC/HOU +1265
LAD/BOS +1300
WAS/BOS +1575
LAD/CLE +1615

More: pic.twitter.com/Fo0CFKZAJe

— Sports Insights (@SportsInsights) July 8, 2017

The Dodgers have had one wild roller coaster season. In August, there were props posted on whether or not they would break the all time wins record. Next thing you know, they lose 16 out of 17 games. Despite that horrendous stretch late in the season, the postseason has been smooth sailing for them, as they've gone 7-1 in their first two series. I guess they were just saving up their wins for the playoffs.
The Astros came out of the gates hot and had the best World Series odds by late May. They had shorter than 5/1 odds from that time until they were down 3-2 to the Yankees, when their odds reached +575. They had a rough month of August and were kind of forgotten during the Indians' hot streak, but they've proven that they still belong with the best thanks to their high-powered offense and pitching depth.
Given their success from the get-go, both teams provided the best payouts before the season began (proud owner of a Dodgers +900 ticket…not-so-proud owner of a Xander Bogaerts +5000 MVP ticket.)
Team
October 25, 2017
(BetOnline)
October 23, 2017
(BetOnline)
Oct 13, 2017
(BetOnline)
Sep 11, 2017
(BetOnline)
Aug 1, 2017
(BetOnline)
July 3, 2017
(BetOnline)
Jun 4, 2017
(BetOnline)
Apr 24, 2017
(Westgate)
Apr 1, 2017
(5Dimes)
Feb 21, 2017
(Westgate)
Oct 23, 2016
(Westgate)
Los Angeles Dodgers
-265
-161
+180
+275
+200
+400
+600
+700
+900
+800
+1000
Houston Astros
+225
+141
+225
+475
+500
+500
+450
+700
+1175
+1000
+1200
In David Purdum's recent article at ESPN Chalk, he reports that large bets by square bettors taking the short trip from California have been on the Dodgers, but sportsbooks expect sharp money to come in on the Astros for both game 1 and the series.
World Series Odds#Dodgers -170#Astros +150

An exact matchup of LAD/HOU was listed at +5000 before the season.

— Sports Insights (@SportsInsights) October 22, 2017

Right now, more than half the bettors at Bookmaker are siding with the Astros series price of +140.

Game 1 will feature Clayton Kershaw's first World Series appearance, as he'll hope to put his postseason struggles to an end and shut up the neigh-sayers who think he can't hack it on the big stage.
As a matter of fact, the only pitcher on either team to have World Series experience is Justin Verlander—and it has not been pretty. He has three career starts and has gone 0-3 with a 7.20 ERA and 1.60 WHIP. You may recall him starting the game in which Pablo Sandoval hit three homers…not a good resume booster IMHO.
There aren't many hitters with World Series experience on either club, too, so pretty much everyone is new to this.
Carlos Beltran: 5-17, 3 RBI
Chase Utley: 9-39, 7(!) homers, 12 RBI
Curtis Granderson (may not make roster): 7-47, 3 homers, 5 RBI
Below are the Dodgers' expected starters, with Houston countering with Dallas Keuchel and Verlander in the first two games.
#Dodgers World Series

G1: Kershaw
G2: Hill
G3: Darvish
G4: Wood

Corey Seager (back) is probable to be on the roster.

— Sports Insights (@SportsInsights) October 22, 2017
Below are some basic trends from the past twelve World Series. I found it interesting that both favorites and contrarian teams have done well. Perhaps the most surprising trend comes on totals: games with a total of 7 or lower have gone over nearly 70% of the time. Game 1 currently has a total of 7 (u-126) at Pinnacle, with 58% of early bettors taking the under.
World Series trends since 2005
Favorites: 40-25 (+4.35 units)
Dogs: 25-40 (-7.15 units)
AL Home teams: 18-14 (-1.27 units)
NL Home teams: 19-14 (+2.90 units)
Teams getting ≤30% of bets: 2-0 (+2.24 units)
Teams getting ≤40% of bets: 13-10 (+7.31 units)
Overs: 33-30-2 (+2.07 units)
Unders: 30-33-2 (-5.26 units)
AL Park Overs: 15-16-1 (-1.90 units)
NL Park Overs: 18-14-1 (+3.98 units)
Overs on totals of 7 or below: 21-10-1 (+10.44 units)
Overs on totals of 7.5 or above: 12-20-1 (-8.37 units)
Props via BetOnline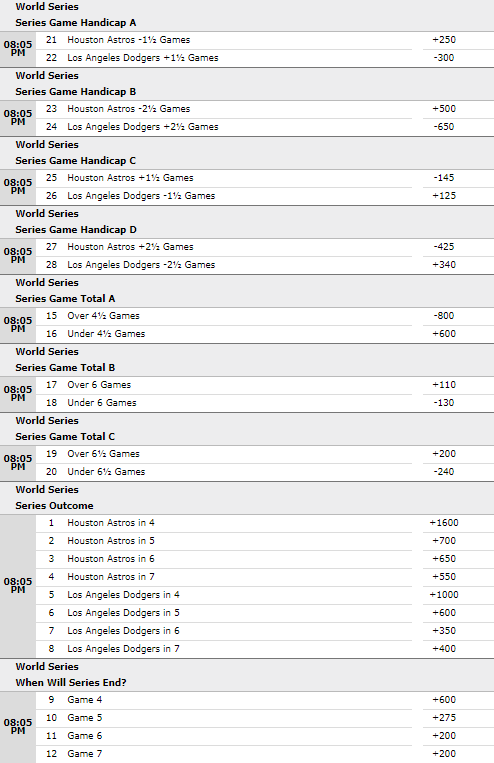 Follow us on Twitter @SportsInsights to keep track of odds, percentages, updated series prices, and more throughout the series.