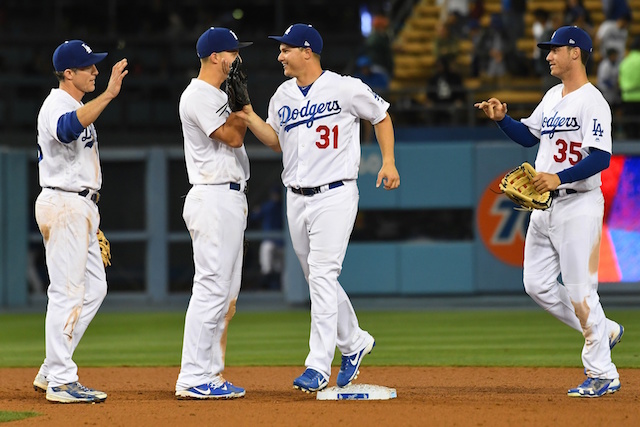 What is the Ceiling for the Los Angeles Dodgers?
As a wise man once said, "the ceiling is the roof." That certainly applies to the 2017 Los Angeles Dodgers. They entered the season with the fourth highest World Series odds at 5Dimes (+900) and the second highest win total at Bookmaker (94.5). Both of those are looking prettay, prettay, prettay good right about now.
People thought that the 2016 Cubs were a wagon — which they were — but the Dodgers are even better this season. In fact, we asked a few different sportsbooks to come up with a prop on whether the Dodgers would break the single season record of 116 wins and BetOnline granted our wish.

Before last night's loss to the D-Backs, BetOnline had opened the wins record prop at +550, which comes out to a 15.4% implied probability. Now at 79 wins and 33 losses, they would need to go 38-12 down the stretch to reach 117 wins, which means that they'd need to play even better than they have to this point. Now with an even tougher task ahead of them, their odds have dropped to +650 (13.3% IP).
Even if you don't think they can't top 116, they could still reach 110 — a feat only accomplished six times in the history of the sport. The oddsmakers at BetOnline feel that they should easily break their franchise record of 105, something that would only take a 27-23 record in their remaining 50 games. That price of -325 actually seems like a bargain.
If we look ahead to the postseason, the Dodgers are obviously World Series favorites at this point. The day after acquiring Yu Darvish at the trade deadline, the Dodgers were +225 to win the World Series — significantly shorter odds than the Cubs had at the same time last year.
On Aug. 1st last year, the #Cubs were +350 to win the World Series at @LVSuperBook

The #Dodgers are +225 today

(8.6% higher implied odds) pic.twitter.com/56QjvjrpRu

— Sports Insights (@SportsInsights) August 1, 2017
If you want to bet them now, here are some of the different prices you can get them at.
Westgate Superbook: +200 World Series, +100 NL Pennant
BetOnline: +190 World Series, +100 NL Pennant
5Dimes: +250 World Series, +130 NL Pennant
Bookmaker: +195 World Series, -127 NL Pennant
Heritage: +250 World Series, +125 NL Pennant
The Dodgers' have been a solid team for a while now, but have fallen apart in the playoffs year-in and year-out. With baseball, nothing is guaranteed, but they have certainly set themselves up nicely for their first World Series title since 1988.