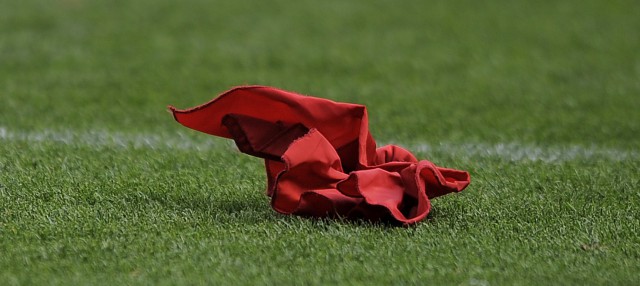 Will Mike Carey Blow Another Challenge During Super Bowl 50?
Being a referee might be one of the most thankless jobs in the world. Fans won't notice when you do your job well, but there's hell to pay if you ever make a mistake. Perhaps there's nobody who understands this more than CBS officiating expert Mike Carey.
Carey was an NFL official for more than two decades with a career spanning from 1990-2013. In 2014, Carey resigned from the NFL and joined the CBS broadcast where he provides analysis of the rules and weighs in on questionable plays including all challenges. In his first two seasons on television, Carey has frequently looked rattled and offered ineloquent explanations. This season the criticism directed at Cary has been particularly tough — especially in recent weeks.
In a November 29th matchup between the Pittsburgh Steelers and Seattle Seahawks, Carey stunned broadcasters Jim Nantz and Phil Simms by claiming "duel possession" on an interception by safety Kam Chancellor and asserting that a reception by Marcus Wheaton should be upheld despite an obvious bobble. Carey was wrong on both counts and seemed to double down on his opinion after being proven wrong.
This blown call drew the immediate wrath of the Twitterverse.
Mike Carey and Simms have had a Bird-Dominique duel in stupidity over the last 30 minutes.

— Kirk Minihane (@kirkmin) November 30, 2015
If Mike Carey owned a funeral parlor, no one would die.

— scott pianowski (@scott_pianowski) November 30, 2015
The backlash to Carey's analysis had been brutal all season, but it may have reached a fever pitch last week in the AFC Championship. The Broncos held a 7-0 lead over the Patriots and had possession of the ball. With pressure bearing down, Peyton Manning threw the ball to his left and it was ruled an incompletion on the field. New England challenged the play and, although Carey stated that the call on the field should be upheld, referees overturned the call and deemed the play as a fumble.
Pass AFC Championship: Patriots at Broncos CBS https://t.co/xpWqTM0jS4 pic.twitter.com/ivKQlRsaif

— FanSportsClips (@FanSportsClips) January 24, 2016
Once again, this incorrect analysis caused Twitter to explode with fans crushing Carey. This was also interesting because Carey, as a member of the CBS broadcast team, will be in the booth on Super Bowl Sunday. Taking advantage of public perception, the offshore sportsbook Bovada decided to post a prop bet regarding Carey's past misgivings.
My new favorite prop: Mike Carey is listed at -140 to be wrong about at least one challenge during the Super Bowl.

— Sports Insights (@SportsInsights) January 28, 2016
The prop bet is hilarious, and our followers were quick to respond. There was a non-stop chorus with people saying, "lock of the year," "that seems cheap," and "way too low." But here's the thing…Carey has actually been extremely accurate this season.
According to an article by Steven Ruiz of USA Today, Carey has reviewed a total of 44 plays this season. In these instances Carey was correct 36 times, incorrect 4 times, and didn't offer an opinion 4 times. If we only include the instances in which he ventured an opinion, we find that Carey was correct 90% of the time. That probability works out to implied odds of -900.
These odds can easily be explained by recency bias, which is the tendency to believe that trends we observe in the recent past will continue in the future. This often causes people to make incorrect conclusions based on a relatively small data sample.
It's also interesting to note that since we originally reported those odds, Mike Carey's odds of being wrong about at least one challenge have dropped from -140 to +110. In other words, the implied probability of Carey butchering a challenge has dropped from 58.33% to 47.62%. The limits for these type of prop bets are low, but there does appear to be slight value on Carey not getting a call wrong (-150).
Mike Carey is listed at -150 to be right about every #SuperBowl50 challenge, which is an implied probability of 60%. pic.twitter.com/nDOSG96rOo

— Sports Insights (@SportsInsights) January 29, 2016
We should note that this analysis assumes that Mike Carey will only offer his opinion on one challenge during Super Bowl 50. If there are two challenges, his probability of getting both correct would be 81%. If there are three challenges, his probability of getting all three correct would be 72.9%. Even if there are four challenges, his probability of getting all four correct would be 65.6%.
Make sure to check out out free NFL odds page for the latest odds, betting trends, injuries and more.
Have any questions for the staff at Sports Insights? Utilize our live chat to speak with a customer service representative or e-mail us at help@sportsinsights.com.
David Solar is the Content Manager for Sports Insights and can be reached directly at David@SportsInsights.com