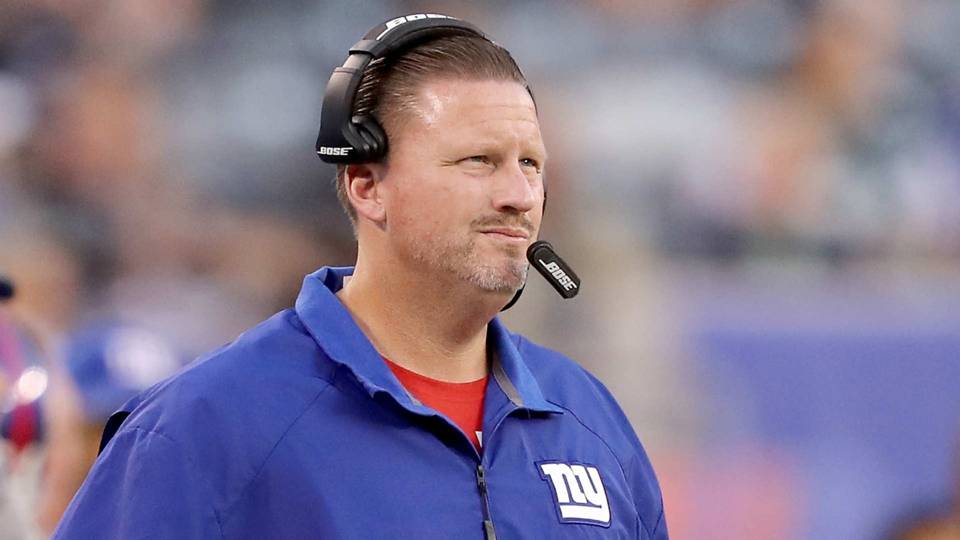 Who Will Be the Giants Head Coach in 2018?
Earlier today Ben McAdoo told Ian Rapoport he'd been fired.
Ben McAdoo tells me he's been fired.

— Ian Rapoport (@RapSheet) December 4, 2017
That's because McAdoo, after almost two full seasons with the Giants, was let go following New York's most recent loss to Oakland on Sunday. McAdoo coached the Giants to an 11-5 record last year, but has only been able to come up with two winning game plans through 12 games for the G-Men this season.
Of course, losing two star receivers  at the start of the year didn't help McAdoo's chances, so you could make the argument that he was dealt a losing hand, but with the organization moving on we're led to the next logical question: who will replace him?
Here are the opening odds at Bookmaker:
| Next Head Coach | Bookmaker (12/4) |
| --- | --- |
| Mike Smith | +387 |
| Josh McDaniels | +446 |
| Frank Reich | +630 |
| Teryl Austin | +630 |
| Matt Patricia | +1568 |
| Dave Toub | +2099 |
| Scott Linehan | +2099 |
| David Shaw | +2223 |
| Jim Harbaugh | +2703 |
| Jim Schwartz | +3164 |
| Pat Shurmur | +3674 |
| Brian Kelly | +3948 |
| Jon Gruden | +4199 |
| Bill Cowher | +6000 |
| Nick Saban | +8000 |
| Field | -105 |
As is often the case with futures having such a wide open cast, the field (-105) is given the best odds. This announcement is likely still months away, meaning plenty can change, and making this a tough bet to predict.
As for actual candidates, Mike Smith, the current defensive coordinator for the Buccaneers, opens as the favorite to land the job. His past season's performance would likely not be the highlight of his coaching resume, however, as Smith's Bucs have allowed the second most yards per game in the NFL this season. The only team worse? You guessed it, the Giants.
Smith did, however, lead the Falcons to two division titles and four playoff appearances in his seven years in Atlanta. In doing so he also became the franchise's winningest coach, making him the most qualified candidate on this list among active coaches.
One name to look out for on this list is Dave Toub, the current special teams coordinator for the Kansas City Chiefs. He'll likely repel bettors based on his title alone, but Toub is one of the most well respected coaches in the league, and has drawn comparisons to both John Harbaugh and John Madden from peers. If the Giants choose to bring a fresh face into the NFL head coaching community, there's a good chance it's this guy. At +2099, I like the value on Toub.
What do you think? Could Josh McDaniels or Matt Patricia leave New England for the Giants? Or will we see an old friend come out of retirement in Jon Gruden or Bill Cowher? Let us know on Twitter by following @SportsInsights.