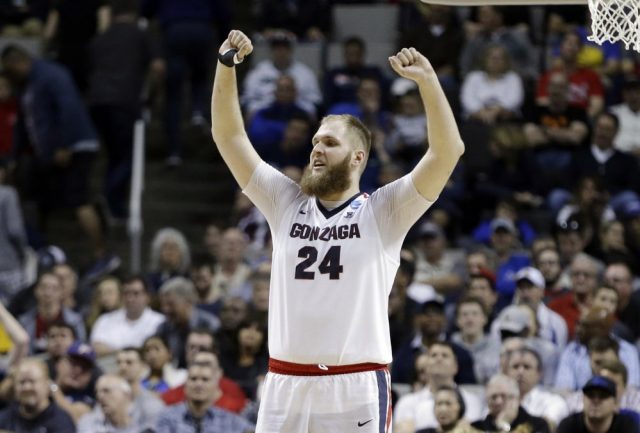 Why Are Bettors Avoiding Gonzaga in the Final Four?
The Gonzaga Bulldogs finished the 1998-99 regular season with a 28-7 record, a WCC tournament championship and a 10-seed in the NCAA Tournament. Led by Richie Frahm and Casey Calvary, this Cinderella team made an improbable run to the Elite Eight before losing to the eventual national champion, UConn. After that season, head coach Dan Monson took the head coaching position at Minnesota and assistant coach Mark Few took over the reigns. Since that time, Gonzaga has gone 502-112 straight up (SU) with 16 WCC regular season championships, 14 WCC Tournament championships, 18 NCAA tournament bids and seven Sweet Sixteen appearances.
With this impressive run, Gonzaga has shed the "Cinderella" tag to become one of the top programs in college basketball. They've also become one of the most popular teams amongst bettors, receiving the majority of spread bets in 79.5% of all games since the start of the 2005 season. In recent years, the Bulldogs have been particularly popular among bettors, receiving the majority of spread bets in 88.3% of games since 2012 and all but two games (March 25 vs Xavier and January 26 vs. San Diego) this season.
This recent surge in popularity makes the public betting trends for Saturday's Final Four matchup particularly perplexing. Gonzaga (36-1 SU, 23-9 ATS) opened as 6.5-point favorites against South Carolina (26-10 SU, 15-16 ATS) at the market-setting Pinnacle sportsbook. Despite boasting the second best ATS record in the nation this season, Gonzaga has received just 45% of spread tickets and 36% of spread dollars.
The betting activity chart below, which is available exclusively to Sportsbook Insider subscribers, details the latest public betting activity and line movement.

Although South Carolina has received nearly two-thirds of total dollars wagered on the spread and more than three-fourths of total dollars wagered on the moneyline, there's been limited line movement. The spread hasn't moved since opening, however, Pinnacle has adjusted the juice on their spread from Gonzaga -6.5 (-110) to Gonzaga -6.5 (-114). They have also moved the Zags' moneyline from -270 to -300. This is a decent indicator that early sharp money prefers the chalk.
Since 2005, the majority of college basketball bettors have supported the favorite in nearly 80% of regular season games. This has historically created value for any bettors willing to go against the grain and back the underdog, however, that's not necessarily the case during March Madness. Although betting against the public continues to be a profitable strategy, bettors become increasingly willing to take the underdog.
During the 2017 NCAA Tournament, the majority of spread tickets (more than 50%) have been placed on the favorite in 44 of 64 (68.75%) games. In these games, the favorite has gone just 16-24-4 ATS. In the 20 games where the underdog has received the majority of spread tickets, the favorite has gone 12-6-2 ATS. We have previously discussed the value of fading the trendy underdog, and the early trends indicate public bettors may be overvaluing South Carolina in this matchup.
Over the past twelve seasons, only one favorite has received less than 45% of spread tickets in the Final Four. Kentucky received just 43% of spread tickets against UConn in 2011, but the Huskies were actually the higher seed in that matchup. In other words, it's fairly unprecedented for Gonzaga to be receiving such limited public support.
It's also worth noting that although we have only been tracking money percentages for one year, the early betting against the public returns have been very positive. During the 2017 NCAA Tournament, teams receiving less than 50% of spread dollars have gone 38-20 ATS (65.5%) including a 16-8 ATS (66.7%) record for contrarian favorites. The splits may not be overwhelmingly one-sided, but the sheer volume of bets placed on this game means that sportsbooks will have a significant liability.
Parlay percentage is another excellent indicator of square money since you won't find many sharp bettors taking parlays. At the time of publication, 61% of bettors who parlayed or teased this game had taken South Carolina. It's possible these betting trends change before tip-off, but it's fascinating to see one of the nation's top teams receiving such limited support from public bettors.
In the latest rankings at KenPom.com, Gonzaga remains the nation's best team while South Carolina comes in significantly lower at number 25. Interestingly, our bracket simulator gives Gonzaga a 78.6% probability of winning while the current moneyline (-300) translates into an implied probability of 75.0%. That confirms our initial observation that the 'Zags are being slightly undervalued.
At the time of publication, we had only tracked 5,000 bets on this game but there will likely be more than ten times that number by Saturday evening. With such limited volume, sportsbooks haven't been forced to adjust their lines based on public money. Assuming bettors continue to back the underdog, it will be interesting to see whether sportsbooks are forced react.
Another fascinating storyline involves the total, where 51% of tickets and 75% of money are taking the under. This is highly unusual since the majority of college basketball bettors have taken the over in roughly 75% of all games since the start of the 2005 season. Gonzaga ranks first in adjusted defensive efficiency (points allowed per 100 possessions) while South Carolina ranks second, which helps explain this one-sided public betting.
Interested in checking out our new money percentages and line charts for every college basketball game? Sign up now for a 4-day trial of Sportsbook Insider Pro. In addition to the features shown in this post, subscribers also have access to our entire suite of live odds, public betting data, and our Best Bet picks.
Have any questions for the staff at Sports Insights? Make sure to utilize our live chat or call us directly at 877-838-2853.