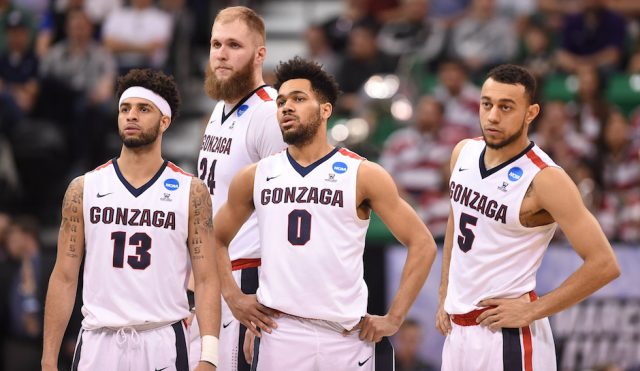 Why Are Bettors Avoiding Gonzaga in the Elite Eight?
It's human nature to root for winners and scoring, which is why recreational bettors typically gravitate towards favorites and overs. Casual bettors are often very reactionary and place an inordinate amount of importance on the most recent games. Sportsbooks understand these tendencies and shade their lines accordingly. Sportsbooks do not look to balance their books. They look to exploit sports bettors' tendencies by shading favorites and overs.
Since 2005, the majority of college basketball bettors have supported the favorite in nearly 80% of regular season games. This has historically created value for any bettors willing to go against the grain and back the underdog, however, that's not necessarily the case during March Madness. Although betting against the public continues to be a profitable strategy, bettors become increasingly willing to take the underdog.
During the 2017 NCAA Tournament, the majority of spread tickets have been placed on the favorite in 39 of 56 (69.6%) games. In these games, they favorite has gone just 15-21-3 ATS. In the 17 games where the underdog has received the majority of spread tickets, the favorite has gone 11-5-1 ATS. That makes the early betting trends for Saturday's West Region Final particularly intriguing.
Gonzaga (35-1 SU, 22-9 ATS) has been the third-best ATS team in the nation this season, but bettors still don't seem to fully believe the hype. After holding off West Virginia in the Sweet 16, the Bulldogs opened as 8.5-point favorites against Xavier (24-13 SU, 18-18 ATS). Not surprisingly, public bettors are eager to back the red-hot Musketeers after consecutive upset victories over Maryland (closed +126 on the moneyline), Florida State (+270) and Arizona (+310).
According to our public betting trends, Xavier has received 81% of early spread tickets and 63% of spread dollars. That's remarkable considering that only two underdogs have ever received at least 75% of spread tickets during the NCAA Tournament — and both of them failed to cover.
March 19, 2015: Eastern Washington (+8 vs. Georgetown) received 76% of spread tickets
March 18, 2012: Norfolk State (+14 vs. Florida) received 76% of spread tickets
Early public money on the underdog caused the line to drop from Xavier +8.5 to +8 at CRIS shortly after opening, but that line moved back to Xavier +8.5 just five minutes later. This number was bouncing around earlier, but it seems to have settled at Gonzaga -8.5…at least for now.
[click image below to enlarge]

It's also telling that most sharp sportsbooks (like Buckeye, CRIS, and Pinnacle) are offering Gonzaga -8.5 while most square sportsbooks (like BetOnline and Sportsbook.com) are offering Gonzaga -8. This highlights the importance of having access to multiple sportsbooks and always shopping for the best line.
It's unlikely that this extreme level of one-sided public betting will continue until tip-off, but it's interesting to note that no favorite has ever received less than 24% of spread tickets in the NCAA Tournament and a number one seed has never received less than 30% of spread tickets. It's also worth pointing out that, since 2005, Gonzaga has gone 6-6 ATS when they're receiving less than 50% of spread tickets and 5-12 ATS in all other NCAA Tournament games.
Since 2005, underdogs receiving at least 51% of spread tickets have gone 87-115 ATS (43.1%) and underdogs receiving at least 60% of spread tickets have gone 28-38 ATS (42.4%). We always preach the value of betting against the public, but fading the trendy underdog has been a particularly profitable strategy in these heavily bet postseason games.
Gonzaga has received less than 30% of spread tickets just five times over the past twelve seasons, going 4-1 ATS in those games. The Bulldogs have never received less than 21% of spread tickets, which happened when they closed as 31-point favorites against Loyola Marymount back on February 11, 2008 (they won 83-50).
Underdogs coming off an upset win (closed as underdog) have received the majority of public bets in almost 40% of tournament games, and underdogs coming off an expected win (closed as favorite) have received the majority in public bets in just 25% of their games. Bettors believe that Xavier is legit following their win over Arizona, and that's clearly affecting public betting. The overall volume is still low, but I'm curious to see whether this one-sided public betting will force oddsmakers to adjust their spread in this game.
Parlay percentage is another excellent indicator of square money since you won't find many sharp bettors taking parlays. At the time of publication, 75% of bettors who parlayed or teased this game had taken Xavier. I don't believe the current splits will continue, but it's fascinating to see arguably the best team in the nation receiving such limited support from the public.
Interested in checking out our new money percentages and line charts for every college basketball game? Sign up now for a 4-day trial of Sportsbook Insider Pro. In addition to the features shown in this post, subscribers also have access to our entire suite of live odds, public betting data, and our Best Bet picks.
Have any questions for the staff at Sports Insights? Make sure to utilize our live chat or call us directly at 877-838-2853.