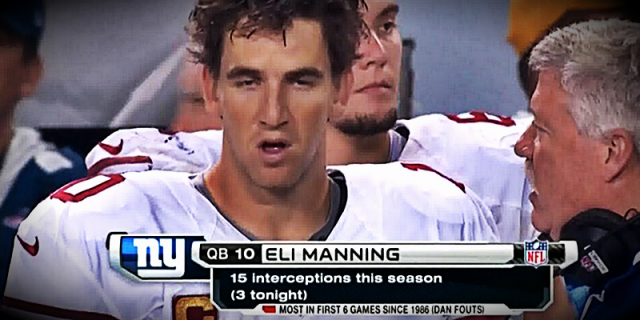 Who Will Lead the NFL in Interceptions?
This past week, BetOnline has posted a slew of NFL props that are sure to spark a lively debate in your household. One of these is odds on who will throw the most interceptions. Unfortunately, Ryan Fitzpatrick doesn't have a starting QB job anymore so you'll have to put some thought into this.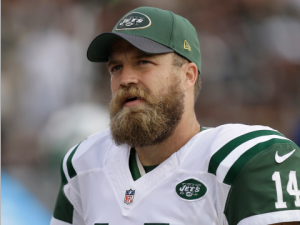 | Player | 7/14 (BetOnline) |
| --- | --- |
| Blake Bortles | +550 |
| Philip Rivers | +550 |
| Eli Manning | +550 |
| Jameis Winston | +550 |
| Jared Goff | +600 |
| Drew Brees | +1600 |
| Joe Flacco | +1600 |
| Andrew Luck | +2000 |
| Deshaun Watson | +2000 |
| Ben Roethlisberger | +2500 |
| Carson Wentz | +2500 |
| Kirk Cousins | +3300 |
| Ryan Tannehill | +3300 |
| Field | +700 |
There are essentially three tiers of players. The first group consists of a few younger QBs and two older ones who are quite familiar with throwing picks. Eli Manning has led the league in interceptions three times, most recently in 2013 when he threw a whopping 27 picks. Philip Rivers has led the league twice, including this past season with 21. From a team standpoint, Jameis Winston and Blake Bortles had very different seasons. However, they weren't all that far off statistically and both finished in the top five in interceptions. The last member of the tier, Jared Goff, is expected to play his first full NFL season. Last year, he threw seven interceptions in about 200 pass attempts. That would have put him on pace with the leaders if he had played an entire year.
While all of those names are intriguing options, I would choose someone further down the list to provide value.
Drew Brees is one name that I find intriguing at 16/1. Brees, who led the league back in 2012, is no doubt one of the best QBs in the game. However, there are a few reasons I believe he has value. One is that he throws the ball a ton. He is also 38-years-old. A drop-off in arm strength could lead to a substantial increase in interception percentage and given his high volume of pass attempts, he could wind up with 20+ picks. He'll also be without one of his favorite targets in Brandin Cooks, which is another small factor to add into the equation.
Who do you feel is the best choice? Leave your thoughts by commenting below.
Check back throughout the season for odds updates to see what players are getting action.