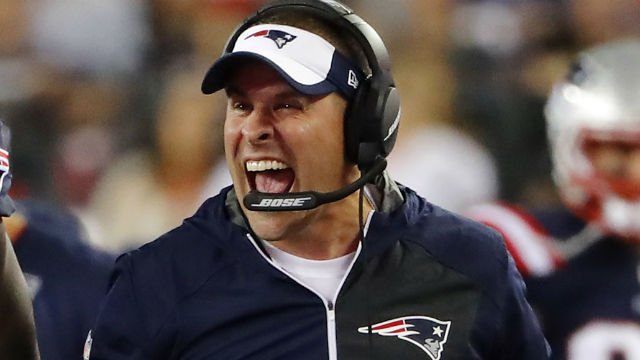 Who Will be the Next Head Coach of the San Francisco 49ers?
After the San Francisco 49ers just finished off an ugly 2-14 season in which they finished just 4-11-1 against the spread, ownership was quick to let go of their GM Trent Baalke and head coach Chip Kelly.
The 49ers season wasn't exactly boilerplate, as Kelly had to deal with a QB controversy stemming from a national anthem protest. I'm guessing he wasn't accounting for that when he signed up for the job. Anywho…
As has been the case with some of the other head coach vacancies, BookMaker has posted odds on who will be the next 49ers head coach. Kelly wasn't given much of a chance, so one can assume that the 49ers are looking for results and aren't going to accept another "rebuilding" season.
At the top of the list is Patriots' OC Josh McDaniels. This is McDaniels' second stint as New England's offensive coordinator and he could be ready for his second head coaching gig. After leaving the Pats after the 2008 season, McDaniels coached the Broncos to an 8-8 season in 2009 and was fired during the 2010 season after starting the year 3-9. A little older, a little wiser?
Next on the list is Kyle Shanahan. Shanahan has bounced around the league as an offensive coordinator since the 2008 season, but has most notably helped the Falcons' offense these past two seasons. Atlanta scored 71 more points this season than any other team, which is certainly not a bad resume booster. Not surprisingly, the 49ers were towards the bottom of the league in scoring. Could this be Kyle's chance to follow in Papa Mike's footsteps and become a head coaching great?
If the 49ers aren't looking for an OC to fill the role, they may consider Vance Joseph. Joseph spent nearly a decade around the league as a defensive backs coach before landing his first defensive coordinator job with the Dolphins this year. With Miami being one of the bigger surprises this season, Joseph could definitely get some looks around the league this offseason.
The last man with less than 20/1 odds is Dave Toub. Toub has been a special teams coordinator in the league for over a decade, including the past four seasons with the Chiefs.
Further down the list is New England's defensive coordinator Matt Patricia. Patricia has had coaching experience on both sides of the ball, but has spent the past five seasons as the Pats' defensive coordinator. If the 49ers are hoping some of the Belichick way has rubbed off on the rest of his staff, they may go for McDaniels or Patricia.
Way down the list is Doug Marrone at +30000. Marrone has stepped in as the Jaguars head coach the past couple of games and they have actually looked half decent since he took over. Marrone was Buffalo's head coach before Rex Ryan took over, leading the team to a 6-10 season in 2013 and a 9-7 season in 2014. Not a bad choice if you wanted to put a few bucks on him considering the payout.
Here is the full list. Check back now and then to see if any odds are updated as more hirings and firings take place throughout the league.
| Coach | 1/4 (BookMaker) | 1/3 (BookMaker) | 1/2 (BookMaker) |
| --- | --- | --- | --- |
| Kyle Shanahan | +170 | +180 | +300 |
| Josh McDaniels | +230 | +250 | +215 |
| Vance Joseph | +500 | +450 | +305 |
| Dave Toub | +1100 | +750 | +400 |
| Mike Smith | +2000 | +2000 | +2000 |
| Matt Patricia | +3000 | +3000 | +3000 |
| David Shaw | +3000 | +3000 | +3000 |
| Tom Cable | +3000 | +3000 | +3000 |
| Doug Marrone | +5000 | +4500 | +30000 |
If you have any thoughts or questions, feel free to reach out to the Sports Insights staff by utilizing our live chat feature, commenting below, or emailing us at help@sportsinsights.com.
Join us live Sundays at noon ET
We're now holding our members-only live Sports Betting Hangouts Sunday mornings to prepare you for a full day of NFL games. Members, simply log into your account Sunday morning to access the hangout.
Not a member? Start a trial today to join our Sports Betting Hangouts held six days a week, plus all the other Sportsbook Insider Pro benefits.