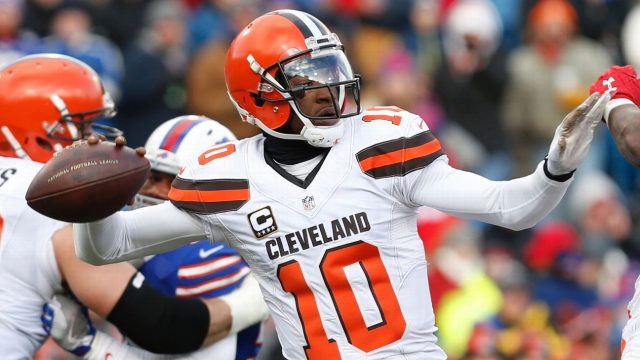 Who Will Be the Cleveland Browns Starting Quarterback Next Season?
The Browns are winless no more. Cleveland avoided that dubious fate in Week 16 by defeating the San Diego Chargers and earning their first victory in more than a year. Prior to their upset victory on Saturday, the last starting quarterback to win a game for Cleveland had been Johnny Manziel.
It would be an understatement to say the Browns have struggled this season, as the team has gone just 1-14 straight up and 3-12 ATS. Their quarterback play has been particularly horrendous, with five different quarterbacks (Robert Griffin III, Josh McCown, Cody Kessler, Charlie Whitehurst and Terrelle Pryor) taking snaps for the Browns. Four have suffered injuries of varying degrees and the fifth (Pryor) is their star wide receiver.
The Browns will have two top-ten picks in the 2017 NFL Draft including, in all likelihood, the number one overall pick. It's unclear whether they will attempt to select a quarterback with one of these picks, but it's safe to assume that the Browns will attempt to address their lackluster quarterback play over the offseason.
On Wednesday morning, Bovada opened odds on who will be the Browns starting quarterback for Week 1 of the 2017 regular season. Griffin, McCown and Kessler all opened with 5/1 odds of earning the starting job, but oddsmakers clearly think Cleveland will look elsewhere for their quarterback next season since the field is listed as the odds-on favorite.
The table below displays the current odds at Bovada. They will be updated as more information becomes available.
| Player | Bovada (12/28) |
| --- | --- |
| Robert Griffin III | +500 |
| Josh McCown | +500 |
| Cody Kessler | +500 |
| Tim Tebow | +3300 |
| Johnny Manziel | +5000 |
| Field | -200 |
We will continue to monitor this situation, but make sure to track the latest odds and public betting trends by visiting our free NFL odds page. Interested in accessing our winning picks? Sign up for a 4-day trial of our Pro subscription for just $49!
Who do you think will start for Chicago next season? Are there any dark horse candidates that oddsmakers are overlooking? Please leave your thoughts in the comment section below.