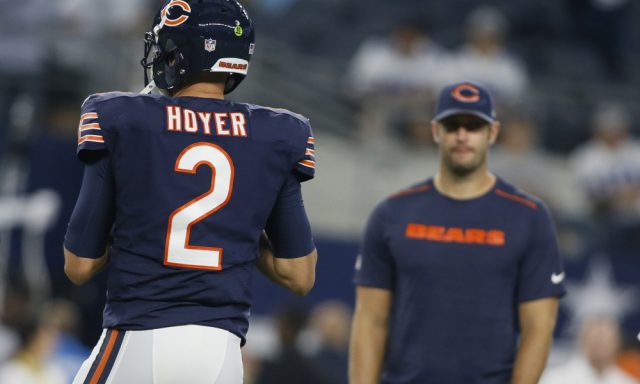 Who Will Be the Chicago Bears Starting Quarterback Next Season?
The Chicago Bears have had three different starting quarterbacks during the 2016 NFL regular season: the overpaid "franchise" quarterback (Jay Cutler), the veteran journeyman (Brian Hoyer) and the youngster (Matt Barkley). These three signal callers have combined to go 3-11 straight up (SU), meaning the Bears will likely have a top-five pick in the April's NFL Draft. But will they use that draft pick on another quarterback?
Although the team spent two first-round picks to acquire Jay Cutler from the Denver Broncos, he has not evolved into the type of Pro Bowl caliber player that management had anticipated. In eight seasons with Chicago, Cutler has gone just 51-51 SU and 46-56 against the spread (ATS). Only Detroit's Matthew Stafford (49-59 ATS) has been worse over that time frame.
Cutler, who turns 34 in April, is scheduled to make at least $12.5 million next season and will be coming off surgery on his throwing shoulder. For that reason, many experts believe that the Bears will either trade or release Cutler and attempt to re-build around a younger player. Hoyer and Barkley will both be free agents at the end of the season, so it's unclear who will be lining up behind center for the Bears next season.
On Thursday morning, BetOnline opened odds on who will be the Bears starting quarterback for Week 1 of the 2017 regular season. Brian Hoyer, who went 1-4 as the Bears starter this season, opened as the +200 favorite. Matt Barkley, who has gone 1-3 SU but 4-0 ATS this season, opened with the second-best odds at +450.
The table below displays the current odds at BetOnline. They will be updated as more information becomes available.
| Player | Current Team | BetOnline (12/28) | BetOnline (12/22) |
| --- | --- | --- | --- |
| Brian Hoyer | Chicago Bears | +150 | +200 |
| Matt Barkley | Chicago Bears | +650 | +450 |
| Jay Cutler | Chicago Bears | +700 | +800 |
| Mitch Trubisky | North Carolina | +1200 | +1200 |
| Patrick Mahomes | Texas Tech | +1400 | +1400 |
| Ryan Fitzpatrick | New York Jets | +1400 | +1600 |
| Mark Sanchez | Dallas Cowboys | +1600 | +1600 |
| Mike Glennon | Tampa Bay Buccaneers | +2000 | +2000 |
| DeShone Kizer | Notre Dame | +2000 | +2000 |
| Deshaun Watson | Clemson | +2000 | +2000 |
| Brock Osweiler | Houston Texans | +2500 | +2500 |
| Matt Cassel | Tennessee Titans | +2500 | +2500 |
Although I have never been a fan of Jay Cutler, he actually seems like a solid value at +800 considering that he will be the team's only quarterback under contract entering the off-season. I have no doubt that the organization will attempt to acquire a younger alternative though the draft but Cutler's contract isn't that awful when looking at similar players on one-year contracts like Ryan Fitzpatrick ($12 million) and Sam Bradford ($18 million). Although Cutler's $2 million cap hit is very reasonable, I could see Cutler remaining with the team while mentoring a young quarterback prospect.
It's also fairly surprising to see that New England's Jimmy Garoppolo isn't listed as a potential option. In two starts earlier this season, Garoppolo completed 70% of his passes with four touchdowns and no interceptions. Garoppolo's contract runs through the 2017 season, so it makes sense for the Patriots to trade him away before he departs via free agency.
Another interesting omission is Cowboys quarterback Tony Romo. With rookie Dak Prescott thriving, it's a foregone conclusion that Dallas will attempt to move their former franchise quarterback over the off-season. In fact, a previous prop bet had the Bears at +600 to acquire Romo.
Tony Romo's team next season#Jets +300#Broncos +400#Cowboys +450#Cardinals +500#Dolphins +500#Bears +600

h/t @DaveMasonBOL

— David Solar (@TheDavidSolar) December 22, 2016
If the Bears decide to select a quarterback with their first-round pick, Mitch Trubisky (+1200) and DeShone Kizer (+2000) are the top-ranked players on most draft boards. Patrick Mahomes (+1400) would likely be selected with a late-round pick.
We will continue to monitor this situation, but make sure to track the latest odds and public betting trends by visiting our free NFL odds page. Interested in accessing our winning picks? Sign up for a 4-day trial of our Pro subscription for just $49!
Who do you think will start for Chicago next season? Are there any dark horse candidates that oddsmakers are overlooking? Please leave your thoughts in the comment section below.