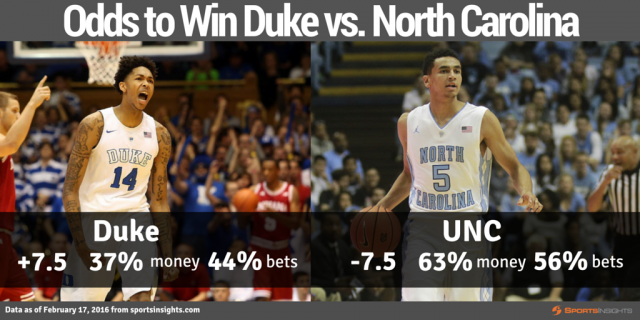 Who is Sharp Money Taking in Tonight's Duke/North Carolina Game?
The Tobacco Road Rivalry will be renewed tonight as the 20th-ranked Duke Blue Devils (19-6, 8-4 ACC) take the short journey south to Chapel Hill to square off against the 5th-ranked North Carolina Tar Heels (21-4, 10-2 ACC). Since 2005, the road team has gone 14-7 ATS (66.7%) in this heated rivalry, but who's offering value in tonight's game?
North Carolina opened as a 5.5-point favorite at CRIS and, according to our public betting trends, have received 56% of spread bets. Despite such evenly split action, the Tar Heels have moved from -5.5 to -7.5 across the sports betting marketplace. This two-point line move is very significant, and can be largely explained by our newly added money percentages.
(Click image to enlarge)

For years we have offered public betting trends which highlight the percentage of bets placed at our seven contributing sportsbooks. These trends offer an excellent overview of which teams are being hammered by "square" bettors.
Recently, we added money percentages for our Sportsbook Insider subscribers. This is the percentage of actual dollars being wagered on each side, and it helps explain which factors are responsible for line movement.
In tonight's game, public betting has been fairly even but nearly two-thirds of total dollars wagered have taken North Carolina. This indicates that sharp money has been taking the Tar Heels, which has caused this two-point line move.
The screenshot below displays the early public betting trends and line movement.

We have frequently explained how college basketball rankings are overvalued by casual bettors, but what happens when two ranked teams face off? Our research found that home teams have actually gone 380-359 ATS (51.4%) in these games, including a 315-286 ATS record (52.4%) in conference games. This trend wins at nearly the exact same win rate that you would need to break even when considering the juice (52.38%), but it helps validate value on North Carolina.
This season North Carolina has been very stout defensively while Duke's interior defense (specifically their defensive rebounding) has been subpar. This could leave the Blue Devils vulnerable against Brice Johnson — a 6'9″ forward averaging 16.4 points and 10 rebounds per game for the Tar Heels.
Using our bracket simulator tool, we also found that Duke was one of the most overvalued teams in the nation while North Carolina is one of the top contenders for the national championship.
---
These numbers are subject to change before kickoff, so bettors should be sure to visit our free college basketball odds page for the latest lines, injuries, public betting trends and more.
Have any questions for the staff at Sports Insights? Utilize our live chat to speak with a customer service representative or e-mail us at help@sportsinsights.com.
David Solar is the Content Manager for Sports Insights and can be reached directly at David@sportsinsights.com