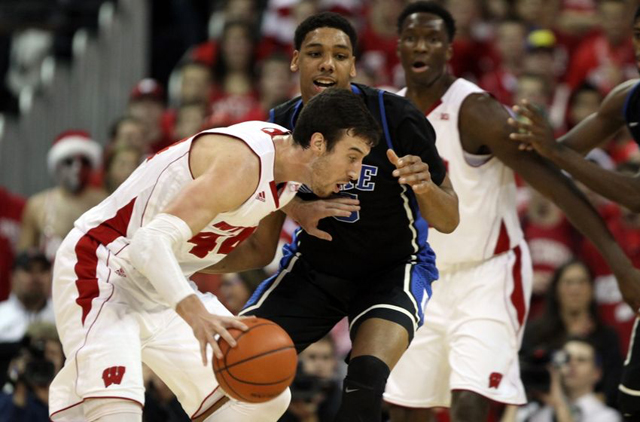 Which Teams have the Best Chance to Upset Kentucky?
In an earlier post, we tackled the importance of tiebreakers for those picking Kentucky to win their NCAA Tournament brackets. However, with more than half of all brackets taking Kentucky in both Yahoo Tourney Pick 'Em and ESPN Tournament Challenge, it may be more advantageous to avoid Kentucky as your champion altogether.
Despite being the overwhelming favorite to win the National Championship, our Free NCAA Tournament Bracket Simulator projects that the Wildcats have a 34.6% chance to win the tourney, meaning there is still over a 65% chance that Kentucky slips somewhere along the way.
With this in mind, we turned to our Bracket Simulator's Free Matchup Tool to pinpoint which potential opponents are most troublesome for Kentucky in each round of the NCAA Tournament.
| Round | Opponent | Win Probability |
| --- | --- | --- |
| Round of 32 | Purdue | 7.7% |
| Sweet 16 | West Virginia | 12.2% |
| Elite 8 | Kansas | 21.4% |
| Final Four | Wisconsin/Arizona | 36.6% |
| Championship | Virginia | 36.6% |
*Win Probability represents probability that opponent will beat Kentucky on a neutral floor.
As shown in the table above, the three biggest threats to Kentucky are Wisconsin, Arizona and Virginia with just over a 36% chance to take down the Wildcats.
Interestingly, Wisconsin and Arizona are the #1 and #2 seeds, respectively, in the West Region. Our Bracket Simulator expects that either Wisconsin or Arizona will advance to the Final Four 75.3% of the time, indicating there's a good chance that Kentucky will take on one of these two teams. With a tough Final Four matchup likely, our analysis suggests this as a good spot to have Kentucky losing in your bracket.
Should Kentucky advance to the championship game, Virginia (36.6% chance to beat Kentucky), Villanova (34.0%), Gonzaga (33.9%), or Duke (30.0%) could be waiting to give your bracket one final bullet against the Wildcats.