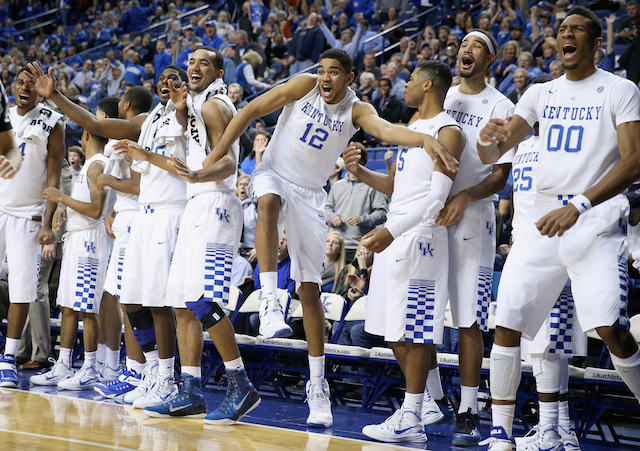 So You've Picked Kentucky? Your Work isn't Over!
Unless you live in the Greater Boston area where Darrelle Revis is still a heated topic of discussion for the seventh…straight…day…(sigh), the rest of the sports world is focusing on whose bubble burst, identifying Cinderella and whether anyone can derail Kentucky's undefeated season.
With a 34.6% chance to win the 2015 National Championship, our Free NCAA Tournament Bracket Simulator projects Kentucky as the overwhelming favorite to win the NCAA Tournament. In comparison, our simulations give Wisconsin the next best chance to win the tourney at just 10.6%.
However, simply setting and forgetting Kentucky as your bracket winner isn't enough to take down your pool alone, even if the Wildcats finish off their perfect season.
At the time of publication, 50.4% of all ESPN Tournament Challenge brackets have Kentucky winning it all. Yahoo's Tourney Pick'Em is seeing even more love for Kentucky, with 58.3% of all brackets picking the Wildcats to win.
Based on these percentages, it's reasonable to assume that at least half of all brackets in your pool will also have Kentucky winning. As a result, there is certainly a valid argument to be made that selecting a team other than Wildcats to cut down the nets is the best strategy to separate yourself from the rest of your pool.
However, if you can't stomach the stress of picking a Kentucky upset, another way to gain an advantage is researching the total points scored for likely National Championship matchups and winning your pool by tiebreaker.
With this in mind, we leveraged our Bracket Simulator's power ratings and probabilities to project Kentucky's most likely championship game opponents and expected points scored in those games.
Opponent
Matchup
Likelihood
UK Points
Opponent Points
Total
Villanova
18.3%
67
61
128
Duke
16.3%
72
63
135
Virginia
15.8%
57
56
113
Gonzaga
15.8%
69
62
131
*Matchup Likelihood represents each opponent's individual probability of advancing to the championship game. 
As you can see, a slowly-paced matchup with Virginia is expected to result in 22 fewer points scored than a game against Duke. However, with Villanova as the the most likely championship opponent for Kentucky, using 128 points as the tiebreaker makes sense for those hitching a ride aboard the Wildcat bandwagon.