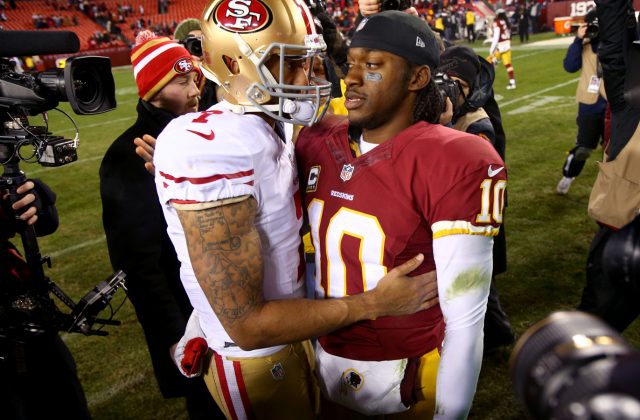 Which Free Agent Quarterback Will be the First to get a Contract?
Earlier on Thursday (8/3), Ryan Tannehill left Dolphins practice with what may be a serious knee injury. Ironically, BetOnline had just posted odds on which big name free agent quarterback will get signed first.
| Player | 8/4 (BetOnline) | 8/3 (BetOnline) |
| --- | --- | --- |
| Colin Kaepernick | +100 | +125 |
| Robert Griffin III | +125 | +125 |
| Jay Cutler | +600 | +1000 |
| Tony Romo | +3300 | +3300 |
| Johnny Manziel | +3300 | +3300 |
| None of the above | +600 | +700 |
Colin Kaepernick and Robert Griffin III opened as the clear favorites of the bunch at +125. Both appeared to be franchise quarterbacks just a few years back, but now neither of them can find a job. Neither have played well in in recent years, but both could still serve a purpose on an NFL team. Kaepernick is probably not receiving calls due to his political views and the media frenzy that would come along if he were to sign with a team. RGIII, on the other hand, just can't stay healthy. Both will likely sign a deal at some point, but who will first is the real question.
Jay Cutler and Tony Romo will be at plenty of NFL stadiums this season, but in the broadcast booth. It's unclear if either would even want to play again if they were to get an offer, but that's why they are such longshots.
Johnny Manziel…is, well, Johnny Football. His off-field antics have dislodged what was once a promising pigskin career. Even if he gets his life straight, there's a decent chance that no NFL team will give him another chance. To put things in perspective, this was the last prop that he's been mentioned in.
Best #SB51 prop yet? #JohnnyFootball pic.twitter.com/Ibcxz5OCEf

— Sports Insights (@SportsInsights) January 29, 2017
Of course, if you think that none of these guys can land a gig this season, you can bet on it at +700. Pretty decent payout in my opinion.
Check back for any updates when they become available and be sure to follow us on Twitter @SportsInsights for more interesting props like this one.