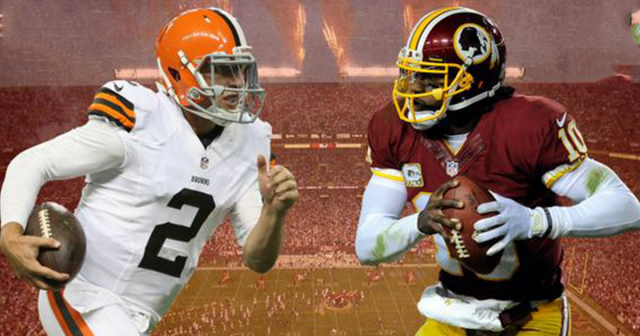 Where Will Robert Griffin and Johnny Manziel Play Next Season?
Over the past few years, very few players have been as polarizing as Robert Griffin III and Johnny Manziel. Both quarterbacks are former Heisman Trophy winners and first-round draft picks with excellent athletic ability and big personalities. Both of these quarterbacks are also expected to be free agents this off-season, but they have had very different career paths to reach this point.
After posting nearly 5,000 total yards and 47 total touchdowns in his junior year at Baylor, most analysts viewed Griffin as an obvious franchise-caliber quarterback. The Washington Redskins were clearly enamored with his unique talent and agreed to send the St. Louis Rams three first round picks and one second round pick in order to select RGIII with the second overall pick.
In his rookie season Griffin threw for 3,200 yards with 20 touchdowns and just 5 interceptions. He also displayed his athletic ability, rushing for 815 yards and 7 touchdowns. This incredible performance helped lead Washington to a 9-7 record and a berth in the postseason. It also earned Griffin the Offensive Rookie of the Year Award along with a spot on the Pro Bowl roster.
Unfortunately, Griffin re-injured his knee in a wild-card game against the Seahawks and was never the same. After undergoing surgery on both his LCL and ACL, Griffin managed just five wins in 20 starts over the next two seasons before being benched in favor of Kirk Cousins for the 2015 season.
On January 13th, Bovada became the first sportsbook to post odds regarding RGIII's next team. The Houston Texans (+300) were listed as the front runner followed by the Dallas Cowboys (+550) and the Los Angeles Rams (+650) and New York Jets (+900). The field, which would include the other 28 teams and the possibility that Griffin doesn't sign with an NFL team, was the most likely outcome at -200.
One week later TopBet posted their own odds for Griffin's next destination, but the odds had moved significantly.
The Texans (moved from +300 to +150) and Cowboys (moved from +550 to +180) have emerged as the front runners to sign @RGIII.

— Sports Insights (@SportsInsights) January 20, 2016
It was interesting to see that the Browns, who were previously unlisted, opened with the third shortest odds at +500. That was largely due to the hiring of Hue Jackson, which made the release of Johnny Manziel an inevitability.
The table below, which displays the most recent odds at TopBet and Bovada, will be updated throughout the offseason as more information becomes available.
Robert Griffin III
| Team | TopBet (1/20) | Bovada (1/13) |
| --- | --- | --- |
| Houston Texans | +150 | +300 |
| Dallas Cowboys | +180 | +550 |
| Cleveland Browns | +500 | N/A |
| Los Angeles Rams | +800 | +650 |
| Philadelphia Eagles | +1500 | N/A |
| San Francisco 49ers | +1400 | N/A |
| Miami Dolphins | +2500 | N/A |
| New York Jets | +2500 | +900 |
| Chicago Bears | +3000 | N/A |
| Any CFL Team | +10000 | N/A |
| Field | N/A | -200 |
Much like Robert Griffin, "Johnny Football" has been a controversial figure but without any of the same success. After deciding to declare early for the 2014 NFL Draft, Manziel became one of the most polarizing players we have ever seen. While some analysts had him pegged as a top-five pick and a franchise talent, others viewed him as arrogant and undraftable. So far, it looks like that second group has been more accurate in their predictions.
In two seasons that have been marred with both on-field and off-field issues, Manziel has completed just 57% of his passes with a 1:1 touchdown to interception ratio. Following the hire of new head coach Hue Jackson, it became obvious that Manziel's days in Cleveland were numbered.
The Hue Jackson Era in Cleveland will trigger the end of Johnny Manziel and the #Browns. Expect the new coach to move on from the QB.

— Ian Rapoport (@RapSheet) January 13, 2016
It may not surprise readers to learn that the Dallas Cowboys (-200) opened as the favorite to sign the former Texas A&M star. Owner Jerry Jones has always been found of Manziel and back in October said the following on a local radio program:
"We had Manziel at the top of our board, (still) on the board. So he's a legitimate board pick and we're sitting there and grinding through . . . should we go for this opportunity to take a quarterback that high that's dropped down and start getting ready in case for when Romo is not here or God forbid if he got hurt? That's why I sat there to the last minute and stared at everybody and looked at everybody so that we could say, 'Is this that shot? One has dropped to us?' Now you can 'hindsight' and look at how things have gone in Cleveland, but still that's exactly why we sat there and had the agony."
Nearly two weeks after opening, the Cowboys remain the favorite although they have dropped from -200 to +120 at TopBet. Despite several reports indicating the Manziel's departure is a foregone conclusion, the Browns (+400) have the second best odds of retaining Manziel. Other strong contenders include the Rams (+500), Texans (+700), Eagles (+800) and 49ers (+1200).
The Texans are one of the more interesting names listed, however, with their move from +1500 to +700 it looks like any potential value has been sucked out.
Johnny Manziel
| Team | TopBet (1/20) | Bovada (1/7) | TopBet (1/5) |
| --- | --- | --- | --- |
| Dallas Cowboys | +120 | +200 | -200 |
| Cleveland Browns | +400 | +600 | +500 |
| Los Angeles Rams | +500 | +750 | +400 |
| Houston Texans | +700 | +1600 | +1500 |
| Philadelphia Eagles | +800 | +700 | +600 |
| San Francisco 49ers | +1200 | +1000 | +900 |
| Any CFL Team | +2500 | N/A | +3000 |
| New England Patriots | +2500 | N/A | N/A |
| Miami Dolphins | +2500 | N/A | N/A |
| Chicago Bears | +3000 | N/A | N/A |
| Any Other NFL Team | N/A | +150 | N/A |
| Not on NFL Team | N/A | +700 | N/A |
Where do you think these players will land? Does either player deserve to start? Is it possible that Manziel goes unsigned? Please leave any thoughts or comments in the section below.
Have any questions for the staff at Sports Insights? Utilize our live chat to speak with a customer service representative or e-mail us at help@sportsinsights.com.
David Solar is the Content Manager for Sports Insights and can be reached directly at David@sportsinsights.com