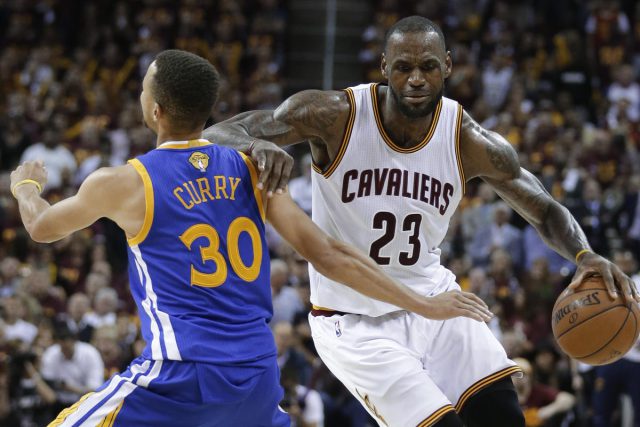 Where is Sharp Money Going in Game 5 of the 2016 NBA Finals?
Over the past month, I have utilized the tools available to Sportsbook Insider and Bet Labs subscribers to identify sharp money and diagnose historically profitable betting trends in the 2016 NBA Playoffs. This research has paid tremendous dividends, with contrarian strategies continuing to win at an astounding rate.
The value derived from betting against the public increases significantly during the postseason due to the surge of square bettors entering the marketplace. As I explained in an earlier blog post, the average number of bettors more than doubles between the regular season and playoffs. This creates the ideal opportunity to fade the public, especially for teams coming off a loss.
[On the go? Download the Sports Insights app for live odds, trends, injuries and more ]
Every playoff game gets dissected endlessly, and bettors are constantly overreacting to recent events. Oddsmakers understand these tendencies and shade their lines accordingly, which creates artificially inflated lines based on public perception. By taking an unpopular viewpoint, bettors are often able to get an extra half-point or more.
In Game 5 tonight, the Warriors opened as 7.5-point favorites at the market-setting Bookmaker.eu. Public money immediately hammered the home favorite, which caused the line to jump from -7.5 to -8. That was particularly interesting because the look-ahead line for this game was Golden State -5.5 before the start of the series.
NBA Finals lookahead lines (5Dimes)

G1: GS -6
G2: GS -5.5
G3: CLE -2.5
G4: CLE -2.5
G5: GS -5.5
G6: CLE -3
G7: GS -5

— Sports Insights (@SportsInsights) June 2, 2016
This is the perfect example of how casual bettors are prone to overreacting to recent events, and sharp bettors quickly capitalized on these artificially inflated lines. Between late Friday night and early Saturday morning, there were several bet signals on Cleveland +8 including a steam move at Heritage which has gone 148-117 ATS (+19.1 units) this season. That sharp money caused the line to drop from Cleveland +8 to +7.5 across the sports betting marketplace.
Sharp money continued to pound the road underdog with a steam moves triggered on Cleveland +7.5 at 5Dimes (480-454 ATS this season) and Cleveland +7 at Pinnacle (321-288 ATS this season). Although Pinnacle moved from Cleveland +7 to +6.5, most square sportsbooks continued to hang Golden State -7. That's because the Warriors were still getting a majority of public action, receiving 74% of spread bets.
Just hours after that line move, word came down that Draymond Green had been suspended for Game 5. This caused the line to drop from Golden State -7 to -5.5. Although Green is an excellent player, that 1.5-point line move seemed like an overreaction so I reached out to Scott Cooley, an Odds Consultant for Bookmaker.
"Public always overreacts to suspension/injury and that's what we've seen to an extent thus far," said Cooley. "We'd grade Green at a half point to 1-point as far as value to a line. It's been a bit inflated by the square action."
After that initial overreaction, most sportsbooks have settled at Golden State -6 which seems far more appropriate given Green's true value to the line. However, it still seems like bettors are placing too much value on recent events which has created excellent contrarian value in Game 5.
At the time of publication, the Warriors (-6) were receiving 67% of spread bets at our contributing sportsbooks. That would qualify as the third most lopsided public betting of any NBA Finals game in our database.
The screenshot below, which is available to Sportsbook Insider subscribers, show how public betting has affected the spread at CRIS (which is the sister site of Bookmaker).

The line graph clearly shows that sharp money has hammered Cleveland since opening, but it also reveals that sharp action was already on Cleveland before the Green suspension was announced. This highlights the value of having a Sportsbook Insider Pro subscription, since bettors could have taken the Cavs at a better price by following these steam moves and reverse line movement alerts.
Tonight's game also provides a prime example of how overreactions to recent events can create value for spread bettors. All four games in this series were decided by double-digits, and the public has repeatedly pounded the winner of the previous game.
The table below displays the public betting for the first four games of the NBA Finals.
| Game Number | Opening Fav Line | Closing Fav Line | Final Score | Fav Betting |
| --- | --- | --- | --- | --- |
| 1 | GS -5.5 | GS -6 | GS 104-89 | 53% |
| 2 | GS -6.5 | GS -6 | GS 110-77 | 52% |
| 3 | CLE -1 | CLE -1.5 | CLE 120-90 | 45% |
| 4 | CLE -2.5 | CLE -2.5 | GS 108-97 | 52% |
| 5 | GS -7.5 | GS -5.5 | ? | 68% |
You can see that whichever team won the previous game received a majority of public bets in their subsequent game. Similarly, you can see that teams coming off a loss have gone 2-1 ATS during the 2016 NBA Finals. That trend has persisted over the last decade.
We always encourage bettors to buy on bad news, and taking teams after a nationally televised loss is one of the simplest ways to buy low. Since 2005, teams coming off a loss have gone 462-431 ATS (51.7%). The win rate increases to 53.6% when they're coming off a double-digit loss, which bodes well for Cleveland in tonight's must-win game.
That said, there are some contradicting indicators. Since 1991, teams facing elimination in the NBA Finals have gone 10-20 ATS and 9-21 straight up. That falls in line with our NFL analysis which found that there has been value fading NFL teams in "must-win" games.
Additionally, I have found that home court advantage has been historically overvalued during the regular season but incredibly undervalued during the postseason. Home teams have gone 52-31 ATS (62.7%) during the 2016 NBA Playoffs and 513-472 ATS (52.1%) since 2005.
Those two trends heavily favor the Warriors, but there's far more data pointing towards value on the LeBron James and the Cavs. Golden State was a 5.5-point favorite on the look-ahead line, yet somehow that line has increased despite Green's suspension. It would have been preferable to take Cleveland early, but they're still offering value as a 6-point road 'dog.
As I explained in the Game 4 preview, élite playoff teams have provided tremendous value when they're public bettors are backing their opponent. I've also found that teams receiving no more than 40% of spread bets have gone 11-4 ATS (73.3%) during the NBA Finals. Both of these trends point towards value on the Cavs.
This is a great spot to buy low, fade the public and exploit public perception by backing Cleveland tonight. It's also worth noting that although spread bettors are avoiding the Cavs, they're receiving 61% of moneyline bets. That could make them a solid bet (+205) to win straight up.
#NBAPlayoff underdogs receiving more than 50% of ML bets and less 50% of spread bets have gone 62-76 straight up with +41.02 units won.

— David Solar (@TheDavidSolar) June 13, 2016
Now that I have touched on the spread and the moneyline, let's take a look at tonight's total. Although the under has gone 50-32 during the 2016 NBA Playoffs (including 3-1 during the Finals), 64% of bettors have taken the Game 5 over. This is particularly interesting given the official assignments for tonight's game.
My research found that the under has gone 342-281 (54.9%) in games officiated by Marc Davis, which makes him the most profitable "under" ref in our database. Although this seems to cement value on the under, there are actually some contradicting trends on the total.
Bookmaker opened the Game 5 total at 206 and bettors immediately hammered the over. Despite this one-sided betting, the total quickly dropped a full point to 205. Following the announcement that Draymond Green would be sidelined, the total dropped another half-point to 204.5. However, since that time the total has skyrocketed.
The Cavs/Warriors total has jumped from 204.5 to 207 at @BookMakerdotEU in the last 20 minutes. pic.twitter.com/NnF36EyaBw

— David Solar (@TheDavidSolar) June 13, 2016
CRIS and Pinnacle have historically produced our top performing bet signals, and this season the CRIS NBA O/U steam move has gone 266-226 (54.1%) with +9 units won. This sudden line movement triggered a steam move at CRIS, which clearly indicates value on Over 205. With contradicting indicators on both sides of the total, the best move is to lay off. There's no reason to force action, which is an important lesson for inexperienced sports bettors.
I would like to stress that the only picks we officially endorse are our Best Bets, which are available exclusively to Sportsbook Insider Pro subscribers. This season our NBA Best Bets have gone 106-78 (57.6%) with +18.7 units won. We offer a 4-day Pro trial for $49, and first time subscribers can receive an additional four days for free by schedule a one-on-one demo with our customer service manager.
These numbers are always subject to change, so make sure to visit our free NBA odds page for up to the moment lines, betting trends, injuries and more.
Have any questions for the staff at Sports Insights? Utilize our live chat to speak with a customer service representative or e-mail us at help@sportsinsights.com.