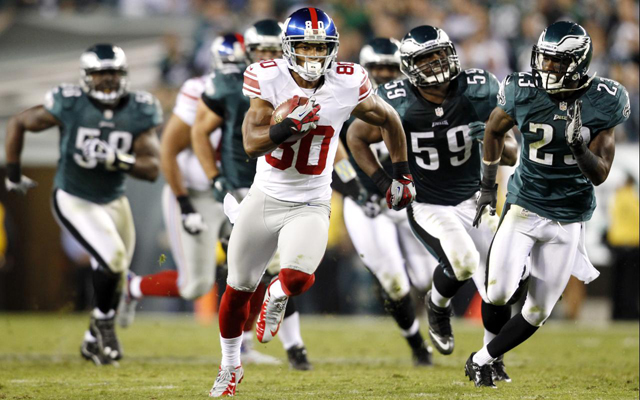 What's Moving the Giants/Eagles Line for Thursday Night Football?
After remaining relatively steady throughout the early portion of the week, the line for tonight's Giants at Eagles game has plummeted, dropping the Giants from 2.5-point favorites to 1.5-point underdogs.
We've been flooded with questions from our subscribers and social media followers regarding what exactly is driving the line movement. Is it a key injury, money or something else? A quick look at some of the features included in our Sportsbook Insider Pro dashboard can help clear up any uncertainty.
[Click image to enlarge]

As you can see, the Giants opened at -3 and after dropping to -2.5 on Monday, remained there until Eagles money hit the market hard throughout the day today. You'll notice the "$" icons on the chart which represent Reverse-Line Moves triggered on Philadelphia. Those triggers indicate smart/sharp money driving the line down from Giants -2.5 to +1.5.
Conversely, a quick look at the spread betting percentages from our seven contributing sportsbooks reveal that the majority of spread tickets have actually taken New York.

With 80% of all spread bets on the Giants and the line moving in the opposite direction (led by our Bet Signals data), we can conclude this is an example of a "sharps vs. squares" game. Public money is all over New York, but sharp money on the Eagles has been the primary factor driving today's line movement.
Interested in analyzing this data for the rest of the NFL Week 16 slate of games? Sign up for a 4-day trial of our Sportsbook Insider Pro software, for instant access to all of our betting/money percentages, Bet Signals and Best Bet picks for all sports.