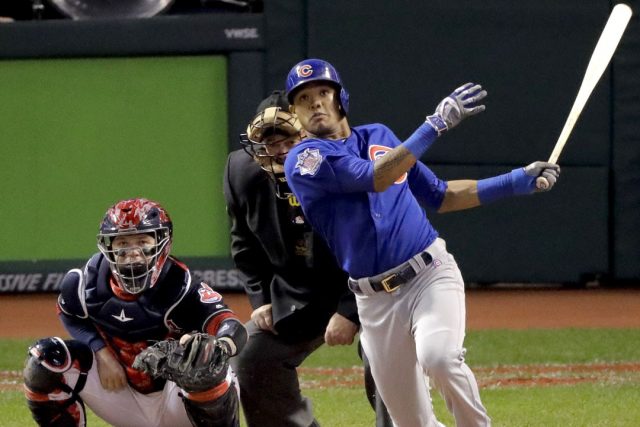 What Should Bettors Know About Game 7 of the World Series?
Just a few months ago, the Cleveland Cavaliers broke their city's 52-year championship drought by overcoming a 3-1 series deficit against the Golden State Warriors in the NBA Finals. In order for the city to win its second title in less than five months, the Indians will need to avoid being on the wrong side of history.
In last night's game, shortstop Addison Russell belted a grand slam, third baseman Kris Bryant went 4-for-5 with a home run and first baseman Anthony Rizzo went 3-for-5 with a home run, as the Cubs cruised to a 9-3 victory. Tonight, Chicago will attempt to win their first World Series in over a century. Regardless of the result, tonight's game will be exceptionally emotional.
Kyle Hendricks will take the mound for the Cubbies in his fifth postseason appearance. The NL Cy Young candidate tossed 4 1/3 scoreless innings in his last start, which caused his playoff ERA to drop from 1.65 to 1.31. During the regular season, the 26-year old Hendricks emerged from virtual anonymity to post a 16-9 record with a league-leading 2.13 ERA.
The Indians will send 30-year old right-hander Corey Kluber to the mound for this sixth start this postseason. In his five previous starts, Kluber has allowed just three earned runs in 30 1/3 innings, striking out 35 batters while allowing just 22 hits and eight walks. Kluber already has two wins in the World Series (Game 1 and 4) and would be the likely World Series MVP if the Indians are victorious tonight.
Pinnacle opened the line for tonight's game as a pick 'em, with both teams listed at -104. The majority of bettors believe the Curse of the Billy Goat will be reversed tonight, as 52% of moneyline tickets and 62% of moneyline dollars have taken the Cubs. This early public betting has caused the Cubs to move from -104 to -118 at Pinnacle. The Indians have dropped from -104 to +109.
[click image below to enlarge]

This moneyline was somewhat surprising given the closing lines in Kluber's previous playoff starts. In Game 1 of the World Series, Kluber closed as a -114 home favorite against Jon Lester. Although Hendricks had the more impressive numbers during the regular season, Lester has a proven postseason track record. Prior to Game 6, I openly speculated Cleveland would be a small favorite in tonight's decisive game. So why are the Indians listed as underdogs?
"It's Game 7, and it's the Cubs with all the momentum rolling their way," said Scott Cooley, an Odds Consultant for Bookmaker.eu. "Kluber should probably be a small favorite here, but based on perception and expected action we have to make the Cubs road chalk. We consider Hendricks on equal footing as Lester at this stage in his career."
In other words, the Indians probably should be small favorites, but oddsmakers needed to shade their lines to account for the inevitable influx of public money. The Cubs are always a very public team, but that's particularly true given the magnitude of tonight's game. History could be made tonight, and sportsbooks are expecting a significant handle.
"Volume should pick up as the day progresses," according to Cooley. "It's too bad we didn't have one more day in between games to build more hype and bets. Betting handle has been strong throughout the Series, and it's been a ton of Chicago money. Game 7 handle might come close to our least-wagered on NFL game this Sunday."
Readers may be interested to know that tonight's home plate umpire, Sam Holbrook, has been highly beneficial for total bettors. Since the start of the 2005 season, the over has gone 183-148 (+27.78 units) with Holbrook behind the plate. That makes him the most profitable "over" ump in our database.
Despite Holbrook's track record, bettors are anticipating a low-scoring game. The Game 7 total opened at 7.5, and public money has been pounding the under. At the time of publication, we had tracked 79% of tickets and 91% of total dollars wagered on the under. This public money caused the total to drop from 7.5 to 7 at Pinnacle.
[click image below to enlarge]

It's worth noting that while Pinnacle is still offering a juiced up total of 7 (U-139), most offshore sportsbooks have already moved to 6.5.
Meteorologists are forecasting temperatures of 63-67 degrees Fahrenheit, and the average winds speeds will range between 5-7 mph blowing out to center field. The screenshot below, which is available to Sportsbook Insider subscribers, shows how the weather conditions are expected to change throughout tonight's game.
[click image below to enlarge]

These numbers are always subject to change, so make sure to visit our free MLB odds page for up to the moment lines, betting trends, injuries and more.
Have any questions for the staff at Sports Insights? Utilize our live chat to speak with a customer service representative or e-mail us at help@sportsinsights.com