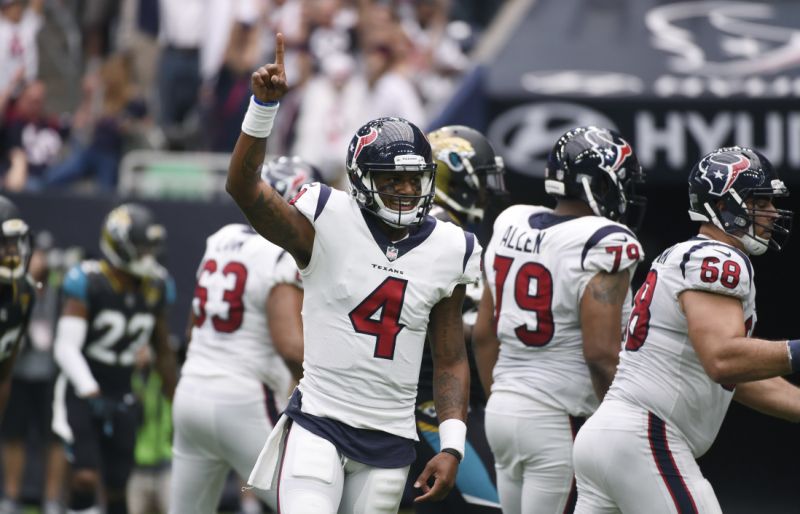 What Should Bettors Expect in Deshaun Watson's 1st NFL Start?
Texans QB Deshaun Watson already got some regular season playing time in Week 1, and he's now ready to start Week 2 tonight in Cincinnati. The Texans opened +3 and moved to +6 when the public was heavy on Cincinnati. The betting percentages aren't quite as lopsided after the line move, with 62% on the Bengals and 38% on the Texans. But what should we expect to see from Watson?
5Dimes has some individual prop bets available for his 1st NFL start:
18.5 completions (over -125, under -105)
199.5 passing yards (over -125, under -105)
1.5 passing TDs (over +180, under -240)
0.5 interceptions (over -175, under +145)
22.5 rushing yards (over -135, under +105)
In Week 1, Watson was 12-23 for 102 passing yards, 1 passing TD, 1 INT, 1 fumble, and 16 rushing yards. Since Watson is expected to play the entire game tonight in Cincy, Over 0.5 interceptions and Over 22.5 rushing yards seem to have the best value. The Bengals have a pretty decent defense and the Texans' offensive line is not in good shape, so Watson should be forced to scramble a number of times. This should bode well for going over 22.5 rushing yards, as well as throwing at least one pick. In terms of completions and passing yards, I'm not sure there's any value on either.