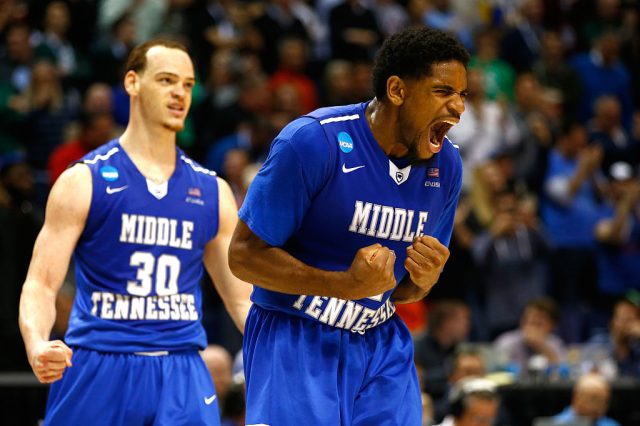 What is Causing the Line to Move in the Minnesota-Middle Tennessee State Game?
If you watched the NCAA selection show on Sunday to try and get a head-start on your bracket, your ears may have turned up after hearing one of the analysts predict an upset in the Minnesota/Middle Tennessee State game. Most of us have very little, if any knowledge about these two teams, but to hear an expert confidently pick a #12 seed to take out a #5 seed definitely catches your attention.
Books are definitely in agreement, though. South Point, one of the first books to open lines for the NCAA tourney, originally had Minnesota -3 as their opener, which is pretty low for a #5 seed. The other three #5 seeds are all currently favored by at least six points.
Once lines started opening around the market at offshore books, many bettors agreed that Middle Tenn St. was the way to go. Right now, 68% of spread bets are on the Blue Raiders (that's their mascot, FYI), as well as 64% of moneyline bets.
Just because the public is on the Blue Raiders, doesn't mean that they are the way to go. In fact, generally you want to be fading the public. With this game, it also seems that a large percentage of dollars has helped push the line towards the Blue Raiders, so much so that they are actually the favorite now.

After opening at +1 at Pinnacle, Middle Tenn St. is up to -1 thanks to both public and sharp action. There have been several bet signals triggered over the past few days as well, including the CRIS steam move that is 49-32 this season.

As a whole, this is very rare for the 5/12 game. Since 2005, the only #5 seed to close as a dog vs. the #12 was Syracuse against Texas A&M back in 2006. They also opened at -1 before closing at +1.5. They ended up losing that game by eight points.
The fact that the public is behind Middle Tennessee State is also a very rare occurrence. Our research found that since 2005, there have only been eight occurrences of a team that is at least seven seeds worse than their opponent getting at least 68% of spread bets. These trendy dogs haven't fared great, only going 4-4 ATS. In general, fading trendy dogs is the way to go.
Follow the money and roll with the Blue Raiders or go against the public and side with Minnesota? I would say if you're looking for a bigger upset on your bracket, definitely go with Middle Tenn St. If you're making a bet, some of the value on the Blue Raiders is already gone, but the gambling world does NOT like Minnesota.
Want access to dollar percentages, bet signals, and best bet picks for college basketball and the other major sports? Try out our Sportsbook Insider Pro membership.
If you have any thoughts or questions, feel free to reach out to the Sports Insights staff by utilizing our live chat feature, commenting below, or emailing us at help@sportsinsights.com.