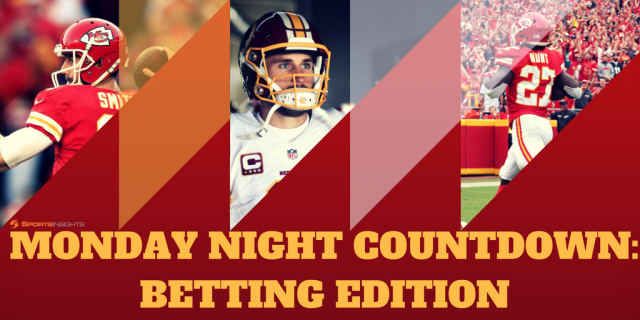 Week 4 Monday Night Countdown: Gambling Edition
We're only about 25 days into the season and the Chiefs are the only remaining undefeated team. Who woulda thunk it?
Joe Montana Alex Smith, Eric Dickerson Kareem Hunt, and Usain Bolt Tyreek Hill have helped Kansas City become a potential Super Bowl contender in the early going. With most of the top preseason favorites struggling in the early going, KC has managed to move from 30/1 to 9/1 at Westgate to win the Super Bowl as of today.
The Redskins are coming off two wins of their own, including an impressive 27-10 victory over the Raiders. In spite of that, bettors are siding with the undefeated Chiefs.

Though they're getting right around two thirds of spread and moneyline bets, the Chiefs line remains at a touchdown for the time being. At Bookmaker, there was some reverse line movement earlier in the day, with the line falling to 6.5. That didn't last long, though.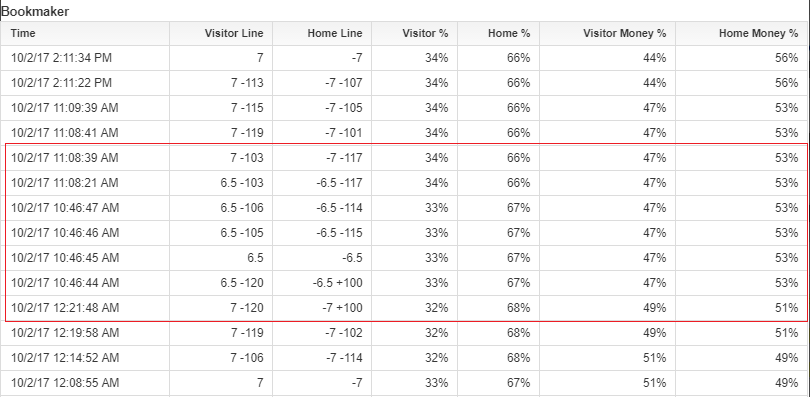 Bettors had about 22 minutes to take the Chiefs at -6.5 from 10:46 AM eastern until 11:08 AM. You may also notice that money on the Chiefs has gone from slightly below 50% last night to 56% as of 2:11 this afternoon. Looks like some cash hopped on the Chief-train while the gettin was good and caused that buyback.
At Pinnacle, another sharp offshore book, the line was actually 6.5 for much of the early part of last week before moving to 7 on Thursday.
Though it isn't a huge sample size, it's worth noting that -7 favorites have been great against the spread on Monday Night Football. Since 2003, they are 15-5 ATS and teams between -7 and -9 are 27-10 ATS.
If we take a look at the total, the line remained at 49.5 around the market all week until this morning, at which point a steam move on the under caused the line to fall all the way to 48.

Follow us @SportsInsights for more information leading up to the game and check our free odds page to see if the line has moved off a touchdown.