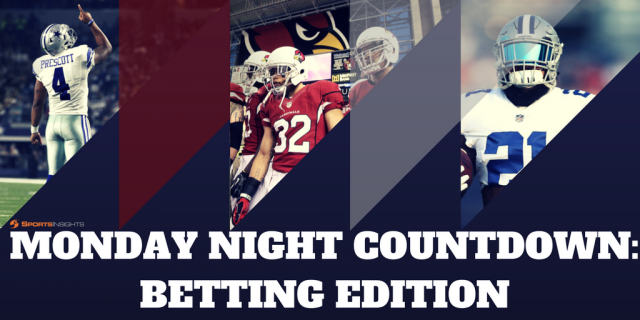 Week 3 Monday Night Countdown: Gambling Edition
The Cowboys are looking to bounce back after an ugly loss to the Broncos last week, while the Cardinals are looking for a statement game of their own. Last week, the Cowboys (-2.5) received 69% of bets in Denver before getting hosed 42-17. Arizona got the win in Indianapolis, but boy was it ugly. They closed at -7 and got 75% of spread bets, but needed overtime to defeat Jacoby Brissett and the Colts 16-13.
Will Ezekiel Elliott run for eight yards again? I reckon he won't. Can the Cardinals figure out how to score some points without David Johnson? It appears that plenty of bettors have their doubts, but the line hasn't moved as one may expect.
So far, this game is looking like a prime example of "pros vs. joes". The Cowboys are getting 70% of bets, but the line has moved in Arizona's direction.

A slew of reverse line moves and steam moves had been rolling in on the Cardinals over the week, with a steam move from Bookmaker pushing the Cardinals from +3 to +2.5 yesterday morning. At Pinnacle, the line remained at 3 until this morning before they followed suit and moved to 2.5.
However, some buyback took place just a short time ago and moved the Cowboys back to -3 at a handful of books around the market. With three being such a key number, I expect the line to continue to bounce around a bit as we lead up to game time. Keep your eye on the line and pick your spot wisely.
The total has seen similar action, with bets on the over, but dollars on the under. It had reached 46.5 around the market this morning, but is back up to 47.

Here are some notable prop bets from BetOnline:
Passing Yards
Carson Palmer: O/U 272.5 (u-120)
Dak Prescott: O/U 240.5 (u-120)
Rushing Yards
Ezekiel Elliott: O/U 94.5 (u-130)
Chris Johnson: O/U 42.5 (o-145)
Receiving Yards
Dez Bryant: O/U 57.5
Larry Fitzgerald: O/U 72.5 (u-130)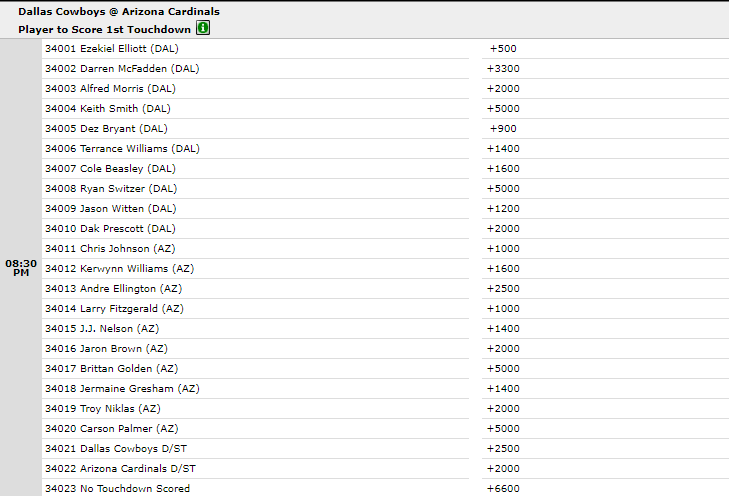 If you're interested in NFL bet signals and dollar percentages, try out our pro membership. You'll also get access to our best bets, which are off to a 24-14 start.
Follow us on Twitter @SportsInsights for updated news as we lead up to the game.