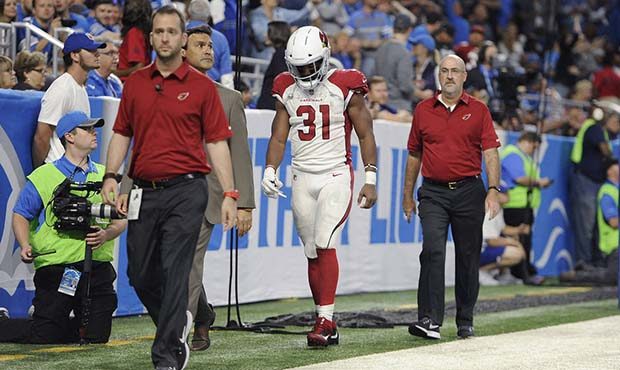 Week 1 NFL Injury Updates
As is generally the case each week in the NFL, there were several key players injured yesterday. Season-long fantasy players who took David Johnson may be up on a ledge somewhere, while those who took Ezekiel Elliott are psyched out of their minds. Let's take a look at all of the bumps and bruises so far.
David Johnson
Carson Palmer and the Cardinals played like garbage yesterday so their fans may already be looking at a long season ahead, but things could potentially be much worse.
An MRI on Mon will determine whether David Johnson will miss a "few weeks" or "half the season or more" with sprained wrist, per @mortreport

— Adam Schefter (@AdamSchefter) September 10, 2017
So far their futures haven't been affected at the Westgate, as they remain at 50/1 to win the Super Bowl and 25/1 to win the NFC. However, just getting to the playoffs will get a lot tougher if Johnson ends up missing a couple of months. He is viewed as one of a handful of non-quarterbacks that is capable of moving the line, but at only a half a point, this injury shouldn't impact the Cardinals' spreads that much on a week-to-week basis.
Allen Robinson
Blake Bortles' number one weapon is done for the year after tearing his ACL early in yesterday's game. Robinson isn't quite in the top tier of wide receivers in the league and shouldn't impact the Jaguars' spreads, but it will certainly make Bortles' life tougher. He is +280 to be the next QB benched at Bookmaker, second on the list behind Mike Glennon. The Jags looked very impressive against the Texans, but can they keep it up?
DeShaun Watson
Say what?!? You probably haven't heard of this one, but after playing for the second half of yesterday's game, he was seen limping with what appeared to be an ankle injury.
One complicating issue for the #Texans & their QB choice: Source says Deshaun Watson was spotted limping with an ankle injury. Short week.

— Ian Rapoport (@RapSheet) September 11, 2017
The Texans surely don't want to go back to Tom Savage, but they may be forced to given the short week. The game is off the board at some books, but the Texans can be found between +3 and +3.5 around the market.
Marcus Peters and Eric Berry
The Chiefs were certainly pleased with their result in New England, but it didn't come without a price. Eric Berry tore his achilles and will be out for the season, while Marcus Peters suffered a calf injury that has him questionable for week 2 against the Eagles. If Peters is out, their secondary is going to be a whole lot worse than it was just four days ago. They had initially moved from 30/1 to 14/1 at Westgate to win the Super Bowl after their win, but have since moved to 16/1.
Danny Woodhead
The Ravens' lost their gritty dual-threat in the backfield yesterday with a hamstring injury, which can linger on for quite some time. They'll look to Javorius Allen to split reps with Terrance West for the time being.
Reuben Foster
One of the 49ers star defensive rookies left yesterday's game with an ankle injury and is doubtful for week 2. With Myles Garrett set to miss time, Foster had closed as the favorite to win defensive rookie of the year.
Foster was the +350 favorite to win defensive rookie of the year as of Thursdayhttps://t.co/F02CNI2Hld https://t.co/E4gf3hHTw8

— Sports Insights (@SportsInsights) September 10, 2017
Follow us on Twitter @SportsInsights for injury updates throughout the week and on gamedays.