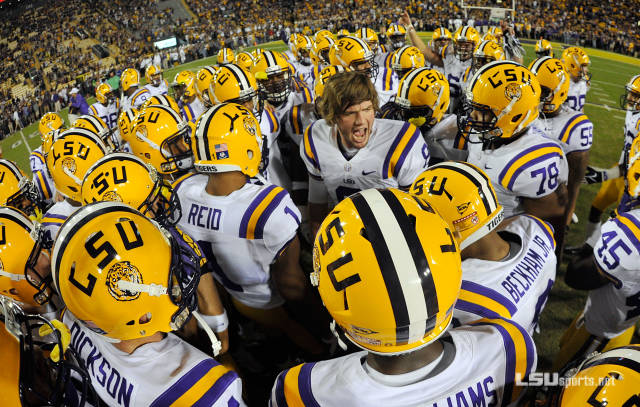 2014 College Football Week 1 Lines from 5Dimes
Back in April 5Dimes released some early Week 1 lines for the upcoming college football season with limits of $50 and -120 juice on both sides.  Neutral-site locations are in parentheses and all listed times are Eastern Time.
Thursday, August 28
Wake Forest -7.5 at UL Monroe, 7 pm ET
Ole Miss -8.5 vs. Boise State, 8 pm (Atlanta, Georgia)
South Carolina -9 vs. Texas A&M, 7 pm
Vanderbilt -21 vs. Temple, 7 pm
Friday, August 29
BYU -14 at Connecticut, 8 pm
Houston -9.5 vs. UTSA, 8 pm
Arizona -25.5 vs. UNLV, 10 pm
Colorado PK vs. Colorado State, 7 pm (Denver, Colorado)
Bowling Green -6.5 at Western Kentucky, 7 pm
Saturday, August 30
Penn State -1 vs. Central Florida, 830 am (Dublin, Ireland)
Ohio State -14 at Navy, 12 pm (Baltimore, Mayland)
Notre Dame -21 vs. Rice, 330 pm
Alabama -23.5 vs. West Virginia, 330 pm (Atlanta, Georgia)
Washington -21.5 at Hawaii, 8 pm
Florida State -13.5 vs. Oklahoma State, 8 pm (Arlington, Texas)
LSU -3 vs. Wisconsin, 9 pm (Houston, Texas)
Sunday, August 31
Tennessee -6.5 vs. Utah State, 7 pm
Monday, September 1
Louisville -3.5 vs. Miami Florida, 8 pm
These were the opening lines posted back in April for Week 1 of the college football season, but odds have changed significantly for many games. The biggest odds movers from April to now:
Vanderbilt -14 (from -21) vs. Temple
Wake Forest -2.5 (from -7.5) at UL Monroe
Florida State -17.5 (from -13.5) vs. Oklahoma State
Colorado -3 (from PK) vs. Colorado State
BYU -16.5 (from -14) at UConn
Alabama -25.5 (from -23.5) vs. West Virginia
Houston -11 (from -9.5) vs. UTSA
South Carolina -10.5 (from -9) vs. Texas A&M
LSU -4 (from -3) vs. Wisconsin
We've got you covered for the upcoming college football season so be sure to check out the 2014-15 Heisman Futures where Florida State QB Jameis Winston is the favorite, and the 2014-15 NCAA Championship Futures where FSU is favored to defend their national title. We've also added Week 1 lines via CG Technology, 4-team playoff odds, and conference futures.
[adrotate group="4″]