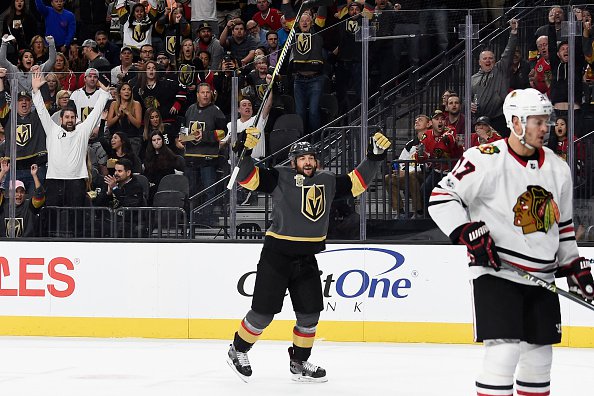 Vegas Golden Knights Generating Betting Buzz
The start of the NHL season has gone incredibly well for the Vegas Golden Knights, and they've helped to create a betting buzz for their games in both the Vegas and offshore markets. As David Purdum recently noted, there was more money bet on Tuesday night's Vegas Golden Knights-Chicago Blackhawks game at Stations Casino than was bet on the Jets-Dolphins game on Sunday. Sure, that wasn't the sexiest matchup of the NFL slate that day, but it was still a football game getting beat by a weekday NHL early season game.
It was expected that there would be a greater betting interest on Golden Knights games in the Vegas area, but we've also seen a higher interest in the offshore market as well. In 5 of the 8 nights that Vegas has played, their game has been the most-bet game of the night. They've also been involved in the 3 most-bet games of the season, including tops on the second night of the season against Arizona (>7,500 tickets).
In that most-bet game against Arizona, the Golden Knights received 66% of tickets, their highest share of bets so far. That victory followed their first ever game the night before in which they received just 23% of bets in a 2-1 comeback win over Dallas. However, their early season success hasn't attracted public bettors toward them since that Arizona game. They've received <50% of tickets in 5 of 8 games so far (5-0 in those games). Public bettors are probably kicking themselves now because they've been the most profitable team in the entire league, going 7-1 for +8.49 units on the moneyline and breaking expansion team records along the way.
The interesting takeaway from all this is that bettors want to bet their games, but are actually fading the Golden Knights more often than not. This makes sense in the Vegas area in particular as fans of opposing teams are likely visiting and betting on their own team, like the Chicago Blackhawks. Also, Vegas and offshore bettors have probably been expecting them to regress at some point, and they just haven't yet.
What's even more impressive about their hot start is that they've managed to do this after #1 goalie Marc-Andre Fleury went out with a concussion, and then after #2 goalie Malcolm Subban went out due to a lower body injury. On Tuesday night they defeated Chicago 4-2 after going down 1-0 with 23-year old and third-string goaltender Oscar Dansk in net. They opened +140 and closed +160 in that game but rewarded contrarian bettors once again.
Prior to the season Vegas was listed at +900 to make the playoffs, but they're now 9 points ahead of division favorites Edmonton. They're 8th in goals scored and 3rd in goals against in the NHL, but it would be hard to see that continue over the course of the year.
Vegas is also getting the most money to win the Stanley Cup at William Hill— but that's something that books don't mind right now.
If there's one glaring issue with the club, it's probably their mascot– surely they can do better than this, no?